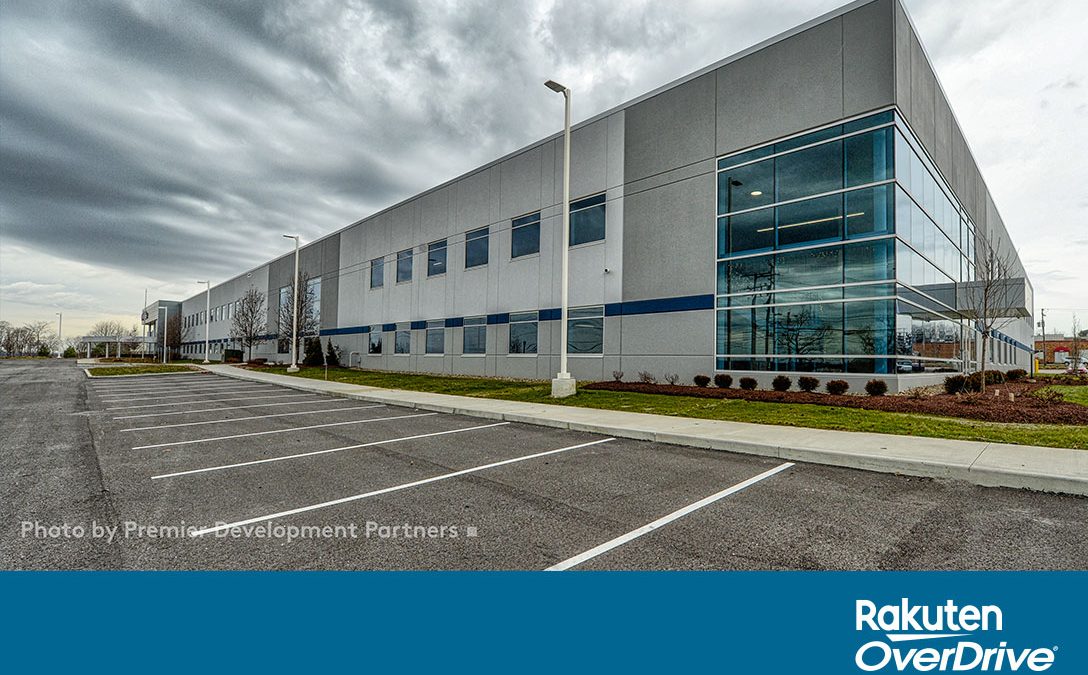 Rakuten OverDrive Expands World Headquarters to Accommodate Growth
Global distributor of ebooks and audiobooks expands campus to serve libraries and schools
CLEVELAND – January 29, 2019 –  Rakuten OverDrive, the leading digital reading platform serving 43,000 libraries and schools in 76 countries, has added a 46,000 square foot, two story addition onto its Garfield Heights headquarters to support its growing workforce. With over 330 employees leading product development, publisher relations, customer support and library and school partner services, the company expects to add 200 employees in the next four years. In addition to its headquarters, OverDrive employs locally-based team members serving publishers, schools and libraries across North America as well as in the UK, Germany and China.
The building's new total size is 141,000 square feet and sits on an 18-acre campus featuring outdoor space, vegetable gardens, a par-3 golf hole and an inspirational mound, with panoramic views of the Cuyahoga Valley and downtown Cleveland as part of its campus walking trail. The expansion included the renovation of warehouse space and the building addition to include open and flexible conference rooms and common areas designed for collaboration, three large training rooms and large spaces to host industry and partner events as well as additional parking to accommodate new hires. Four new nursing mother rooms and two new locker rooms to support various workout, yoga and fitness programs for team members were also added.
"Our vision is 'A World Enlightened by Reading' and we strive to empower and support librarians, educators, and readers of all ages with access to the best digital books and content," said Steve Potash, OverDrive's founder and CEO. "With our award-winning Libby app (TIME's Best iPhone and Android Apps of 2018), millions of readers worldwide anytime, anywhere access to their local library, school or company library."
The company has benefited from recruiting technical, creative, library and language skill team members from local campuses including Kent State University, Cleveland State University, Case Western Reserve University, Baldwin Wallace University and The University of Akron.
As an industry pioneer that helped shape the evolution of ebooks and digital reading over the past three decades, OverDrive continues to invest in community and social programs that promote literacy, education and access to information. OverDrive earned a prestigious B Corporation certification in 2017 which acknowledged the company's commitment to creating exceptional positive social and environmental impact. OverDrive also received OHTec's 2018 Tech Company of the Year award, recognizing the company's forward-thinking and innovative technology.
To learn more about OverDrive, visit https://company.overdrive.com/.
Additional high res photos can be found here.
About Rakuten OverDrive
Rakuten OverDrive is the leading digital reading platform for libraries and schools worldwide. We are dedicated to "a world enlightened by reading" by delivering the industry's largest catalog of ebooks, audiobooks, magazines and other digital media to a growing network of 43,000 libraries and schools in 76 countries. Named one of TIME's Best iPhone and Android Apps of 2018, Libby is the "one-tap reading app" for libraries. Founded in 1986, OverDrive is based in Cleveland, Ohio USA and owned by Tokyo-based Rakuten.
Contact:
David Burleigh
Director of Brand Marketing & Communication
dburleigh@overdrive.com
###
Browse blog and media articles