Monday 5×5 9/17/2018
If you noticed an absence of 5x5s for the past two weeks it's because I was off getting married! We are both librarians so, naturally, we had a library-themed wedding and took wedding photos at the Cleveland Public Library. But, because of the small break this seems like a good time for a refresher on what, exactly, the Monday 5×5 is.
The Monday 5×5 is a weekly link roundup in which I share 5 links from the past week across 5 industries: literature, libraries, tech, publishing, and, well, whatever else I may have found interesting. At the end of each post, I also share a couple books that are due to be published the next day, Tuesday, which is traditionally book publication day (at least in the US).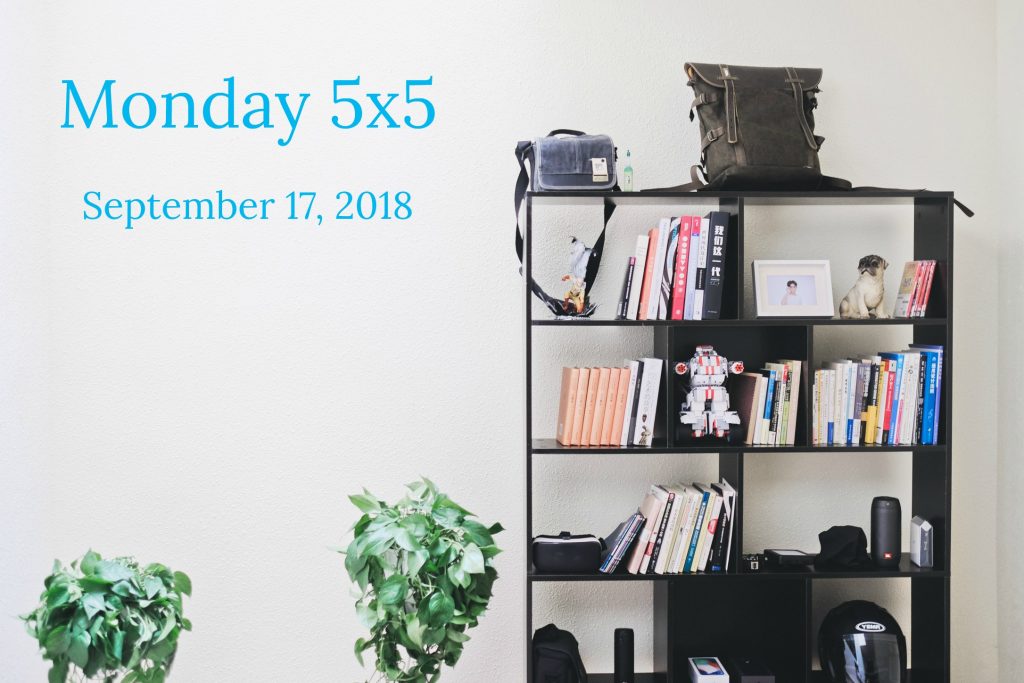 Tuesday is Read an Ebook Day!
OverDrive's own holiday, Read an Ebook Day champions reading of digital material, whether you get it from your local library using Libby or buy it on your Kindle or however else you may get your ebooks. On September 18th, be sure to join the conversation using #Ebooklove and let us know what you'll be reading!
On Washingtonian, book agents discuss the potential book deals coming to the anonymous writer of that Op-Ed piece
Y'all remember when Primary Colors came out and it was this whole thing about who "Anonymous" really was? Somehow not knowing made it all the more interesting, as it fueled so much speculation and discussion. I'd like to think this new Anonymous could stay Anonymous for as long as they want but in our information age that seems unlikely. If (or when) a book deal comes through,
The Verge breaks down how Tor.com went from an information website to a publisher of science fiction stories
So, there's Tor the publisher and then there's Tor.com, which started as a website for the publisher to promote upcoming releases but now publishes really incredible science fiction and fantasy stories and even exists as its own imprint which focuses on shorter pieces and newer authors (Disclaimer: I've had two essays published on Tor.com)
The Cut shares an excerpt on a book about Sally Horner, the real-life inspiration behind Lolita
When it comes to my list of favorite books, Lolita is always in the top ten, which is always a very strange thing to admit given the content of the book. Still, Nabokov's writing gets me every single time. I'd known the story was based on a real girl, and I'm certainly looking forward to reading this book by Sarah Weinman.
Over on McSweeney's, Lucius discusses how he regularly considers leaving the Death Eaters
This is so good. I can't even tell you how good it is, you just have to read it yourself.
Your hot picks for this week are Time's Convert by Deborah Harkness and Wildcard by Marie Lu. I've read Wildcard, the sequel to Warcross and it was incredible. Time's Convert is a companion novel to the popular All Souls Trilogy and so good and if you aren't reading these authors yet, I highly recommend you start.
Tags In
Browse blog and media articles