Monday 5×5 for January 14, 2019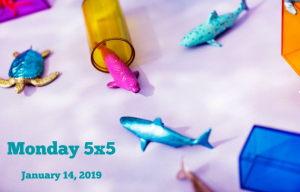 From The New Yorker, Kristen Roupenian on what it felt like when "Cat Person" went viral
Ah, "Cat Person." I remember when the story was making the rounds a little over a year ago, and reading about the experience directly from Roupenian reminds me that even though skyrocketing into literary fame sounds good in theory, there are disadvantages, too. Her debut collection You Know You Want This is out tomorrow.
Vulture on how dystopia is starting to look more like realism
I love me some dystopian fiction, but it is a little disconcerting when the books start to seem like they could happen, y'know, next week rather than next century.
Over on SPINE, why the interior design of the book is just as important as the cover
I always love when the back of books mention the typeface used for the text. It's all part of the overall package and presentation of the book, which goes far beyond just what's on the outside.
A dead tree was turned into the cutest little free library
But, seriously. The cutest.
NPR on how "Baby Shark" crashed the Billboard Top 100
See? Now this week's chosen graphic totally makes sense. And apologies if the song is now stuck in your head (Doo doo doo doo doo doo!) Truthfully, I didn't know how far back Baby Shark goes in the internet's memory so this was really interesting to read. (Also, this little girl will forever be my favorite Baby Shark fan.)
Tags In
Browse blog and media articles