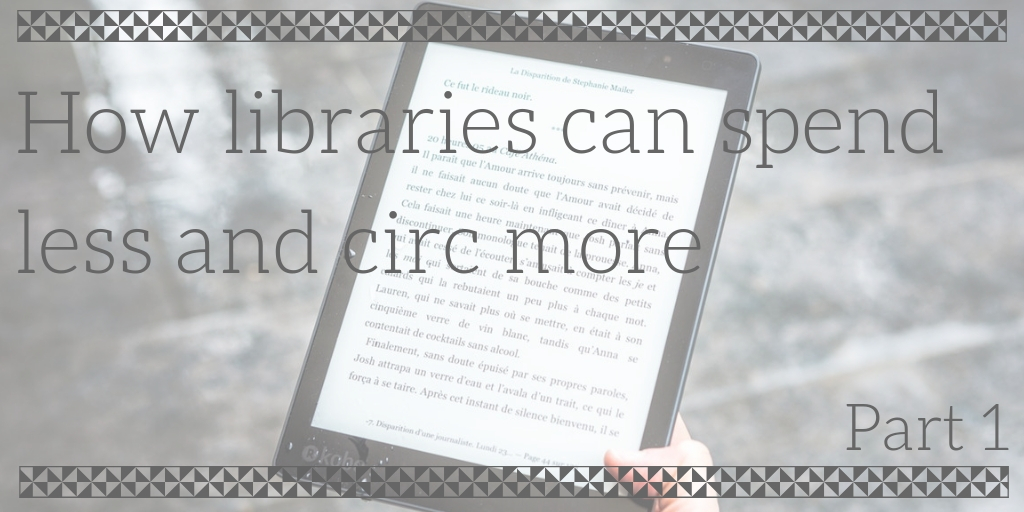 How libraries can spend less and circ more (Part 1/3)
By: Karen Estrovich, Regional Manager, North America Public Library
With an abundance of reading and other mobile apps to distract readers and suck up mindshare, how do we position the library as the first place to look when they want to be entertained, escape the news cycle or learn something? Libraries are always innovating and creating demand for their services by adding resources to reach new communities, serve young readers and provide more robust digital collections with the help of Libby and other tools.
Libraries meeting demand on a budget
But now what? With the growth of mobile devices, ereaders and popularity of digital audiobooks, the demand on libraries' digital collections has seen a dramatic hike — up 30 percent from 2017 to 2018. The result: more usage, more users, more holds and longer waitlists. These increases, along with changes in pricing and terms, make building and maintaining a digital collection a difficult reality and one that may seem unsustainable over time.
How can libraries balance this increased demand within a set – or shrinking – budget? We talked to our library partners about managing demand, merchandising and curation best practices. The result: A plan for how to help keep your significant reader base happy…without spending a lot of money.
First, some data on digital library growth
Out of the top-circulating libraries in 2018, three cut their budgets and still grew their digital circulation by more than 500,000 checkouts.
While holds grew 22 percent from 2017 to 2018, holds per user stayed consistent at 1.3. So, the average user may not notice an increase in individual wait times.
The ratio of checkouts to holds stayed consistent from 2017 to 2018 at 2.4:1.
Libraries saw a 22-percent increase in active users from 2017 to 2018.

This is the data point I'm most excited about. Even with more holds, users are finding ebooks and audiobooks to check out. Your digital brand and reach in the community are growing. Think about your number of digital collection users as a percentage of the population you serve or card holders. The top 10 library systems using OverDrive had more than 100,000 unique users in 2018, in some cases accounting for 15-20 percent of their population or 50 percent of their card holders.
In Part 2 of this series next week, we'll introduce the checklist designed to help manage your digital collection's growing popularity without spending a lot of money.
About the author:
Karen Estrovich has been working with libraries and digital lending for 14 years. The Regional Manager of the North America Public Library division of OverDrive, she has partnered with libraries of all sizes across the country to expand their digital reach to their community.
Browse blog and media articles