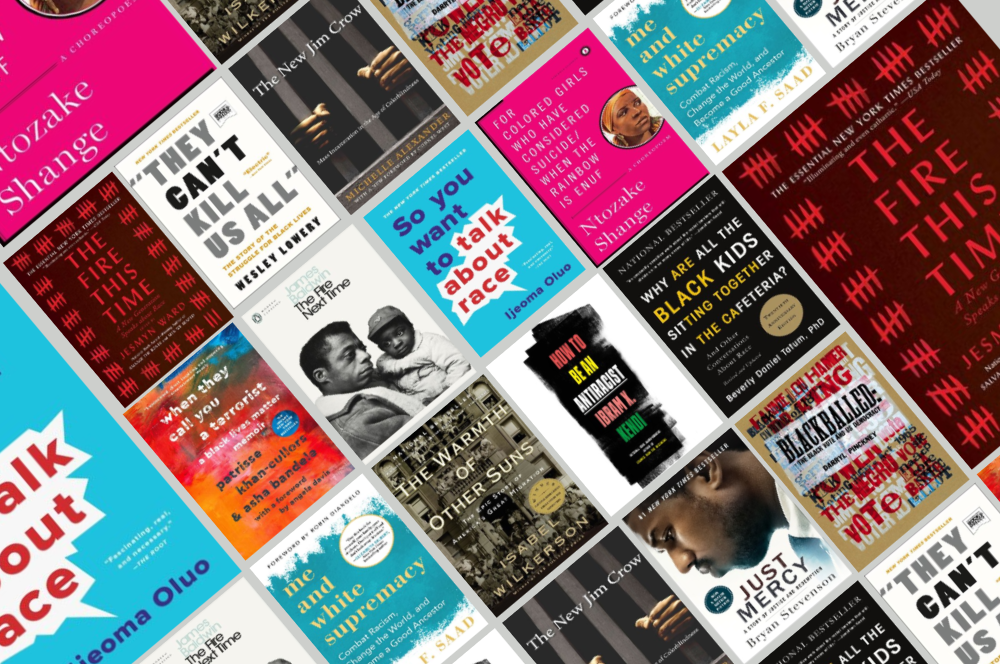 13 books about race you should read right now
By: Jill Grunenwald, Marketing and Communications Specialist
Today on the Professional Book Nerds podcast, co-hosts Jill and Adam share a list of 13 race-related books they have found helpful in examining their own white privilege. These books are meant to inform and educate readers about the ongoing experience of Black Americans including racial profiling, police brutality, abuse, and more.
Listen to the episode now:
Me and White Supremacy by Layla F. Saad
Based on the viral Instagram challenge that captivated participants worldwide, Me and White Supremacy takes readers on a 28-day journey of how to dismantle the privilege within themselves so that they can stop (often unconsciously) inflicting damage on people of color and, in turn, help other white people do better, too.
So You Want to Talk About Race by Ijeoma Oluo
In So You Want to Talk About Race, Ijeoma Oluo guides readers of all races through subjects ranging from intersectionality and affirmative action to "model minorities" in an attempt to make the seemingly impossible possible: honest conversations about race and racism, and how they infect almost every aspect of American life.
They Can't Kill Us All by Wesley Lowery
A deeply reported book that brings alive the quest for justice in the deaths of Michael Brown, Tamir Rice, and Freddie Gray, offering both unparalleled insight into the reality of police violence in America and an intimate, moving portrait of those working to end it.
The New Jim Crow by Michelle Alexander
With dazzling candor, legal scholar Michelle Alexander argues that "we have not ended racial caste in America; we have merely redesigned it." By targeting Black men through the War on Drugs and decimating communities of color, the U.S. criminal justice system functions as a contemporary system of racial control—relegating millions to a permanent second-class status—even as it formally adheres to the principle of colorblindness.
For Colored Girls Who Have Considered Suicide When the Rainbow is Enuf  by Ntozake Shange
From its inception in California in 1974 to its highly acclaimed critical success at Joseph Papp's Public Theater and on Broadway, the Obie Award-winning for colored girls who have considered suicide/when the rainbow is enuf has excited, inspired, and transformed audiences all over the country. Passionate and fearless, Shange's words reveal what it meant to be of color and female in the twentieth century.
Just Mercy by Bryan Stevenson
Just Mercy is at once an unforgettable account of an idealistic, gifted young lawyer's coming of age, a moving window into the lives of those he has defended, and an inspiring argument for compassion in the pursuit of true justice.
How to be Antiracist by Ibram X. Kendi
In How to Be an Antiracist, Kendi takes readers through a widening circle of antiracist ideas—from the most basic concepts to visionary possibilities—that will help readers see all forms of racism clearly, understand their poisonous consequences, and work to oppose them in our systems and in ourselves.
Why Are All the Black Kids Sitting Together in the Cafeteria by Beverly Daniel Tatum
Walk into any racially mixed high school and you will see Black, white, and Latino youth clustered in their own groups. Is this self-segregation a problem to address or a coping strategy? Beverly Daniel Tatum, a renowned authority on the psychology of racism, argues that straight talk about our racial identities is essential if we are serious about enabling communication across racial and ethnic divides.
The Fire Next Time by James Baldwin
James Baldwin's impassioned plea to 'end the racial nightmare' in America was a bestseller when it appeared in 1963, galvanizing a nation and giving voice to the emerging civil rights movement. Told in the form of two intensely personal 'letters', The Fire Next Time is at once a powerful evocation of Baldwin's early life in Harlem and an excoriating condemnation of the terrible legacy of racial injustice.
Blackballed by Darryl Pickney
Blackballed is Darryl Pinckney's meditation on a century and a half of participation by Black Americans in US electoral politics. In this combination of memoir, historical narrative, and contemporary political and social analysis, he investigates the struggle for Black voting rights from Reconstruction through the civil rights movement to Barack Obama's two presidential campaigns.
The Fire This Time collected and edited by Jesmyn Ward
In this bestselling, widely lauded collection, Jesmyn Ward gathers our most original thinkers and writers to speak on contemporary racism and race. Envisioned as a response to The Fire Next Time, James Baldwin's groundbreaking 1963 essay collection, these contemporary writers reflect on the past, present, and future of race in America.
The Warmth of Other Suns by Isabel Wilkerson
In this epic, beautifully written masterwork, Pulitzer Prize–winning author Isabel Wilkerson chronicles one of the great untold stories of American history: the decades-long migration of Black citizens who fled the South for northern and western cities, in search of a better life.
When They Call You a Terrorist by Patrisse Khan-Cullors & asha bandele
A poetic and powerful memoir about what it means to be a Black woman in America—and the co-founding of a movement that demands justice for all in the land of the free.
Browse blog and media articles