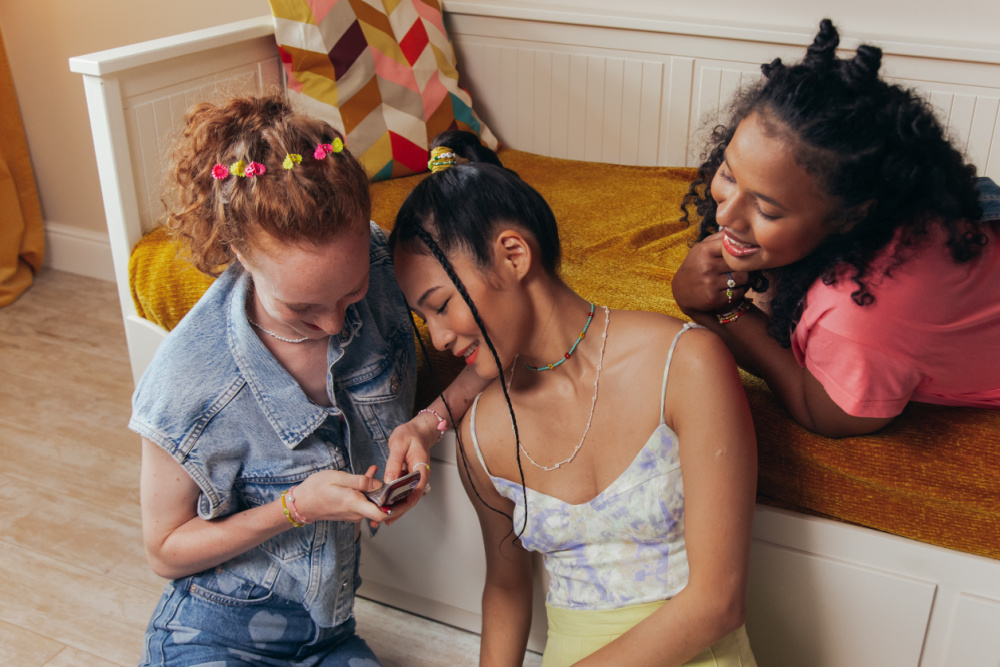 As If! Totally Rad 90s Picks from Libby, Kanopy, and Libby Extras
By Sarah Filiberto, Digital Content Librarian
As a child of the 90s, there are certain things, some more obscure than others, that just give me nostalgia now as an elder millennial. Books are, obviously, no exception since I am of the generation that is still chasing the thrill of the Scholastic Book Fair. The books I enjoyed growing up, though, are vastly different from those that we can call some of the best of that decade.
I think ten-year-old me would have been underwhelmed at not seeing a list full of The Boxcar Children, Goosebumps, and Animorphs. But as an adult I can appreciate the variety that literature in the 90s gave us, and the irony that many of them have now been made into feature films is not lost on me either. Let's just call that a testament to the power of good stories.
The Best of the 90s (In My Opinion)
Jurassic Park by Michael Crichton
Buy the ebook here
Jurassic Park is easily one of my top five favorite movies of all time, and I recommend the novel to people whenever I have a chance. The world-building is ahead of its time, and adds a layer of suspense that, somehow, you just can't get from the movie. The dinosaurs are just as terrifying and remain the best part in either format. I will accept no dinosaur slander.
From Publisher's Weekly:
An island off Costa Rica will soon be the world's most ambitious theme park–a dinosaur preserve. A visionary financier's biotechnology company has succeeded in cloning these extinct reptiles. Fifteen different species, presumably incapable of breeding, are now placidly roaming around, but Jurassic Park's resident mathematician, an expert in chaos theory, predicts that the animals' behavior is inherently unstable. When a rival genetics firm attempts to steal frozen dinosaur embryos, things go haywire. Two cute American kids, eight-year-old Tina and 11-year-old Tim, a safari guide from Kenya and a Denver paleontologist set things aright–almost.
Bridget Jones's Diary by Helen Fielding
Buy the ebook here
Buy the audiobook here
Bridget Jones is the perfect imperfect character if you're looking for an older contemporary romance to dive into. She's quirky, loveable, and just looking to get through life in one piece. Who isn't? You'll realize just how truly 90s this is when you find out that one of Bridget's struggles in life is learning how to program a VCR. Ouch.
From the publisher:
Bridget Jones's Diary is the devastatingly self-aware, laugh-out-loud account of a year in the life of a thirty-something Singleton on a permanent doomed quest for self-improvement. Caught between the joys of Singleton fun, and the fear of dying alone and being found three weeks later half eaten by an Alsatian; tortured by Smug Married friends asking, "How's your love life?" with lascivious, yet patronizing leers, Bridget resolves to: reduce the circumference of each thigh by 1.5 inches, visit the gym three times a week not just to buy a sandwich, form a functional relationship with a responsible adult and learn to program the VCR. With a blend of flighty charm, existential gloom, and endearing self-deprecation, Bridget Jones's Diary has touched a raw nerve with millions of readers the world round.
The Secret History by Donna Tartt
Buy the ebook here
Buy the audiobook here
Only a handful of books can ever really be described as cult classics, but The Secret History fits the bill figuratively and literally. The fact that it's still going strong after over three decades is a testament to that. Essentially, a group of secretive, close-knit college students confess to killing one of their own and the rest of the book is spent looking for answers, justification, and any semblance of remorse. This is a must read if you're a fan of the dark academia genre. If you're a fan of Cruel Intentions, you'll enjoy this for the same reasons.
From the publisher:
Under the influence of a charismatic classics professor, a group of clever, eccentric misfits at a New England college discover a way of thought and life a world away from their banal contemporaries. But their search for the transcendent leads them down a dangerous path, beyond human constructs of morality.
The Perks of Being a Wallflower by Stephen Chbosky
Buy the ebook here
Buy the audiobook here
I never truly started reading a lot of young adult books until I was out of college because there was never the phenomenon surrounding them that there was with Harry Potter, Twilight, and the Hunger Games. The Perks of Being a Wallflower didn't have that same hype, but it was absolutely a coming-of-age drama that went hand in hand with YA books of the 90s. And as we've come to realize by this point, YA books aren't just for teens and can easily be enjoyed by adults, too. This one is no exception.
From the publisher:
The critically acclaimed debut novel from Stephen Chbosky, Perks follows observant "wallflower" Charlie as he charts a course through the strange world between adolescence and adulthood. First dates, family drama, and new friends. Sex, drugs, and The Rocky Horror Picture Show. Devastating loss, young love, and life on the fringes. Caught between trying to live his life and trying to run from it, Charlie must learn to navigate those wild and poignant roller-coaster days known as growing up.
Practical Magic by Alice Hoffman
Buy the ebook here
Buy the audiobook here
With Halloween right around the corner, it would be a missed opportunity not to mention Practical Magic. Its 1998 movie counterpart tends to get more attention, and while I do always recommend watching it, the book is the real hidden gem of the two. The story is the same, of course, but the writing takes it to another level and is just charming. By the end it's hard not to feel like you've been transported to their Massachusetts town. It very much paved the way for shows like Charmed that would air later in the 90s, and I for one am thankful for that.
From the publisher:
For more than two hundred years, the Owens women have been blamed for everything that has gone wrong in their Massachusetts town. Gillian and Sally have endured that fate as well: as children, the sisters were forever outsiders, taunted, talked about, pointed at. Their elderly aunts almost seemed to encourage the whispers of witchery, with their musty house and their exotic concoctions and their crowd of black cats. But all Gillian and Sally wanted was to escape. One will do so by marrying, the other by running away. But the bonds they share will bring them back—almost as if by magic.
The English Patient by Michael Ondaatje
Buy the ebook here
Buy the audiobook here
Perfect for history buffs, The English Patient has stood the test of time since its debut in the early 90s and has remained a longstanding go-to WW2 novel. The story is beautiful, tragic, and hopeful all at once with a story that leaves you feeling fulfilled and yet somehow wanting more at the end.
From the publisher:
The nurse Hana, exhausted by death, obsessively tends to her last surviving patient. Caravaggio, the thief, tries to reimagine who he is, now that his hands are hopelessly maimed. The Indian sapper Kip searches for hidden bombs in a landscape where nothing is safe but himself. And at the center of his labyrinth lies the English patient, nameless and hideously burned, a man who is both a riddle and a provocation to his companions—and whose memories of suffering, rescue, and betrayal illuminate this book like flashes of heat lightning.
---
Must Watch Films

It Takes Two, 1995
Watch on Kanopy here
Two identical girls swap lives to bring people closer together, sounds familiar right? This would be the predecessor for The Parent Trap, if it didn't already have an original version from the 60s. It's still adorable and I'll always watch it when I come across it on TV.
Two identical girls have lived very different lives. The outspoken Amanda has been moving from foster home to foster home, while the quiet refined Alyssa has been raised in a world of privilege and luxury. Amanda faces adoption and the loss of Diana, her loving social worker. Alyssa faces losing her father, Roger, to an opportunistic fiancée. The two girls swap identities in a plan to bring Roger and Diana closer together.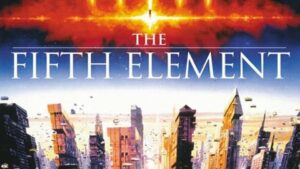 The Fifth Element, 1997
Watch on Kanopy here
Speaking of cult classics, The Fifth Element might be one of the quirkiest, out there science fiction movies of the 90s. And yet somehow its characters are still celebrated at comic cons to this day. I won't claim that this is a movie everyone will love, but I will stand by the fact that it's worth a watch and the cast is wonderful.
Set in the 23rd century, Luc Besson's The Fifth Element takes us to a world vastly different from that which we know today. For ex-Marine Korben Dallas (Bruce Willis), life has become tediously repetitive: he drives a flying cab for a living, and eats take away from the same Chinese restaurant, which delivers directly to his window, every day. But little does Korben know, a great extra-terrestrial Evil has teamed up with Zorg (Gary Oldman), and threatens to destroy the Earth, an event which can only be prevented by combining the four Earthly elements with an alien "Fifth" element.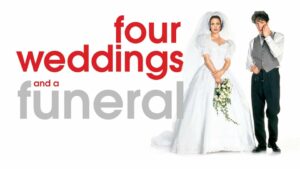 Four Weddings and a Funeral, 1994
Watch on Kanopy here
Amazing casting strikes again with Hugh Grant and Andie MacDowell in this 90s British rom com that flies under the radar far too often. Everyone is an oddball and I think that's what ultimately makes it so endearing. I love a good quirky, odd, but ultimately loveable character.
In this beguiling romantic comedy, handsome and debonair Londoner Charles (Hugh Grant) just can't get himself to commit. And the more he sees his mates tie the knot, the less he wants to be roped in himself. But all of that changes when he meets– again and again — a free-spirited American named Carrie (Andie MacDowell). Instantly smitten, Charles begins to pursue her, only to learn that she too is ready to take the plunge…with someone else! Kristen Scott Thomas and John Hannah also star.
---
A Little Extra Something
Treat yourself, and your community, to a little something more with Libby Extras. This week we're highlighting Craftsy.
Craftsy is an online resource for all creative makers from basic instruction to advanced techniques for fabric and yarn crafts, baking, drawing, and much more. As a bonus, it's also available in Spanish!
If you or your patrons craft for the holidays, this is an excellent resource for everything from baking and sewing to knitting and crochet, that any skill level can appreciate.
If you're interested in a demo or learning more about Libby Extras, don't hesitate to reach out to your Digital Content Librarian for more information!
Tags In
Browse blog and media articles