Meet Libby, the One-Tap Reading App from Your Library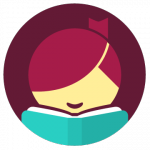 OverDrive's new app creates a unique reading experience borrowing ebooks and audiobooks using a smartphone or tablet
ALA Annual Conference at McCormick Place, CHICAGO – June 22, 2017 – As the nation's librarians meet in Chicago at the 2017 American Library Association (ALA) Annual Conference this weekend, they will discover a new tool designed to bring new users to the library. Meet Libby, the innovative and fun new reading app for ebooks and audiobooks introduced worldwide on June 20. Based on the experience of 36,000 library partners and one billion digital books borrowed, OverDrive designed Libby to get library users reading quickly, anytime and anywhere, in just one tap.
"Libby is fast, fun and friendly," said Lisa Tattersall, Program Supervisor for Collections and Adult Services at Washington County Cooperative Library in Oregon. "We are happy to be able to point our patrons to an app that's easy to use and thoughtfully designed. Libby brings a sense of fun and discovery to getting digital books from our library."
For more information on Libby, visit OverDrive at the American Library Association Annual Conference in booth #1834 or go to meet.libbyapp.com.
For 15 years, OverDrive has partnered with the nation's public libraries to pioneer and innovate how readers of all ages can benefit from instant access to reading from their local libraries. Libby incorporates innovative technologies based upon guidance from thousands of librarians and millions of book lovers. Warm, personal and friendly, Libby first guides readers to find their local library and remembers their library card number. The app is easy to use on a smartphone or tablet and readers are always one tap away from finding their next great read.
Launched for beta testing in December 2016, the user-friendly app is quickly becoming a favorite to discover, borrow and enjoy ebooks and audiobooks for free. It's a library aide available 24/7, anytime and anywhere. Libby was built upon OverDrive Read and OverDrive Listen software which means that millions of ebooks and audiobooks from the library are ready to be enjoyed instantly. This best-in-class technology allows Libby to present any ebook or audiobook in a simple, beautiful format regardless if the title is a novel, comic or graphic novel, reference material, cookbook or Read-Along.
Librarians love Libby because it helps reach more of their community and bring more readers to the library. Libby features everyone can enjoy:
Readers are one tap away from the library, their bookshelf and their next great read
Download ebooks and audiobooks for offline reading, or stream them to save space
Sign in to multiple libraries, with one or more cards for each library
Kindle® users can send library ebooks to their device. (U.S. only)
Libby remembers a reader's place in a book as well as what notes and bookmarks that were created across all devices, allowing for a synced reading experience
Keeps track of reading history in the activity tab
Libby is free to download in the Apple App Store, Google Play or get it from Microsoft.  Designed for iPhone®, iPad®, Android™ phones and tablets and Windows devices.
For more information and to preview the app, visit https://meet.libbyapp.com/ and visit OverDrive in booth #1834 at the American Library Association Annual Conference, June 23-26, 2017.
A full media kit with screenshots, logo and information is available for download here.
About OverDrive
OverDrive is the leading digital reading platform for libraries and schools worldwide. We are dedicated to "a world enlightened by reading" by delivering the industry's largest catalog of eBooks, audiobooks and other digital media to a growing network of 36,000 libraries and schools in 63 countries. Founded in 1986, OverDrive is based in Cleveland, Ohio USA and owned by Tokyo-based Rakuten. www.overdrive.com
Contact:
David Burleigh
Director of Marketing
dburleigh@overdrive.com
###
Browse blog and media articles