Monday 5×5 August 6, 2018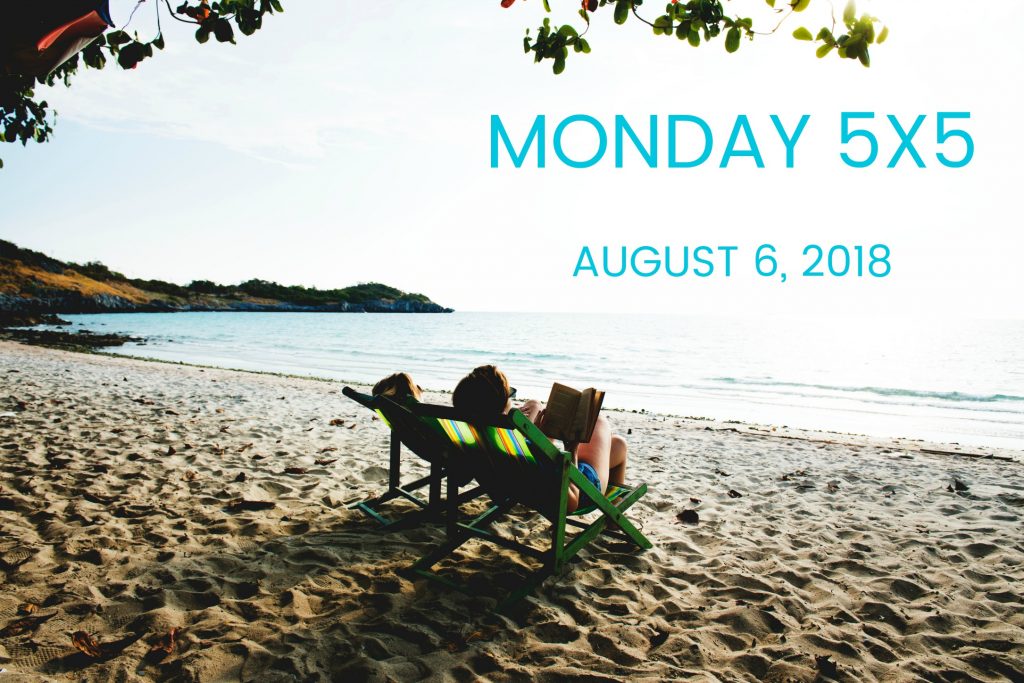 By: Jill Grunenwald
Electric Literature provides a list of 11 books that prove there's nothing wrong with self-publishing
Are there people who still think there is something wrong with self-publishing? I hope not, but even if there are I think this list will show that, yes, quality books can be self-published. I've used The Martian as an example before and it always blows people's minds.
Over on CNBC, Barnes & Noble says sales of books related to anxiety are soaring
Sales of anxiety related books are up more than 25 percent. But, it's not the only trend: books related to "finding happiness" are up 83% from a year ago. So, people are anxious but are attempting to combat it, all through the magic of books.
CrimeReads has 12 books set inside the gilded suburban cage, where nothing ever changes
Look. I grew up in suburbia. The kind of suburbia that is so television show quaint, my friends and I call it Stars Hollow like in Gilmore Girls. Trust me, it's a scary place.
Publishers Weekly offers comments from clients of agent Danielle Smith
Last week, news broke about literary agent Danielle Smith, who, in the words of PW "acted more like a literary grifter than a literary agent." She claimed to have publishing offers that never actually existed and, allegedly, forged emails from editors that she passed along to clients. It's really heartbreaking to think of all the authors who had their manuscripts out in the world, believing they were being read by editors and industry experts, only to learn that your agent had been lying to you the entire time.
HOT TAKE: Over on Tor.com, I present five reasons I believe Harry Potter should have been in Slytherin
Don't [@] me
This week's hot picks are Catwoman: Soul Stealer by Sarah J. Maas and Dopesick by Beth Macy. Origin story of Catwoman? YES PLEASE. Macy's book of non-fiction examines the opioid crisis in America, tracing it all the way back to the introduction of OxyContin in 1996.
Tags In
Browse blog and media articles