Discover Sora!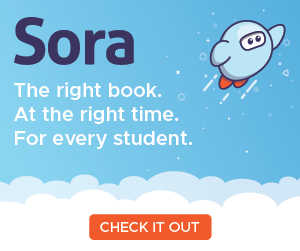 By: Courtney Sveda, Training Specialist
What has everyone at OverDrive excited about back-to-school season? Our new student reading app, Sora!
Sora is designed to make reading engaging for your students. From earning achievement badges to customizing reading settings, it's the best way for students to engage with your school's digital collection. Join us throughout August and September for two new training sessions to see what Sora is all about. Register today!
Open a World of Reading with Sora
This session will provide a great introduction to the Sora app. We'll demonstrate how to get started, navigate and interact with key features, and customize the experience along the way. This session will help you feel comfortable with the app and prepare you to share Sora with your students.
Curating and Assigning Titles for Sora
This session will explore how to use Marketplace get the right books to your students. Curating collections allows schools to highlight titles in the app- making them easier for students to find. And the title assignment tool allows teachers to assign specific books to individual students for a set period. Join us to learn more about the benefits of these tools and view demonstrations on how they work. Note: You will need specific Marketplace permissions to curate and assign titles. Contact your OverDrive administrator for more information.
Register for both sessions at OverDrive's Resource Center. We hope to see you there!
Browse blog and media articles