Sora drives digital reading growth in South African schools
By: Thandeka Kaya, College Librarian & Kirston Hoets, Reseller with Meredith Wemhoff, Account Manager.
St. John's College – Houghton in South Africa saw a dramatic increase in both number of checkouts and unique users since the introduction of Sora. In September, St. John's College's average checkouts per month increased by 595%. This momentum continued into October where they saw another increase of 111%. Not only were more titles being borrowed, but the number of learners utilizing the service expanded.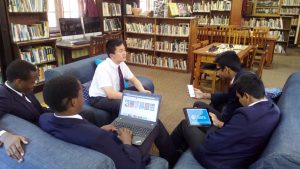 College librarian, Thandeka Kaya, shared the following insight to their recent successes.
"To say that St John's College boys love Sora would be a sad understatement. Ever since we introduced Sora to the students on 18 September in celebration of Read An eBook Day this year, it has quickly swept through the school.
Some background: the school currently has three physical libraries at the Preparatory and College. However, physical books alone were simply not enough for some boys. Other boys were unable to visit the physical libraries due to their packed schedules. That's where Sora came in. Not only did it allow the boys to read anytime and anywhere, but it also eliminated the problems of physical libraries such as lost or damaged books, the process of late returns, and the confusing indexing system.
In our quest to promote the culture of reading, we have also partnered with the English teachers to encourage the learners to engage, collaborate and discuss issues arising from books read in groups. Teachers are now able to access and track each learner's speed and activities while logged in on the app. This has already contributed toward more engaging and interactive learning.
A few of the many advantages of Sora that our boys enjoy daily include:
The vast digital library collection
Digital as an extension of the 3 physical libraries that we have
User friendliness and a beautiful but simple interface
Convenience
Audiobooks
Helpful features, which allows you to highlight text, bookmark, read offline, etc.
And much more!
"We hope that our success story at St John's College can help inspire other schools to adopt Sora as well."
The introduction of Sora was not the only factor at play here. St. John's College added fresh content to their collection in two specific areas, African authors and Professional Development content for their faculty and staff. They also acquired several copies of The Girl with the Red Balloon by Katherine Locke, so teachers could read the novel prior to the start of Big Library Read (1-15 October) and encourage the boys to participate in the global book club. Both the History and English departments, as well as grade 7 took part.
Success with Booktalk
In South Africa, OverDrive works closely with our reseller partner, Booktalk. Not only does Booktalk work to bring OverDrive into more schools throughout the country but director Kirston Hoets demonstrates dedication to the success of each individual school.
Kirston shared the following in regards to one of the individuals who had a hand in the recent successes at St. John's College.
"Zanele Mnguni, teacher and librarian, has recognised the value of Sora as an all embracing service that goes well beyond the school library and reaches out to include teachers as well as students at a school. Among other exciting and valuable elements Sora encourages teachers to collaborate on reading programmes that expand into themed subjects as well as general knowledge for the students. In a nutshell, Sora is inclusive of the school as a whole. Zanele's two and a half months as a locum at a school saw her introduce Sora to the students and the staff followed by a planned campaign to work through the opportunities that Sora offers."
Tags In
Browse blog and media articles