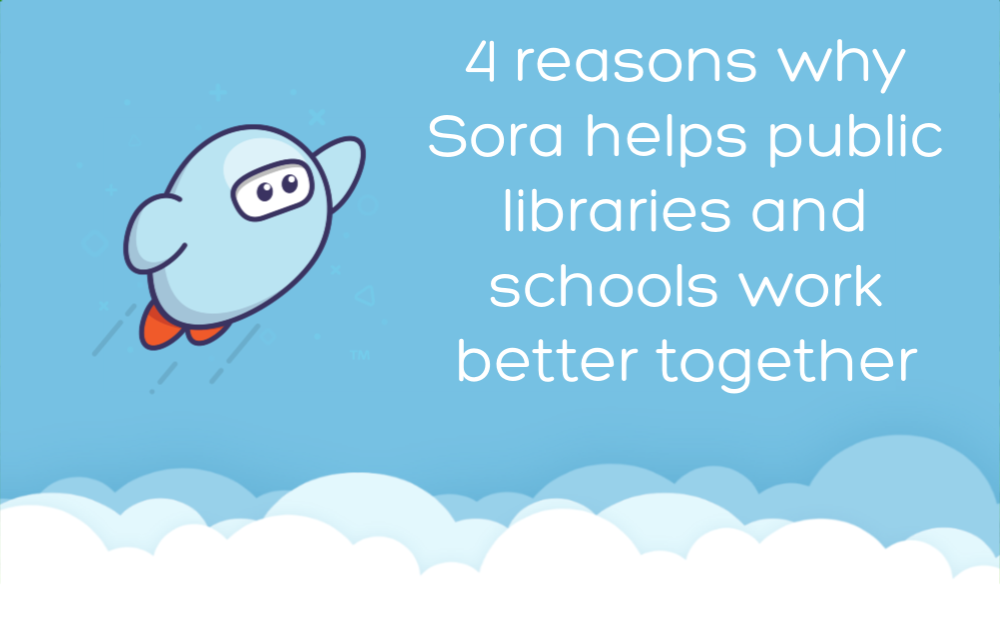 4 reasons why Sora helps public libraries and schools work better together
When I was a kid, I always loved the end of the school year. Not just because summer was on the horizon, but because in elementary school, there was always an end-of-the-year field trip to the public library. Sitting on the floor, we crowded around the librarian as she perched on a wooden stool, reading us a story. After, she told us all about that year's Summer Reading Program. For those of us who remembered to bring our library cards, we could even check out books to take home.
Years later, when I was in college and working in that same library, those field trips were still happening. Even then, there was nothing better than watching all of the kids eagerly listen to storytime. (Admittedly, I sometimes hid in the stacks so I could also listen!)
Schools and public libraries work better together, and we know that so many of our library partners are already partnering with local schools. With Sora, the student reading app, you can now offer the same partnership through your OverDrive collection. In addition to having access to their school's ebook and audiobook collections, students that use Sora can also access their local public library's collection as well. With 90 percent of public libraries in North America also using OverDrive, this partnership opens a whole new world of books for students.
Here are four reasons why using Sora to bring the public library to the classroom benefits everyone:
Access to age-appropriate content
Through Sora, students can access only Juvenile and YA titles from the public library. For parents who are concerned about their children accessing and reading content inappropriate for their age and reading level, Sora offers a safe solution.
Increased reading and increased circulation
A recent study found that when students can access the public library through their school reading app, students read more—checking out as many as 240 percent more ebooks! Not only does partnering with your local school mean the kids in your community will be reading more, but it means the public library will see an increase in circulation in their juvenile and YA content.
Build lifelong learners and library lovers
One of the reasons I became a librarian is because my school instilled in me a love for the library very early in my school career. Even if all of the kids in your community aren't destined for librarianship, building that love of books and reading needs to start early. By providing access to the public library through their school reading app, kids will not only be reading more, but they will be familiar with using the library once they are out of school.
Flexible authentication options
Even though I attended the library on a field trip through my school, I still needed to bring my public library card to check out books. With Sora, libraries and schools can choose from multiple authentication options to find the best fit for their partnership.
Browse blog and media articles