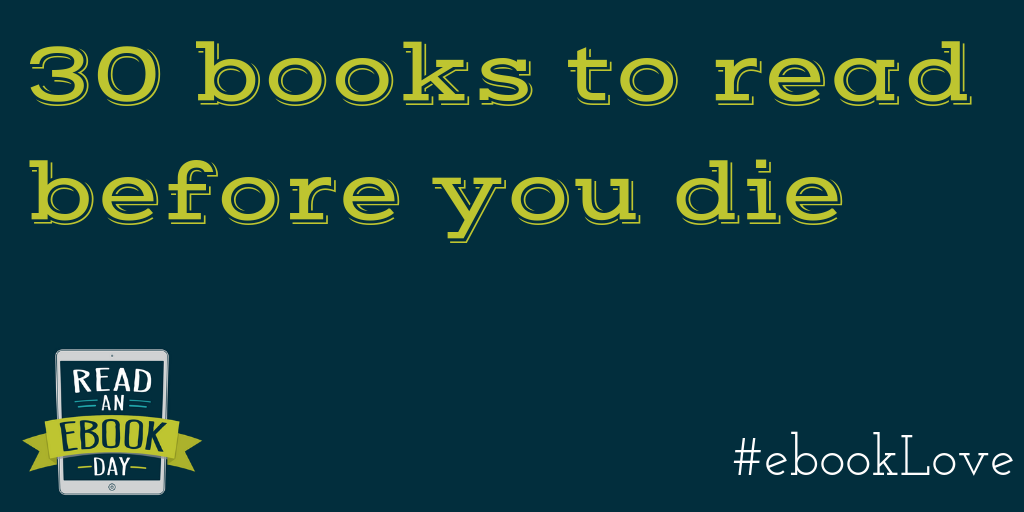 30 Books to read before you die (or on Read an Ebook Day)
Figuring out what to read can be overwhelming. There are, frankly, so many books worth reading that, oftentimes, you can find yourself paralyzed with choice. In these moments, it's likely you either ask a friend, a librarian, or head to Google for a book recommendation. We've done the work for you by asking our friends, the book nerds and librarians of Team OverDrive, for the book you absolutely have to read. They did not let us down.
Read an Ebook Day is coming up on September 18th. It's good to have the perfect book ready to go and, with that in mind, we're happy to present you with our essential reading to help you narrow down your search.
30 Books to read before you die
–Love Thy Neighbor: A Muslim Doctor's Struggle for Home in Rural America by Ayaz Virji with Alan Eisenstock.
–The Goldfinch by Donna Tartt
A sweeping story of a family struggling to survive and find their way in countries that refuse to accept them. This extraordinary tale shows the relentlessness of the human spirit as generations of family members fight to control their own destiny.
–Franny and Zooey by J.D. Salinger
–The Giving Tree by Shel Silverstein
In the United States, mass shootings are, sadly, a normal occurrence. This harrowing story of a fictional shooting in a high school could happen truly anywhere. Told in real-time, Nijkamp will leave you heartbroken and yet, somehow, filled with hope that things can improve.
–Firefly Lane by Kristin Hannah
–The Source by James A. Michener
–The Road by Cormac McCarthy
It is a glimpse into the worst of humanity and the best of humanity in a few hundred pages. It's like reading poetry; each word is so beautifully and carefully considered. I felt for the characters so deeply, that I had to keep reading through the bad parts, and would stop reading for days on the good ones, just to keep them safe and together a little while longer, even though I knew their fate from the first page.
–A Tree Grows in Brooklyn by Betty Smith
Everyone in the book has faults, but many of the characters learn and model forgiveness, acceptance and most importantly, the power of a sincere apology. Admitting when you are wrong is pretty much becoming a lost art these days. And who doesn't love a good Regency ball?
Little Women is great because it's classic but also timeless, a kid's book but also applicable to adults, and everyone can identify with (at least) one character. Anyone with a mom and particularly anyone with sisters needs to read Little Women to appreciate the bond between them.
–Jab, Jab, Jab, Right Hook by Gary Vaynerchuk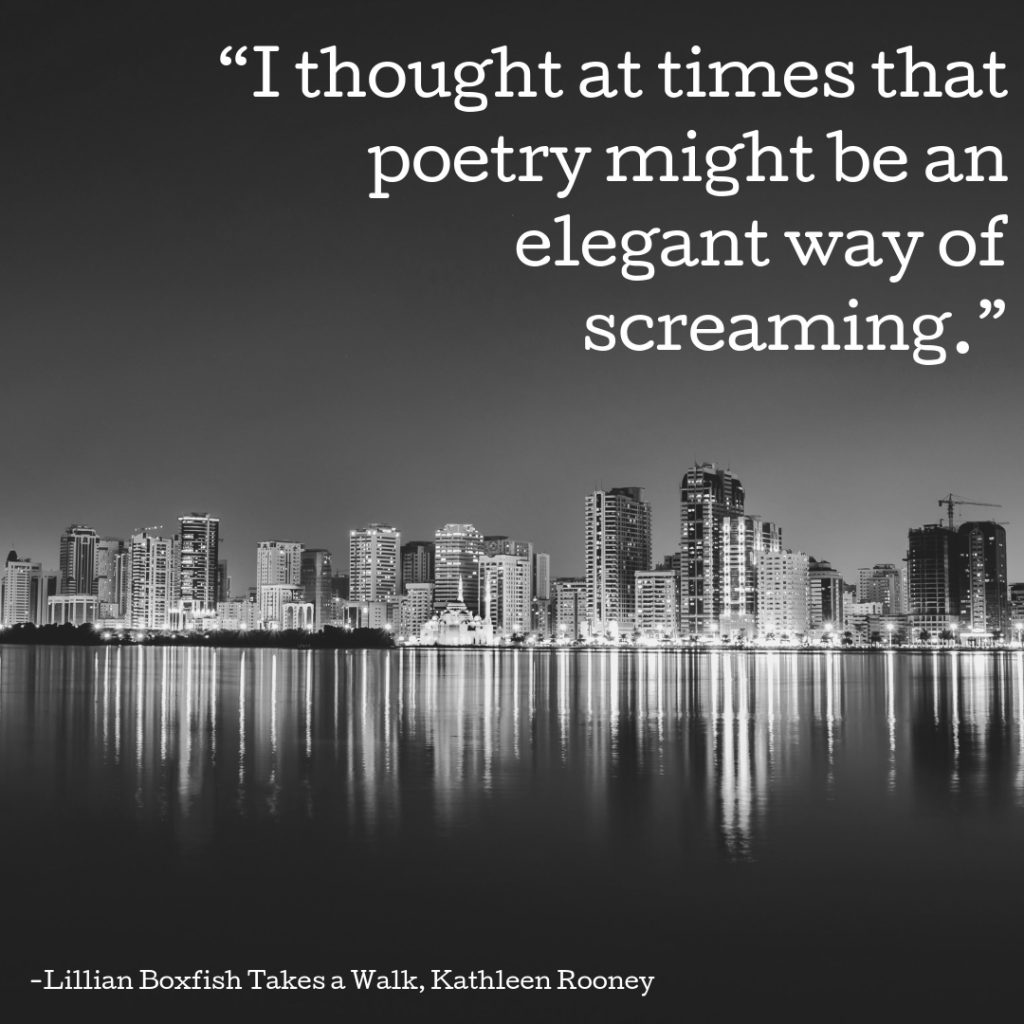 –The Elements of Style by William Strunk Jr.
It's hard to understate how impressive what Kathleen has done with this novel. In depicting a woman in her mid-80s taking a walk through New York City on New Year's Eve, she somehow manages to create a feeling of nostalgia anyone can connect with. Whether you have any connection to life this factious former advertising star has led or not, this book will leave you yearning for a simpler time.
–Shrill by Lindy West
A modern-day take on the Odyssey where Ben, a tired suburban man, goes on a walk that turns into a bizarre quest filled with life or death consequences. It is remarkably unique and, at times, both hilarious and haunting. The final page of this book is unlike anything you'll ever come across.
Yes, this is an old-fashioned read…published in 1929…but it is still timely, and it's short, and if you follow along with Woolf as she ponders the subject while meandering around the grounds of a university (where she is sternly told that women can't walk on the grass), you will find a premise built on irrefutable logic and filled with unexpected chuckles.
–A Place for Us by Fatima Farheen Mirza
Wonderfully written, enduring characters, and unfortunately, timeless themes.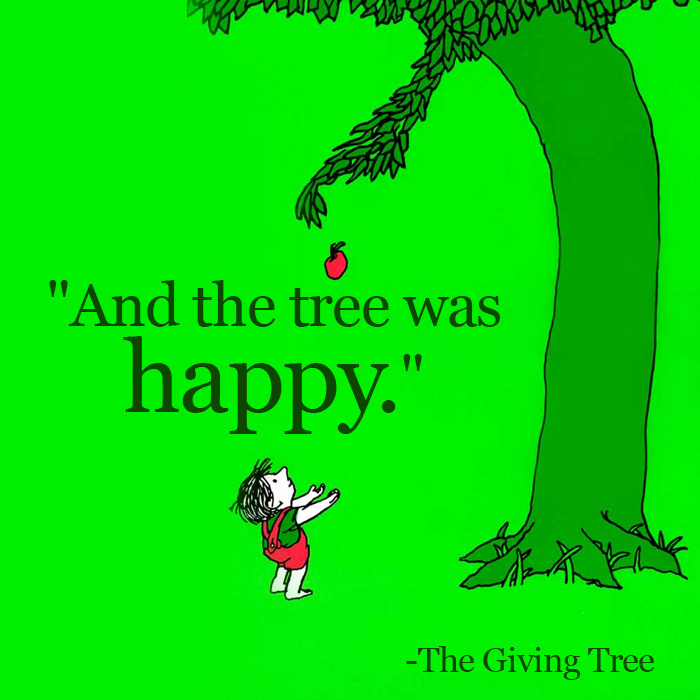 –Their Eyes Were Watching God by Zora Neale Hurston

–The Black Stallion by Walter Farley
This book has family drama, murder, and intrigue. Plus, it's beautifully written and who doesn't love a story that takes place in Ireland?! It's technically book 3 of the "Dublin Murder Squad series," but her books aren't really sequential…you don't have to read the others to know or enjoy what's happening.
–The Power of Myth by Joseph Campbell
–The Hate U Give by Angie Thomas
This is Motherhood is a collection of essays "by Moms, for Moms" that covers just about every angle of motherhood. Are you a Pinterest Mom? A Single Mom? A C-Section Mom? A Co-Sleeping Mom? How about a Hot Mess Mom? (Guilty.) This book reflects on all those Moms and more. The mothers that wrote these essays show us there are many ways to be a Mom, and we all navigate Motherhood in our own beautiful way.
–Oh, the Places You'll Go! by Dr. Seuss
I look for it anytime I am in a book shop. It's had several editions and translations, so I am always looking for one I've not seen before. It's a book for all ages; at first glance for children, but upon first read, it's for adults. As Antoine notes in his dedication to Leon Werth, "All grown-ups were children first. (But few of them remember it.)" It's a book that reminds us grown-ups that while there is sadness and pain on our small planet, there is joy and wonder, too—something children already know.
–Misery by Stephen King
Because everyone should know how terrifying Annie Wilkes is.
An engrossing read that reveals the threat humans pose to the rest of the natural world. It's written in an accessible, engaging manner, and I learned so many cool facts about bats, frogs, you name it! However, a warning: Her outlook was so depressing I teared up in the car multiple times while listening to it on audio.
1 Comment
Comments are closed.
Browse blog and media articles