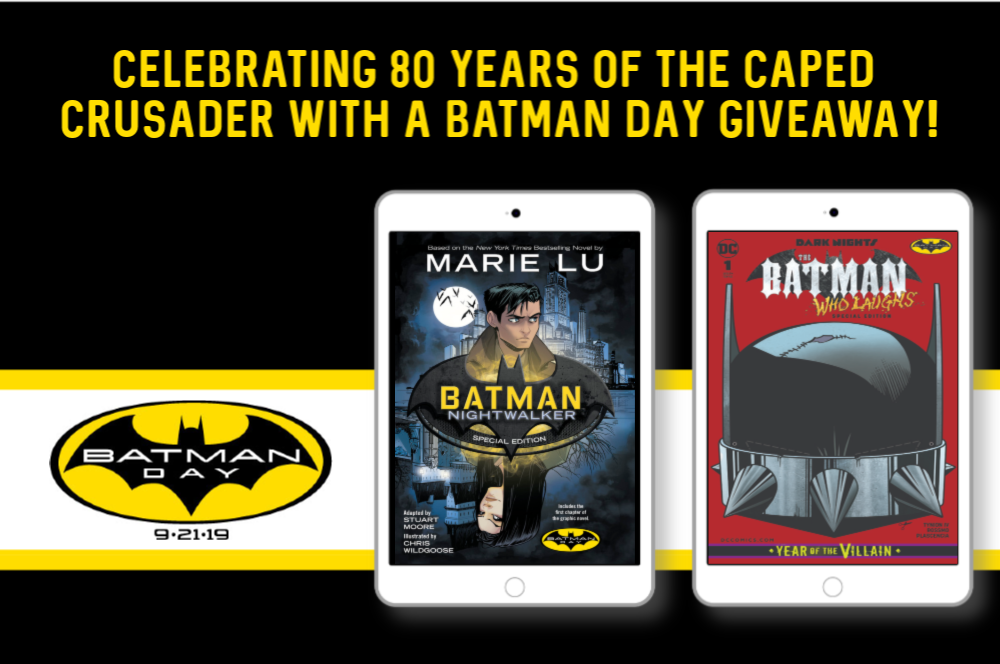 Celebrating 80 years of the Caped Crusader with a Batman Day Giveaway!
Batman Day returns on September 21st! The annual celebration of all things Dark Knight includes events at thousands of retailers across the globe, activities for fans of all ages, one of our biggest fan sweepstakes of the year and super deals from DC and our partners. Visit DCComics.com/BatmanDay for event listings, deals and more!
In honor of Batman Day, DC Comics is giving away digital copies of two popular titles to OverDrive library and school partners. Each library and school is eligible to receive up to 100 copies of these titles. The registration link will close on Monday, September 30.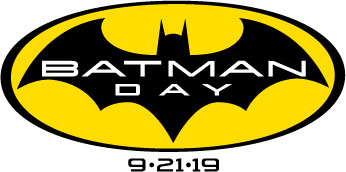 About the titles
Batman: Nightwalker (All audiences)
The Graphic Novel Batman Day 2019 Edition #1 features an excerpt from the upcoming DC graphic novel for young adults based on the New York Times bestselling novel by Marie Lu, adapted by writer Stuart Moore with art and cover by Chris Wildgoose.
The Nightwalkers are terrorizing Gotham City, and Bruce Wayne is next on their list.
One by one, the city's elites are being executed as their mansions' security systems turn against them, trapping them like prey. Meanwhile, Bruce is turning eighteen and about to inherit his family's fortune, not to mention the keys to Wayne Enterprises and all the tech gadgetry his heart could ever desire. But after a run-in with the police, he's forced to do community service at Arkham Asylum, the infamous prison that holds the city's most brutal criminals.
Madeleine Wallace is a brilliant killer . . . and Bruce's only hope.
In Arkham, Bruce meets Madeleine, a brilliant girl with ties to the Nightwalkers. What is she hiding? And why will she speak only to Bruce? Madeleine is the mystery Bruce must unravel. But is he getting her to divulge her secrets, or is he feeding her the information she needs to bring Gotham City to its knees? Bruce will walk the dark line between trust and betrayal as the Nightwalkers circle closer.
Dark Nights: The Batman Who Laughs, Issue 1 (Mature audiences)
The Batman Who Laughs Batman Day 2019 Edition #1 reprints the 2017 one-shot spinning out of Dark Nights: Metal, written by James Tynion IV with art by Riley Rossmo and a cover by Jason Fabok. Left rattled by the events of DARK NIGHTS: METAL, Bruce Wayne must come face to face with the nightmares spawned from the Dark Multiverse. But even though evil devoured evil in the collapse of Challengers Mountain, the Dark Knight still has his doubts. He discovers that the Batman Who Laughs not only survived the fight with The Joker at the end of METAL, but now he is enacting a sinister plan across the Multiverse—something both terrifying and oddly familiar. But when Bruce Wayne realizes the only way to stop this madman is to kill him, he must consider violating the very rule Batman won't break…the same rule that created this insatiable villain—the Batman Who Laughs!
Get these two Batman titles for free by registering before September 30!
Tags In
Browse blog and media articles