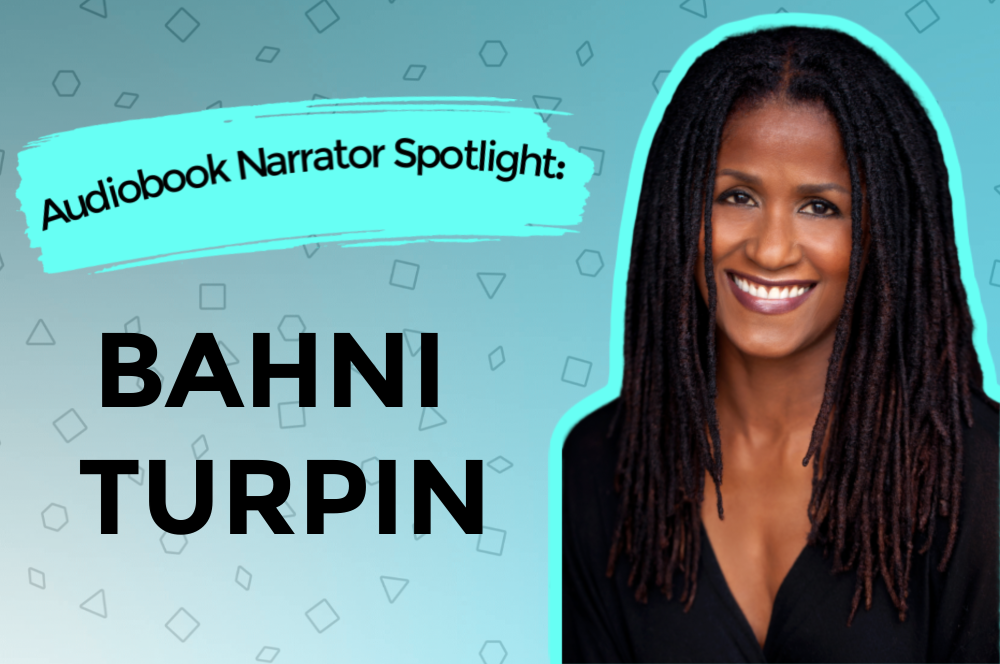 Audiobook Narrator Spotlight: Bahni Turpin
By: Jill Grunenwald, Marketing and Communications Specialist
Just like we all have favorite authors, if you are a big audiobook listener like me you probably have favorite narrators, too. In honor of Audiobook Month in June, over the next few weeks we are going to be spotlighting some of Team OverDrive's favorite audiobook narrators. 
 As your resident OverDrive blog manager, I'm going to kick us off with my favorite narrator: Bahni Turpin. I can't remember the first audiobook I listened to that she narrated, but after that, I started to intentionally seek those titles out. Even if it's a book I hadn't previously been that interested in, as soon as I see the audiobook is narrated by her I immediately want to listen. 
 Bahni Turpin has narrated hundreds of audiobooks, and has the AudioFile Earphone Awards to back up her talent. Here are some of my favorites:
The Underground Railroad by Colson Whitehead
 Winner of the Pulitzer Prize and National Book Award, Whitehead's novel is a reimagining of America's history where the Underground Railroad is not a mere metaphor but a secret network of tracks and tunnels. We follow Cora, a young slave from a Georgia cotton plantation, as she embarks on her escape through an America that will be strange yet familiar to contemporary readers.
Dread Nation by Justina Ireland
 Another reimaginging of Civil War era America, Ireland's young adult novel tells the story of Jane McKeene, who was born two days before the dead began to walk the battlefields of Gettsyburg, Pennsylvania. In this new America, laws — like the Native and Negro Education Act — require children like Jane to attend combat school to learn how to put down the dead. But that's not the life Jane wants. But after finishing school, Jane is pulled into a battle in Baltimore County where she learns the restless dead are the least of her problems. (Bahni also narrates the sequel Deathless Divide.)
Allegedly by Tiffany D. Jackson
 When a friend recommended Jackson's debut to me, I wasn't entirely sure what to expect but was completely blown away by the story of Mary, a teenage girl living in a group home after killing her baby (allegedly). The court of public opinion found her guilty and the jury confirmed it. But did she really do it? (I also recommend Jackson's book Monday's Not Coming, and while looking up titles for this post I saw she has another book coming out in the fall and immediately put it on hold through Libby.)
Southern Book Club's Guide to Slaying Vampires by Grady Hendrix
 Here at OverDrive, we absolutely adore horror writer Hendrix (his novel Horrorstor is set, quite literally, right where the OverDrive offices are). In his latest book, a woman's book club in Charleston during the 1990s is upended when a handsome stranger moves into the neighborhood. When children begin to go missing, the book club believes it's their new friend James, but nobody else in town believes them.
Bad Feminist by Roxane Gay
 This collection of essays from the formidable Roxane Gay takes readers through her evolution as a woman while also discussing cultural touchstones of the past few years and addressing political and feminist issues. 
The Hate U Give by Angie Thomas
 Sixteen-year-old Starr is caught between two worlds: the poor neighborhood where she lives and the fancy suburban prep school she attends. The uneasy balance between these two worlds is shattered when Starr witnesses the fatal shooting of her unarmed best friend Khalil at the hands of a police officer. 
There's Someone Inside Your House by Stephanie Perkins
 It's been almost a year since Makani Young escaped her past in Hawaii and came to live with her grandmother in Nebraska. Then, one by one, the students in her small town high school begin to die in a series of gruesome murders and as the terror grows, Makani is forced to confront her own dark secrets.
Tags In
Browse blog and media articles