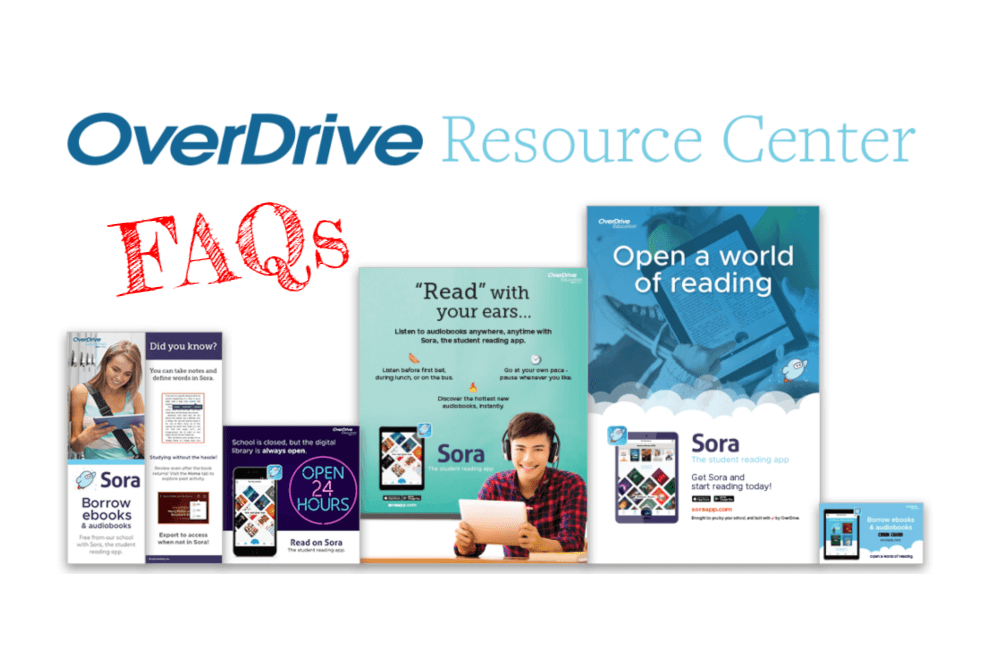 Get the most for your school: Top Resource Center FAQs, answered
By: Christina Samek, Outreach Specialist
You may have visited OverDrive's Resource Center before. You may have even downloaded marketing materials or viewed a training or used a Recommended list when building your school or district's collection.
If you've never visited at all, know this: the Resource Center was created for you, to save you time and energy, so you can spend more time doing what you do best — connecting more students and educators to more books. It's designed to be a seamless, self-service experience, but questions arise from time to time. We've compiled the top FAQs about the Resource Center. Read on — you may learn a tip or two to help you save some precious time!
Is Marketplace the same thing as the Resource Center?
The Resource Center is a separate website from OverDrive Marketplace. The Resource Center contains marketing materials, trainings and collection development resources and can be viewed by anyone. There are no credentials needed to access.
OverDrive Marketplace is the online database of digital content that you can purchase and curate for your digital collection. If you don't have a Marketplace username but require one, please contact your OverDrive Marketplace administrator and ask them to create an account for you.
How do I open Marketing and Training Kits that contain more than one file?
To open a kit that contains more than one file, you'll be downloading and extracting a ZIP file. Click the Download button where indicated on the Resource Center page.
Choose where on your computer you want to save the ZIP file. Often, the default location for saving files is your Documents or Downloads folder. (Tip: you can browse to save the file anywhere you like.)
Once your file is downloaded, navigate to where it's saved and double-click to open. You'll see a list of the materials inside that compressed or "zipped" file. To start using those materials, click Extract at the top of the file window and choose where to save those files. They will extract into a folder so the files will stay together. Your files are now free to be used individually!
I love these social graphics, but can I share them on Instagram?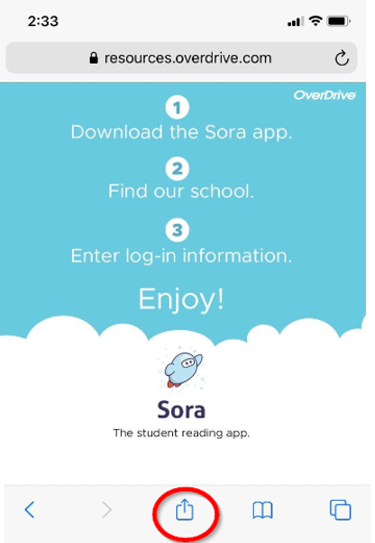 All of our social graphics are optimized and ready to share on your social media accounts. To share on Instagram, it's easiest to visit the Resource Center on your phone. Tap Download, then tap the share button. Scroll to the Instagram app. Pinch to adjust your image and then add your caption. Graphics for Facebook or Twitter can be shared via mobile or saved on your desktop.
How do I share your videos on my school's social media page?
Some promotional videos have an option to download, but others you can share directly. Tap View, then tap the share button in the lower right. You can embed on your website, download the video or share directly to your Facebook or Twitter. Need some inspiration? Follow us on Facebook, Twitter, Instagram (@sorareadingapp), and TikTok!
I like your marketing materials, but I'd like to add my school name and logo. Is that possible?

Yes! We have social media graphics and flyers available in the Personalize section that have designated areas where you can add a personal touch.
I'm trying to print stickers/bookmarks/posters, but it's not printing correctly. What do I do?
 To resolve most printing issues, you will first need to verify you have the correct paper and printer setting enabled. The paper types are usually listed on the PDF and the printer settings should be automatic, however this can vary by printer. For instance, the sticker templates are compatible with Avery square label sheets #22806, #22816, 22853, 22922, 22921, 22960, 80510. The primary setting that will need to be manually changed is the thickness setting, which should be visible either when the print window appears or in the printer's settings. The next thing to verify is that you are using the printer's bypass tray and not the normal loading tray. Often specialty papers can cause issues going through the normal printing process, so it is recommended to use a bypass tray. Tried these methods, but still no luck? Contact us.
I'm looking for marketing materials in other languages. I'm located outside of the U.S. Where can I find materials for my students?

Global Resources features marketing materials in Spanish, French, Chinese, German, Italian, Japanese, Russian and Swedish. We also have kits specially tailored for our Australian, New Zealand, and UK partners.
I missed a live webinar but would like to watch the recording. Where can I find it?
Our live webinars are archived for six months in On-Demand Webinars, though our most recent recordings of our Sora and Marketplace videos are always available on-demand. You can also get a sneak peek at what's coming up next in our Upcoming Webinar series. If you're looking for professional development hours, many of our webinars have online assessments where you'll also receive an attendance certificate.

I'm looking for more suggested titles to purchase/curate for my school's collection. I heard you have a team of librarians at OverDrive that can help.
Like a secret weapon, we do, in fact, have a team of trained librarians and book lovers at the ready to help you select, manage and curate content in your school library's digital collection. They hand-select all of the book lists you see here. The lists are updated frequently, so check back often!
Where can I learn more about free content and classroom features?
Visit Curriculum Resources to help you keep track of all of the content models – including no cost options – we offer. You'll also find easy-to-implement tips and tricks to integrate Sora into your (virtual or physical) classroom curriculum.

Where can I download a Sora Logo?
You can download the Sora Logo and more on our Social tab, under Sora Must-Haves.
Are there any features in Sora I might be missing?
There are so many amazing features and formats available within Sora! Ensure you are getting the most out of Sora by exploring our Features page. Highlights include Sora Magazines, Sora Extras, Comics & Graphic Novels, and more!
Make sure to bookmark the Resource Center and check back regularly for new materials and tools to help you promote Sora!
Tags In
Browse blog and media articles