Resources for reluctant readers
By: Christina Samek, Outreach Specialist
Because I work in marketing in the education space, I've long believed teen readers to be our most elusive audience. I have to attempt to appeal to their tastes without being too on-the-nose. On top of that, our materials should convey what's great about the Sora reading app and why they should make room for it in their valuable, lucrative app space. With all that in mind, we've created several resources to appeal to teens: from a YA bookmark series, to eye-catching (and dare I say, funny) graphics, flyers, posters, even a video, and more.
I'm proud of those resources and hope they'll appeal to your teen readers – but I've discovered there's an even more elusive audience out there, one you've undoubtedly grappled with: reluctant readers. Our resources focus on readers: adults, teens and young readers, alike. But what about the non-readers of all ages? How do we engage them? We try to tackle this audience in this month's Engage your Community section on the Resource Center.
Here's what you'll find…
Read it and stream it, folks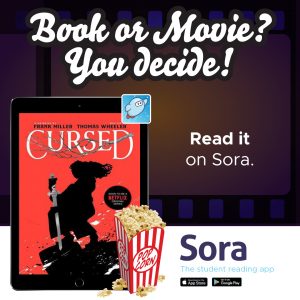 Streaming services have been the real hero of 2020. This of course isn't news to you, but a lot of the shows and movies we've binged these past few months were adapted from books. Your non-readers may be more interested in cracking open a (digital) spine or two if they already know the source material is pretty good.
Appeal to their intellect and challenge them to determine if the book or movie/show is the better story. You can share these engaging graphics, featuring streaming hits like The Kissing Booth, P.S. I Still Love You, StarGirl, Cursed and more, on all your social platforms. Up engagement this holiday break by encouraging students to "like" for the book or "comment" for the streaming version!
New readers, engaged!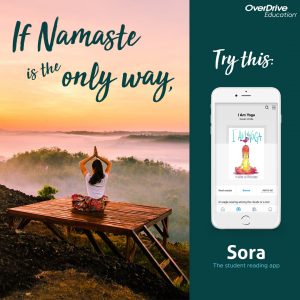 If shows and movies don't appeal…what about their select, unique interests? Our Engage New Readers series showcases a variety of hobbies, likes and skills to attract users to content celebrating things they already love. With everything from yoga, to beauty, horoscopes, conspiracy theories and even cats, there's sure to be something for everyone.
Students may be hesitant to try Sora because they don't think it's "for them." Show them it can be! When sharing these graphics across your platforms, we suggest sharing hashtags that coordinate with the themes. For example, when sharing the post for yoga, use hashtags like #yoga, #yogi, #loveyoga, #mindfulness, etc. to optimize where the post appears.
Reading for all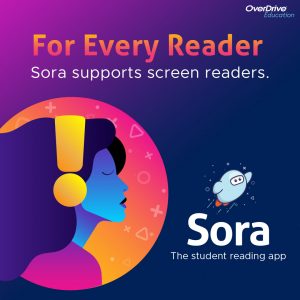 I like to think of reluctant or non-readers as untapped readers. They are readers, just not yet. Print reading is wonderful; I have a bookshelf that is stuffed corner to corner with beloved favorites and new books I am excited to dive into during my time off. I am a proud print and digital reader! There's nothing wrong with being both or preferring one to the other.
The beauty of digital, however, is that it offers avenues to reading that aren't typically available in print. Students who have shied away from reading in the past may embrace Sora because of all the personalization it offers them. Did you know the app offers dyslexic font? That you can speed up or slow down narration speeds in audiobooks? What about the high contrast setting? Or that Sora is optimized for screen reading? Even if you did know all of that, maybe your students don't! The For Every Reader series celebrates Sora's accessibility options and personalized features that prove Sora is for every kind of reader…even the untapped ones.
Finally, if all else fails, incentive goes a long way. Share this Sora At Home Bingo sheet and offer prizes for completed BINGOs! The prize could be something like candy or an out-of-uniform pass—low budget but still coveted!
No matter what you do, when promoting reading for all, you're doing the right thing. Keep up the great and powerful work!
---
About the Author:
Christina Samek is an Outreach Specialist at OverDrive. She develops resources that help K-12 educators grow engagement among their students, faculty and parents. Prior to coming to OverDrive, she worked in the magazine industry. She has a degree in journalism and English literature from Miami University (OH). She loves reading, writing, running, her adorable little boy, her husband, cherry turnovers and her dog, Willow.
Tags In
Browse blog and media articles