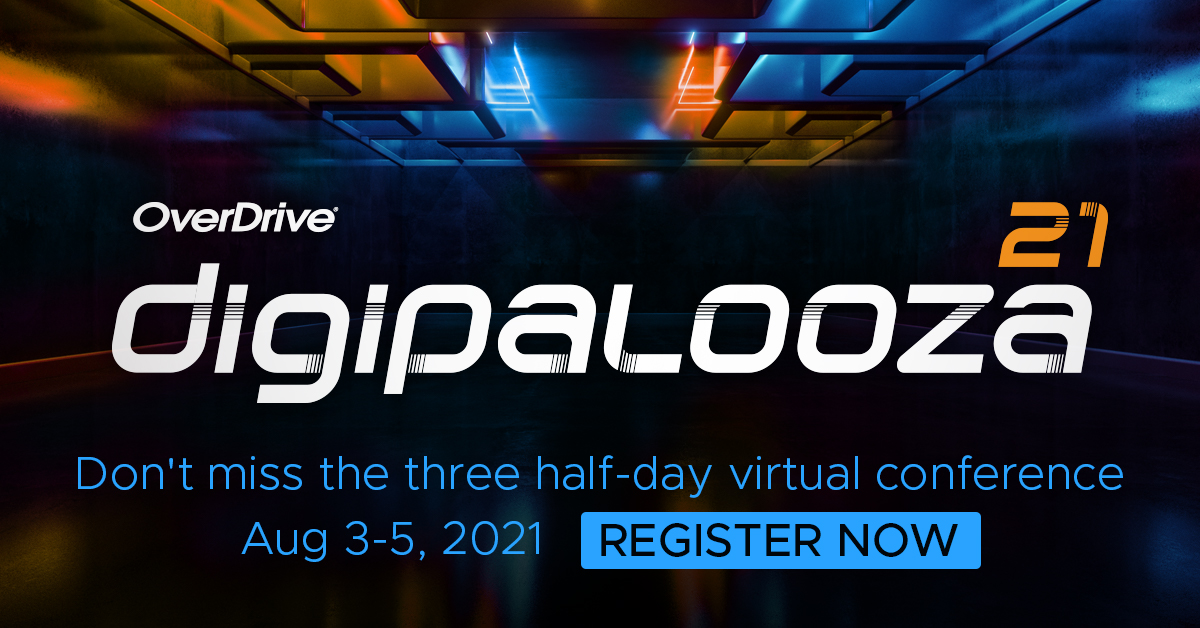 5 reasons to register for Digipalooza 2021
By Jill Grunenwald, Marketing & Communications Specialist
Registration for Digipalooza '21 is now open! We started hosting Digipalooza in 2006 to bring together our partners for a unique blend of education, networking, and fun. This year's theme is Advancing the Science: How Libraries & Schools Best Serve Digital Media, and while it might look a little different than it has in the past, it will be the same event our partners have come to love. We hope you'll register and join Team OverDrive for educational panels, networking opportunities, and informative sessions to help you become a digital expert at your library.
Not sure if this is the right conference for you? Here are 5 reasons to register for Digipalooza '21:
1) It's virtual
While we always love having our library partners visit our hometown of Cleveland, for 2021 we are bringing Digiplooza to you with a 3 half-day virtual conference.
From August 3 – August 5, 2021, you can learn from the experts and discover how data-driven decisions drive best practices and shape the next chapter of digital content for readers everywhere — all from the comfort and convenience of your home or office.
2) Cost-effective professional development
We know budgets are tight across the board, which is why we are excited to bring Digipalooza to you for only $39 for all 3 half-days! Register today to join a global community of librarians, educators, publishers, technologists and book industry leaders as they press forward success for ebooks, audiobooks, and other digital media.
3) There is something for everyone
This year, along with providing sessions for public librarians and K-12 educators, we also have conference tracks available for academic and corporate librarians. We designed Digipalooza '21 with everyone in mind. This includes our international partners, who often have been unable to join us for past Digipalooza conferences. With the virtual platform, more of our partners can join us for this exciting and educational conference.
4) Our sessions will inspire, challenge, and educate you
Throughout Digipalooza '21, you'll hear from panels of leading librarians as they share best practices and lessons learned while providing digital content for their communities. Topics this year include:
Equity challenges
Digital book clubs and community reads
Publisher business models
Data insights
Audiobook growth
Marketplace updates
and more!
Learn more at https://digipalooza.com/program/ and be sure to check back regularly as we confirm keynote speakers!
5) Network with your peers
One of the best parts of previous Digaplooza's has always been connecting with other librarians and educators. While we may not be able to do it in person this year, there will still be plenty of opportunities to connect with your peers from across the industry. So register today to join us for lots of fun and entertainment!
Registration is now open, so don't miss your opportunity to join Team OverDrive for three half virtual days chock full of engaging presentations, valuable information, and memorable experiences.
Visit https://digipalooza.com/ to discover more reasons to register for Digipalooza '21. To ensure you don't miss out on key Digipalooza updates, make sure your email preferences are up to date and you are subscribed to our Events subscription list.
Tags In
Browse blog and media articles