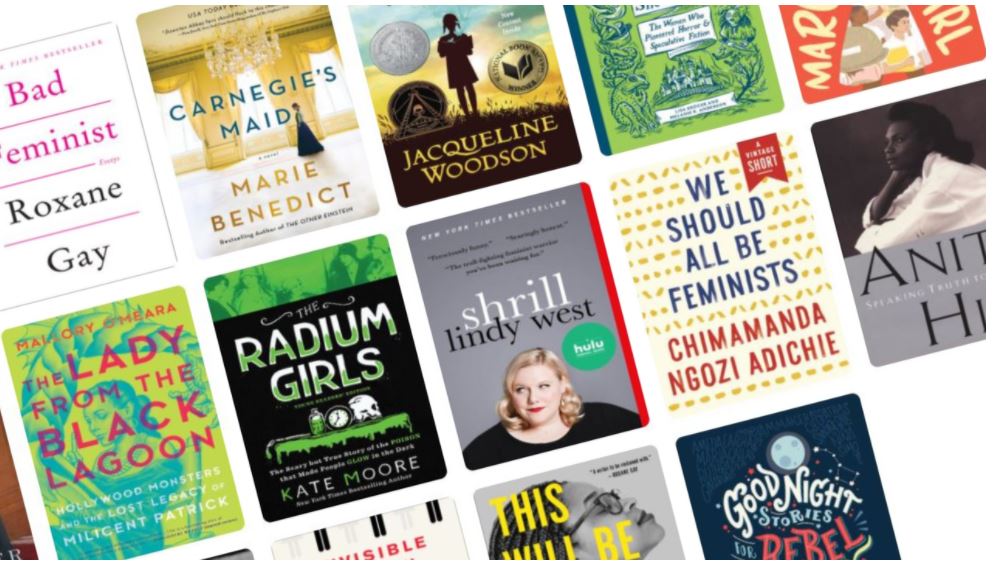 7 books to read for Women's History Month
By: Adam Sockel, Integrated Marketing Specialist
Women's History Month was created in 1981 to "celebrate the contributions women have made to the United States and recognize the specific achievements women have made over the course of American history in a variety of fields." Every March, organizations including the Library of Congress, Smithsonian, and the National Gallery of Art highlight essential projects and works created by women throughout history that remain vital to society today.
Unsurprisingly at OverDrive, we believe reading to be a vital cog in education. With that in mind, we wanted to share some book recommendations to read during Women's History Month and beyond. Included are essays by thought leaders, societal commentary, and collections perfect for young readers as well.
Monster, She Wrote by Lisa Kröger – Most readers are familiar with Mary Shelley and Shirley Jackson but there are countless more women authors over the centuries who have written gothic ghost stories, phycological horror, and science fiction stories that will intrigue and astound you. Part biography, part reader's guide, the engaging write-ups, and detailed reading lists will introduce you to more than a hundred authors, comparing them to those you may already enjoy.
March Forward, Girl by Melba Pattillo Beals – Long before she was one of the Little Rock Nine, Melba Pattillo Beals was a warrior. Combined with emotive drawings and photos, this memoir paints a vivid picture of Beals' powerful early journey on the road to becoming a champion for equal rights, an acclaimed journalist, a best-selling author, and the recipient of this country's highest recognition, the Congressional Gold Medal.
Invisible Women by Caroline Criado Perez – Celebrated feminist advocate Caroline Criado Perez investigates the shocking root cause of gender inequality and research in Invisible Women, diving into women's lives at home, the workplace, the public square, the doctor's office, and more. Built on hundreds of studies in the US, the UK, and around the world, and written with energy, wit, and sparkling intelligence, this is a groundbreaking, unforgettable exposé that will change the way you look at the world.
Bad Feminist by Roxane Gay – Bad Feminist is a sharp, funny, and spot-on look at the ways in which the culture we consume becomes who we are, and an inspiring call-to-arms of all the ways we still need to do better. In these funny and insightful essays, Roxane Gay takes us through the journey of her evolution as a woman of color while also taking readers on a ride through culture of the last few years and commenting on the state of feminism today.
The Radium Girls by Kate Moore – Amid the excitement of the early twentieth century, hundreds of young women spend their days hard at work painting watch dials with glow-in-the-dark radium paint. The painters consider themselves lucky—until they start suffering from a mysterious illness. As the corporations try to cover up a shocking secret, these shining girls suddenly find themselves at the center of a deadly scandal. The Radium Girls: Young Readers Edition tells the unbelievable true story of these incredible women, whose determination to fight back saved countless lives.
100 Tales of Extraordinary Women by Elena Favilli – The New York Times bestselling Good Night Stories for Rebel Girls is a children's book packed with 100 bedtime stories about the lives of extraordinary women from the past and the present, illustrated by 60 female artists from all over the world. The unique narrative style of Good Night Stories for Rebel Girls transforms each biography into a fairytale, filling readers with wonder and a burning curiosity to know more about each hero.
This Will Be My Undoing by Morgan Jerkins – In This Will Be My Undoing, Jerkins becomes both narrator and subject to expose the social, cultural, and historical story of black female oppression that influences the black community as well as the white, male-dominated world at large. These essays interweave incisive commentary on pop culture, feminism, black history, misogyny, and racism with Morgan's own experiences to confront the very real challenges of being a black woman today.
Tags In
Browse blog and media articles