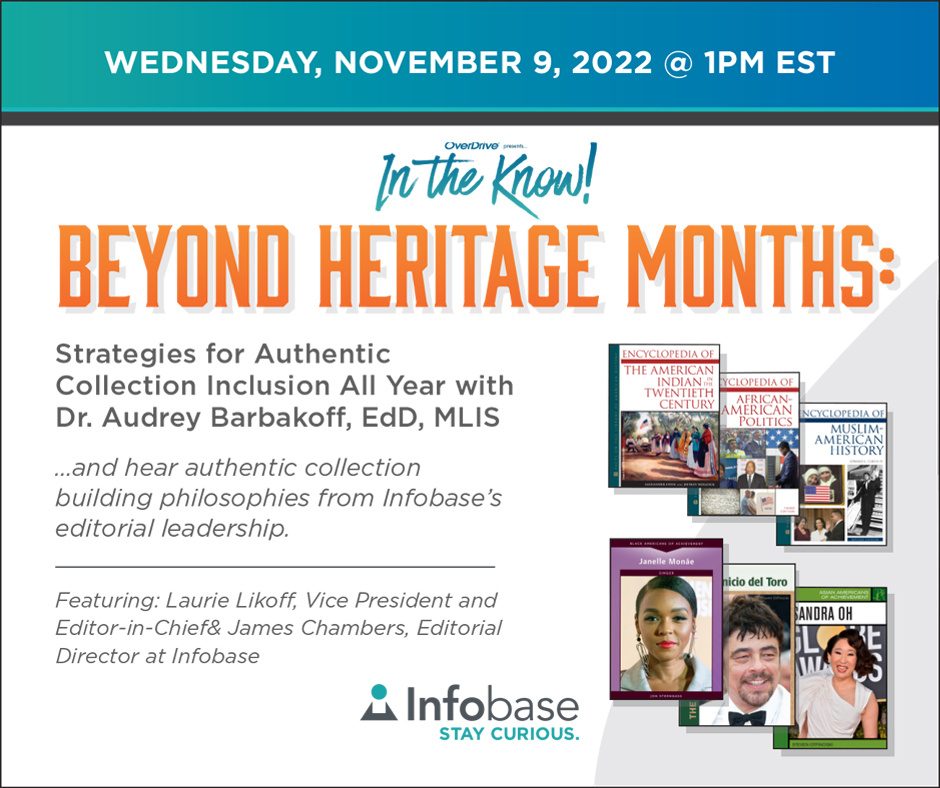 Be in the know with Infobase!
Join us on Wednesday, November 9 at 1pm EST for a special In the Know presentation with Infobase! The presentation titled Beyond Heritage Month will dive into strategies for authentic collection inclusion all year round.
Join the conversation with Dr. Audrey Barbakoff, librarian, educator, and CEO of Co/Lab Capacity LLC, an organization that offers community centered consulting for social good. Dr. Barbakoff will discuss and share strategies focused on diversifying collections for your library and patrons. Infobase Vice President and Editor-in-Chief, Laurie Likoff, and Editorial Director, James Chambers, will also join the conversation to present Infobase's editorial philosophies that support building authentic collections including a list of featured titles and series available through OverDrive.
Library partners can learn more about the titles that will be featured in this upcoming event by shopping the featured title list in Marketplace.
Don't miss out on this unique opportunity to hear directly from Infobase – an education solutions provider that is passionate about the exploration of new ideas through connection and trusted content with the goal of putting the right tools in the hands of people who love learning. Register today!
Tags In
Browse blog and media articles