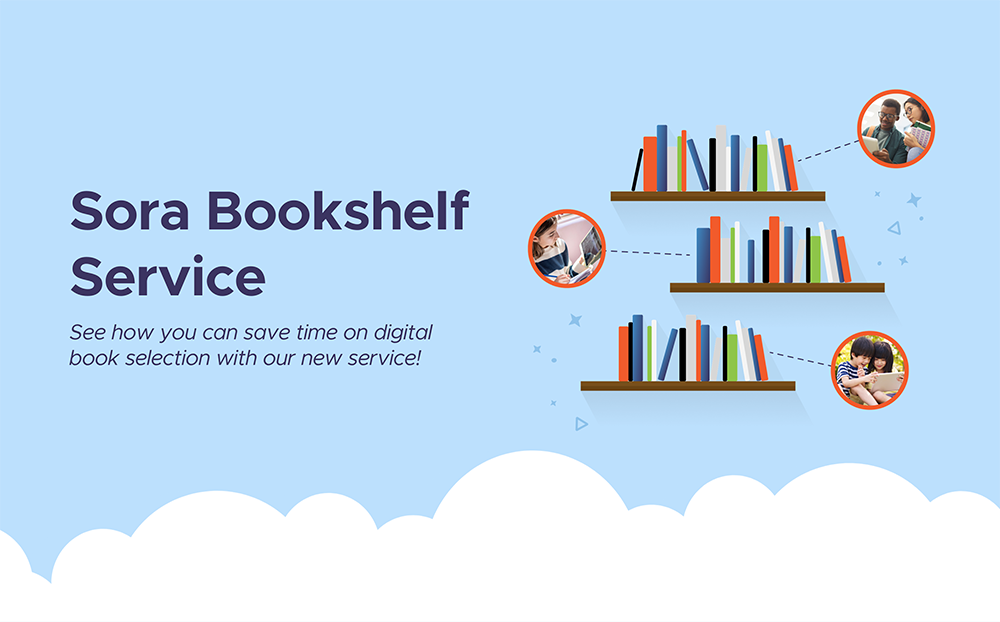 Save time & stress keeping your digital books fresh with Sora Bookshelf Service
Have you ever had the thought  – "There just aren't enough hours in the day for everything I need to get done!"? (I know I have.)
Are there programs you'd like to launch or resources you'd like to provide in your school that you simply don't have the bandwidth, budget or personnel to support?
Is building a digital library that your students can use to read 24/7 – no matter where they are – one of those things?
Okay, so maybe you haven't given quite as much thought to that last one as we have. But if you've at least considered it, then we just might have a solution that can help you get started without ever having to break a sweat.
Save time with Sora Bookshelf Service, an ebook standing order plan
So you have the Sora platform, and you have all the free ebooks and audiobooks available through Sora Starter and our other free collections. Maybe you've added some additional titles here and there, but you're struggling with the question – what next?
If you're not sure where to begin with building a custom digital collection for your students, or you don't currently have the staff in place to manage it internally, that's where Sora Bookshelf Service comes in. This new service is a customized standing order plan that gives schools with Sora access to professional digital book selection.
All you have to do is select the packages and grade bands that best suit your needs to establish your purchasing budget. Then, each month, your dedicated Digital Content Librarian suggests new titles for your school. They'll focus on:
New releases (past month)
Award winners
Bestsellers
That sounds interesting. How would Sora Bookshelf Service work for me?
It's simple – you'll choose from four digital book packages. Each package features an elementary, middle and high school grade band, for a maximum of 12 lists.
| | |
| --- | --- |
| Fiction ebooks | Fiction audiobooks |
| Nonfiction ebooks | Nonfiction audiobooks |
*Please note: Titles shown above are samples of the kinds of books our librarians might recommend. We cannot guarantee that these specific titles will be added to your collection.
You can select as many (or as few) lists as you need. You'll also be able to review and approve ALL selections prior to your monthly purchase.
Pricing for your books starts at $250 per month, per grade banded list. Total cost may vary based on the size of your school and the number of copies desired for each title.
Is my school a good fit for this service?
Great question! Sora Bookshelf Service is a great option for lots of different kinds of schools and districts, but it's a particularly good choice if you're:
Searching for strategies to maximize your staff's time
Looking for an easy, no-fuss way to get started with digital books
In a new school construction
And if you're not sure, you can always contact us. Your account team is there to help you find the right books, at the right price.
Learn more & get started
For more information on Sora Bookshelf Service, plus a sign-up form to get started and answers to some frequently asked questions, visit discoversora.com/sora-bookshelf-service.
Tags In
Browse blog and media articles