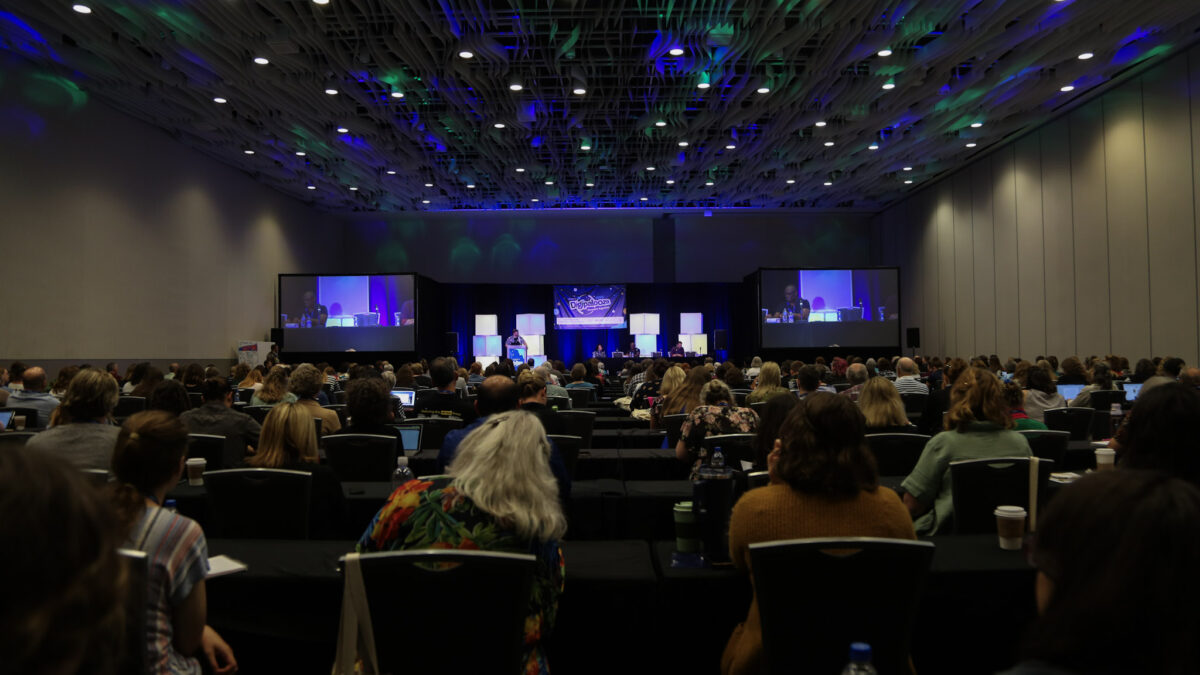 Author and actor Eriq La Salle keynotes, Steve's Crystal Ball and more from Digipalooza Day 3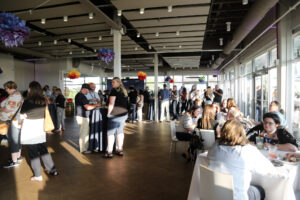 Read Digipalooza Day 1 Recap
Since Wednesday, librarians, publishing and other industry professionals have gathered in our hometown of Cleveland to share insights, learn best practices, and discuss the future of ebooks, audiobooks, streaming video, magazines and more at Digipalooza '23.
Last night, attendees gathered at Nuevo to dance the night away, but we were back at it bright and early this morning to close out Digipalooza '23 with another day of incredible sessions.
Highlights from Digipalooza Day 3 
Actionable Data & Insights: Deep dive into key reports
Anne Kennedy (State Library of Ohio) shared how she uses the Holds Intelligence report to easily search low-cost Cost Per Circ (CPC) titles and identify non-CPC titles with holds. Calls to action to best utilize holds intelligence include using it to identify old holds no longer available for purchase, checking weekly for CPC management, and using it when you end up with unexpected funding or end of year spending.
Jennifer Fleck (King County Library System, WA) also uses Hold Intelligence for filling low-cost holds. She found the report helpful when locating most popular titles with many holds that are available in CPC, including from high-demand authors like Colleen Hoover. By working with her OverDrive Account Manager, Jennifer was able to identify active holds that are no longer available for sale and find new editions to buy.
Key takeaways: The earlier a librarian is able fill a hold, the more likely it will be checked out by a patron. And suspended holds are less likely to be checked out compared to non-suspended holds.
Forward Together: The future of your digital branch with the OverDrive Hub and Libby
OverDrive team members Katie Blachman, Heather Valentine-Gold, and Ryan Fish previewed the upcoming OverDrive Hub. Designed as a destination where everyone has a role in your digital branch, the Hub streamlines work flows, and assistants librarians in finding and using the tools most helpful in supporting your digital branch. Thanks to feedback from librarians, we know demand is outpacing budgets and there is a desire to promote events in physical libraries through the digital branch.
Our team is currently building a new metered access manager tool that will allow you to create custom plans and on-demand reports to manage expiring MA titles. This new tool is part of our ongoing journey to create a one shop shopping experience in Marketplace.
Coming ahead in the Newsroom are self-serve campaign tools that will allow you to promote your library programs in a custom display. You will also be able to see campaign results through enhanced data in The Loop. The Newsroom will let your library increase your library's presence in Libby:
Promote author visits, summer reading programs, and other community events
Communicate branch updates, lending policies, and more
Support library fundraisers and highlight library-created content like podcasts and blogs
Engage your community through surveys and seasonal campaigns
In The Loop, future features include expanded analytics and report automation. Schedule reports or use APIs to integrate key metrics into your ILS and other reporting tools.
Maximize Patron Engagement with Video: 
Streaming video has become a must-have component of the library
Patrons are changing how they are consuming content, often moving from device to device. Young generations have also grown up as digital natives and more familiar with streaming video than physical DVDs.
Jason Tyrrell (Kanopy) previewed a new video promoting all of the great content on Kanopy that librarians can share with patrons about the service.
Alison Kuchta (Kent Library District, MI) uses the Kanopy marketing toolkits available on the Resource Center to promote the service. Kent Library District didn't add Kanopy until 2022, and wishes they had added it sooner to make streaming video and the library more accessible during the pandemic.
In terms of promoting Kanopy, Wendy Crutcher (LA County Library, CA) hosts virtual film festivals by highlighting content thematically like LGBTQIA+ films in Pride. During the pandemic, Kanopy Kids was a lifesaver for providing entertainment to children in the community and BBC content is in high-demand.
Janet Cox (Plano Public Library, TX) users love the Great Courses on Kanopy so much they no longer need to purchase the physical copies. Kanopy has also been a solution for missing or lost DVDs; rather than replace DVDs, Plano has been able to direct patrons to Kanopy to access films.
The volume of titles on Kanopy with Public Performance Rights has allowed the libraries to offer in-person screenings of movies as a library program, something they couldn't do before because they didn't have the license.
Adding Kanopy PLUS packs is a great way to balance Kanopy credits.
Keynote Speaker Eriq La Salle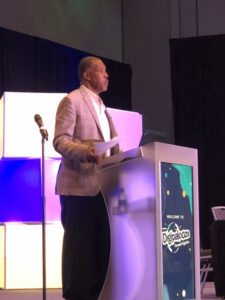 Our closing keynote speaker Eriq La Salle spoke of his journey to become a writer. While his childhood dream was to be a doctor, it was short-lived although he did get to relive that dream as an adult when he became an actor on the famous television show E.R.
He started writing poetry as a child, continuing through his teenage years, something that didn't make him popular growing up in an all-Black neighborhood. After deciding he wanted to write a play he was introduced to Lorraine Hansberry's A Raisin in the Sun and encouraged to audition for his school production and discovered a love for acting.
Speaking to the challenges facing librarians, Eriq La Salle said, "for those of us not on the front-lines like librarians, we still want to say that we support you. We see you, we hear you, we feel you, we respect you, we admire you. We are inspired by you."
Crystal Ball with Steve
OverDrive Founder and CEO Steve Potash opened his Crystal Ball report by sharing the history of OverDrive: as a young lawyer in the late 1970s and early 1980s, he began by digitizing law texts and working with publishers to put books on CD-ROM. For several years the company was focused on putting on ebooks on devices and services but failed to gain traction. It wasn't until the dotcom crash when his librarian wife suggested he attend an American Library Association show to speak with librarians about opportunities for ebooks in libraries. There, he met librarians from Cleveland Public Library and the rest was history.
In his Crystal Ball report, Steve addressed:
Navigating the future of AI
Working with industry professionals and librarians, trying to find the right path forward for content limitations and book restrictions being asked for from certain states.
The importance of continuing to promote our mission of Access for All
Prioritizing everything OverDrive can do on the importance of literacy
Our journey for this next year is leveraging the science that will allow librarians to practice their profession through digital library performance:
Providing librarians the best intelligence that can guide you in your collection development policies and making you good stewards of your budgets and serving readers.
Enabling librarians to accomplish your mission of growing your audience, building a deeper relationship with your community, serving to bring traffic to your branches, extending your brand, and supporting outreach services.
We are uncovering, thanks to OverDrive Education and Sora, opportunities for librarians to use their library science degree and passion for books to further the science of reading and address literacy concerns in their communities.
That's a wrap on Digipalooza '23!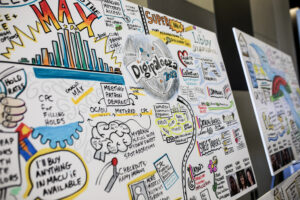 Thank you to our  conference partners, incredible speakers, session leaders, and most importantly our attendees for making Digipalooza '23 an amazing experience for all. Big thanks as well to our Live Illustrator Matt Orley. All conference long, Matt created beautiful illustrations in real-time of every Digipalooza presentation.
Tags In
Browse blog and media articles