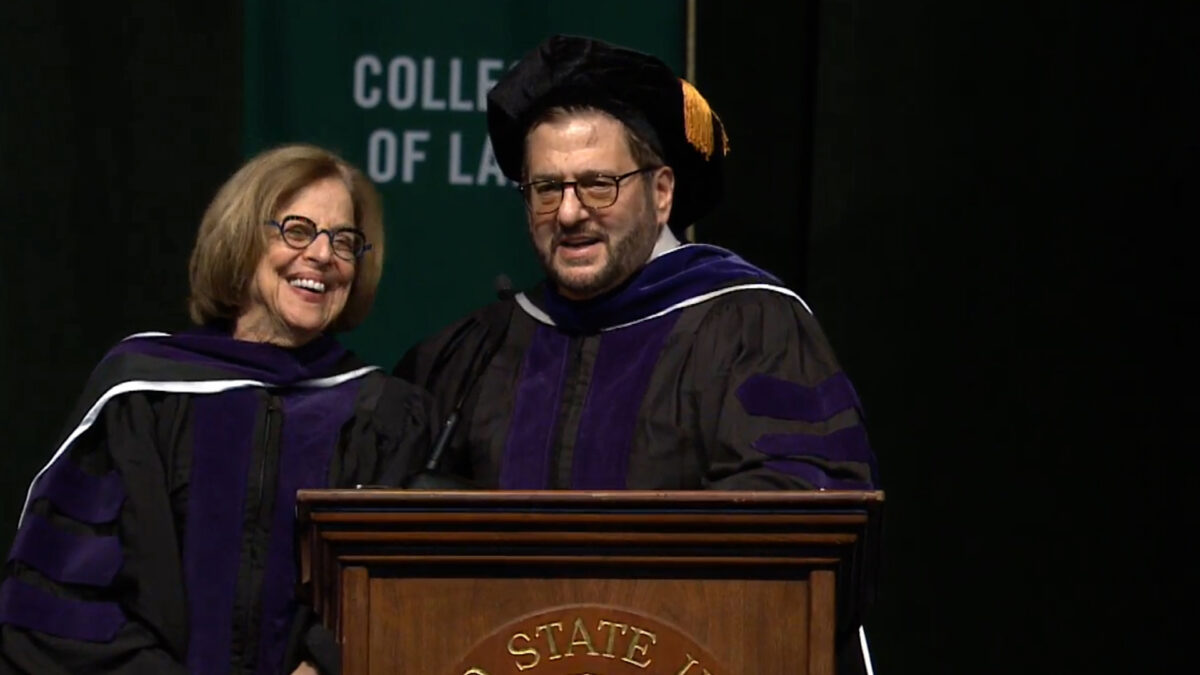 OverDrive Co-Founders Steve and Loree Potash are first alumni couple to deliver Cleveland State University College of Law commencement address
By Brian Byrne, Communications Manager
OverDrive Co-Founders Steve and Loree Potash, both graduates of the Cleveland State University (CSU) College of Law, received the great honor of presenting the commencement address for the 2023 graduating class on May 21 at the CSU Wolstein Center in Cleveland, Ohio. Steve and Loree were the first alumni couple in the law school's history to give a joint commencement address.
Along with insights into their formative years growing up in Cleveland and their own academic journeys, Steve and Loree shared inspiring lessons learned since founding OverDrive in 1986:
"First, prioritize relationships. Early in my career, it was all about getting that deal signed, or in a transactional matter where I was representing a client or in litigation, was winning that deal. It took me years to realize that wasn't the goal. The goal was in every interaction you have for anything big or small, it's an opportunity for you to show who you are, build a relationship."
"Second, when you earn the respect of the people that are running the day-to-day jobs in whatever entity you encounter, you will have the right to win. When we go visit schools and libraries, we stop at every reference desk and thank every librarian, every educator. Those are the frontline workers that make a difference. And you will earn their trust. And this is part of building relationships."
"Third, be a passionate advocate. Very recently, our schools, our librarians have been under attack. They've been under attack by insidious book banning programs, unconstitutional laws that have been enacted in 15-20 states, and in the name of a political objective using culture wars. They are trying to set back the clock on the DEI progress that we've made as a nation and as a culture over the last two decades. We need you as advocates for the First Amendment and the 14th Amendment. We have to protect, for all of us and all of our children and communities, access to all books, all voices, all perspectives…we stand here today challenging you to take pride as you have, to be part of the learnings of the Learn Law, Live Justice legacy."
OverDrive Co-Founder & CEO Steve Potash speaks about promoting lifelong literacy. (45 secs)
Co-Founder & CEO Steve Potash explains how OverDrive became a mission-based company dedicated to a world enlightened by reading. (27 secs)
Loree closed the address with a powerful call to action for the graduates:
"Read, think critically. Go out into the world with the belief that you can use your superpower of critical analysis, close reading and deliberate thinking and speech for good. Look for ways to be kind. Be generous in helping others with time, money or both. Live your life with passion and purpose and be grateful and thankful to all the people who have helped you get to this point."
Among the Potash family's various local and national advocacy efforts, Steve serves on the Board of Directors for University Hospitals. Steve and Loree are passionate advocates for literacy and access to books and information. The Steve & Loree Potash Family Foundation was one of the key underwriters for UniteAgainstBookBans.org and provides grant funding for literacy-based programs across the country through their program, BelieveInReading.org. They are also the founders of Freedom to Learn Advocates (ftla.org), a nonprofit organization working to combat book banning and promote access to information across the United States.
Watch Steve and Loree's full address below:
Tags In
Browse blog and media articles