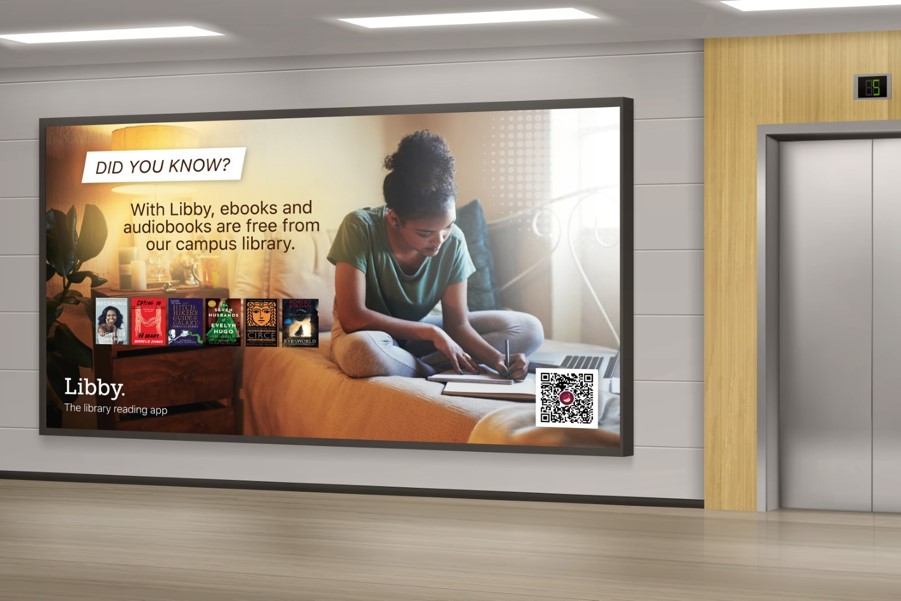 Academic libraries: 10 quick ways to increase usage of your digital collection this year
By Molly McNamara, Marketing Manager
It's the most wonderful time of the year – a new academic year is here for many colleges and universities! Whether you're getting ready to welcome students to campus or they've already begun, now is one of the best times to introduce or remind students and faculty of the resources your college or university library has to offer – like Libby!
Here's a quick list of tips to help kickstart their year with the library:
1. Capture attention around campus
If your students and faculty are in person, your campus likely has screens monitors in every building. Whether it be the library, student center or academic buildings, these screens are one of the easiest ways to capture attention. Promote the ability to get free ebooks and audiobooks on Libby with our already designed screens available on the resource center here. Or request custom screen designs from your account manager with your library logo! 
2. Reach students where they are on social
Post on your library's social media pages or work with your college or university's marketing teams to request social posts on campus-wide social channels. Outside the library page, consider teaming up with specific departments to post on their pages, such as student wellness centers, residence life, student media and more. Get started with the social graphics on our resource center here or request custom graphics from your account manager.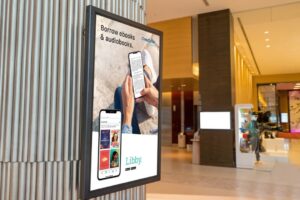 3. Utilize welcome and orientation events
 If your library is hosting events to kick off the new semester or term, have printed materials or signage for students to easily see as they visit the library. We've got Libby promotional flyers and more printable materials available on the resource center to get you started.  
4. Request a Libby marketing kit
Looking for a little extra material? Our team is happy to provide and ship some printed Libby material for you to give out to students. Request a marketing kit to be delivered to your library here. 
5. Be a PR expert with ease
Even if your digital collection on Libby isn't brand new, consider utilizing a campus-wide email newsletter or press release to announce or remind students and faculty of the digital content they can access from anywhere. Or announce new content formats, subjects, programming events and more. Start with our press release template here or reach out for specific PR help.  
6. Keep your collection up to date
Your time is at an absolute premium at any time of the year and our team knows that. So, our digital content librarians are always ready to help you curate collections specific to your student and faculty interests to save you time. Reach out to them for custom list requests or jump start with these regularly updated collection development lists for academic libraries.  
7. Stay on trend and top of mind
Some of the libraries with the highest circulations host lots of library programming, whether it be all campus reads or in-person programming events – both of which can be promoted on Libby. Simply having featured collections aligning to holidays, themes & subjects important to students – like Pride or Black History months, banned books, BookTok trends, stress relief and more, can be a huge draw for easy browsing and borrowing.  
8. Keep in the know on content
We make it as easy as possible to keep your collection up to date and on trend by providing themed sales throughout the year, annual book clubs, new promotional tools and more. Subscribe to OverDrive's newsletter where we share news and tools to help make your job easier.  
9. Provide more beyond the books
Consider capturing students' interests with alternative digital formats like magazines, comics, graphic novels or streaming video. Whether used as curricular or co-curricular resources, these formats can be a gateway to getting students into your library and discovering all you have to offer. Visit Kanopy Academic or our resource center for promotional tools on alternative formats.  
10. Ask your OverDrive team
Looking for more ideas or help in promoting Libby? This recent webinar walks through essential ways to promote your digital collection in more detail. Or ask your account manager for marketing tools and our marketing team can custom-make digital tools for promotion fit to your school and needs.  
Tags In
Browse blog and media articles