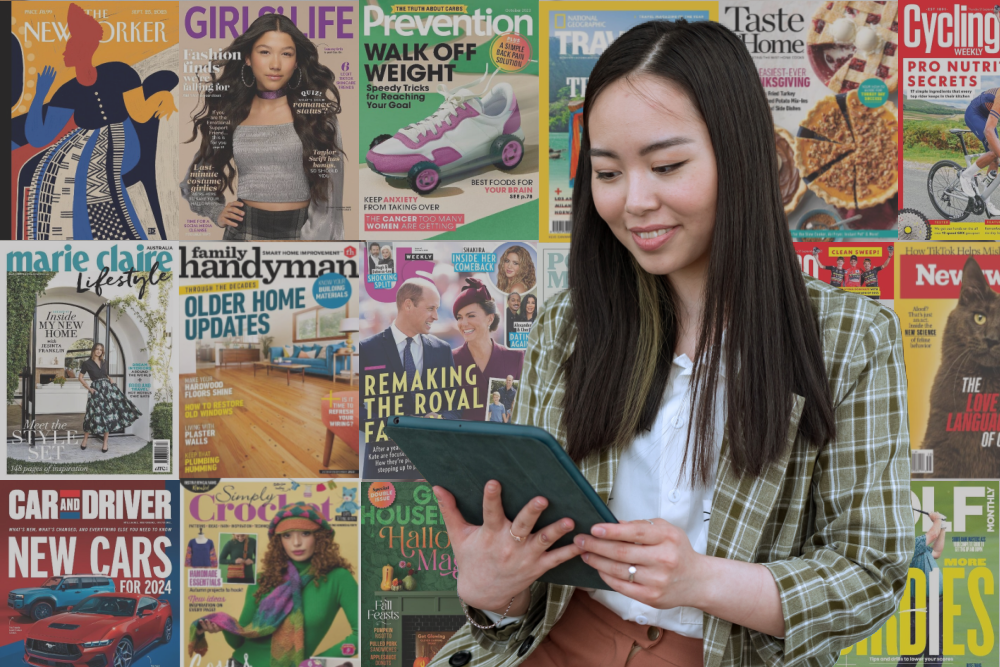 "What happens if new titles are added?" Your top questions about OverDrive Magazines answered
My first job after receiving my MLIS was as the sole librarian at a prison. I can't speak for all prison libraries but at mine the most popular items by far were magazines. Every day during lunch I would walk up to the front of the prison to pick up the mail. And every day there was a line outside the library door waiting for me to open for the afternoon shift because they knew the new magazines were in.  
Some of the men incarcerated at the facility had personal subscriptions but those subscriptions were expensive, and funds were limited for most of them and their families which is why they turned to the library to get their favorite magazines – just as it is with the readers in your community.  
Of course, because we only had one copy per issue, magazines were first come first serve which can be a frustrating user experience when there are multiple patrons who want to read the same issue (and one does the crossword in the back before anyone else can play). Plus, our magazines couldn't leave the library, they had to be read right then and there. Many public libraries do the same thing with their physical magazines, especially when it comes to the latest issue. We also had the same space limitations faced by many public libraries, which meant we could only keep a few months' worth of back issues.  
If any of this sounds familiar, OverDrive Magazines might be the solution you've been looking for. But we know many of you still have questions about how OverDrive Magazines work, so we've compiled some of the top FAQs into this post. Read on to learn more about why you should be adding OverDrive Magazines to your digital collection today. 
Your top OverDrive Magazine questions answered
How much does it cost? 
Library budgets are tight across the board, and you must make tough decisions when it comes to the content you provide your users. Every dollar counts, especially when it comes to adding a new format when you're not sure how well it will circulate. Libraries interested in adding OverDrive Magazines can find pricing in Marketplace, or fill out a form available on the Resource Center to be contacted by an OverDrive Magazine expert.
How many magazine titles are in the package? 
The magazine package is sold as an "all-in" collection of over 4,000 titles. For that one set price you receive 12 months of access to all magazine titles currently available in the package, including 3 rolling years worth of back issues (where available). With OverDrive Magazines, you don't need to budget for individual titles, they are all included. In addition to giving your readers the popular magazine you know they want, you'll also be adding in thousands more – all for one set price. Who knows, they may discover a new favorite! 
What magazines are included?
Our "all-in" package includes titles for all readers, including: 
Popular titles such as Us Weekly, National Geographic, Good Housekeeping, Vanity Fair, and Rolling Stone

 

Special interest titles such as PC World, Bon Appetit, Minecraft World, Simply Crochet, and Women's Fitness
Titles for kids and teens including Highlights, Girls' Life, and Time for Kids

 

Titles in a variety of languages including Spanish, Chinese, Japanese, Italian, German, French, and more
Visit the Simultaneous Use section of Marketplace here to view all the titles included in the OverDrive Magazine package.
What if new titles are added to the package after I've purchased?
Here's one of the best parts of our magazine package – any new titles that are added to the package during your subscription period will automatically be added to your digital library at no additional cost to you. Recently we've added popular titles Magnolia and Traditional Home.
H

o

w

do

p

a

t

r

o

n

s

discover and enjoy

OverDrive

Magazines?
OverDrive Magazines are seamlessly integrated into Libby alongside the ebooks and audiobooks you already offer. This creates a simplified reading experience for your users. Libby's article view offers a personalized experience for readers by allowing them to resize the text.
We have also recently added new features to Libby that make it easier than ever for readers to enjoy OverDrive Magazines from your library!  
When a user discovers a magazine in your collection they can open it and start reading with

one tap

, generating a checkout for your library.

 

Users can subscribe to magazines from your library via a new, convenient

Subscribe

option. When a new issue is released, it will automatically be added to the user's Magazine Rack. 

 

Magazine Rack

allows users to see the latest issues of their magazine subscriptions and any other issues they choose to keep from your collection.

 

With the

Newsstand

, users can view their recently opened magazines and other popular magazine titles in your collection.
What happens if a magazine stops printing?
If a magazine stops printing during your subscription, we handle the backend process of removing the title from your collection so you don't have to, saving you time and ensuring your collection is always up to date.
How many patrons can read a single magazine title at a time?
In the words of Cady Heron from Mean Girls, "The limit does not exist."  
(Did I just date myself there?)  
OverDrive Magazines have no circulation cap and allow unlimited simultaneous use, so patrons can enjoy every issue of every magazine for the duration of your subscription. It's like giving every member of your community a subscription to every magazine in the package, all without you needing to buy additional licenses or subscriptions. And, because there are no circulation caps, you don't have to limit access for anyone. Users can check out and read as many magazines as they want, helping you increase use and circulation of your digital collection.
Are back issues included?
Our all-in package includes 3 rolling years of back issues, wherever available. As someone who has personally had to manage periodical collections at both public and special libraries, I know the space limitations and staff time that comes with maintaining physical back issues. With OverDrive Magazines, it's all automated.  
What marketing and outreach support is available?
To help you get the word out about OverDrive Magazines, we have a free marketing kit available that you can download here. It includes a variety of promotional materials such as printable flyers and posters you can have in your physical library, as well as a selection of popular magazine covers included in the package.   
Looking to promote our new One Tap Magazine features? We have a marketing graphic for that, too! Download it from the Resource Center. 
How can I learn more about OverDrive Magazines?
Join us on Wed. Nov. 1 at 2 PM (ET) for a free webinar on how to engage your readers with one-tap digital magazines. In this webinar, our library experts will discuss:
Popular magazine titles your patrons will want to read this fall and holiday season
Recently released Libby updates that make it easier than ever to discover and engage with magazines from your library
Success stories from a top library who effectively drives magazine circulation in their community
Ready to increase circulation at your library with OverDrive Magazines?
Whether you're new to the format or getting ready to renew, now's a great time to go all in with OverDrive Magazines. Visit the Simultaneous Use section of Marketplace here to add magazines to your digital collection today. 
Still not sure if OverDrive Magazines is right for you? Fill out the form on the Resource Center and a member of Team OverDrive will contact you soon to talk magazines!  
Browse blog and media articles