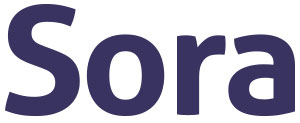 The right book. At the right time. For every student.
Sora is a K-12 app designed around the modern reading experience that empowers students and educators with access to the most extensive and diverse catalog of ebooks and audiobooks available to schools. Whether students are reading for class or fun, Sora makes it easy: Powerful learning tools paired with essential titles means students gain 24/7 access to the titles they want and the personalized support they need.
Kids read when they're engaged with the material. Sora provides access to the latest popular reading, classic titles and instructive non-fiction. Automatic syncing of loans, holds, notes, highlights and achievements across devices provides a unified experience. In one of the most popular integrations, Sora also allows students to borrow titles from OverDrive public library digital collections. Intuitive and well-organized features foster a healthy digital reading practice:
Home - Assignments, defined words, exportable notes & highlights
Explore - Search for content, discover personalized book recommendations
Shelf - Current checkouts for class and leisure, from both the school and public library collections
"I love how easy it is to simply download an ebook with this app! It has all the books I want to read."
Here are some examples from our collection. Now with audiobooks!
Discover: Personalization
Educators appreciate the inclusive personalization formats like audiobooks and tools such as dyslexic font available through Sora to engage all readers, no matter their reading level, preference or pace.
Personalized learning tools like a high-contrast setting, enlarged text and Read-Alongs
Exportable notes and highlights for collaborative learning and completing assignments
Each student can see their activity by minutes, hours and days spent reading
"A much more user-friendly version for students. It will especially help motivate my middle school students."
"The app seems so friendly for our elementary students.
It feels easy to use and beautiful too!"