Go to the source: Marketplace
Optimize your collection development dollars and measure the success of your digital library using OverDrive Marketplace. Take advantage of customized tools and features to streamline your collection development routines and make better purchasing decisions with real-time data and insights.
We partner with 30,000 major and independent publishers to deliver the largest digital content catalog of ebooks, audiobooks, streaming videos and magazines. With Marketplace, libraries can build a custom digital book collection for secure and convenient 24/7 access. OverDrive is committed to creating a "world enlightened by reading" by delivering digital media to a growing network of 65,000 libraries, schools and organizations in 84 countries.
Go to the source. Go to Marketplace.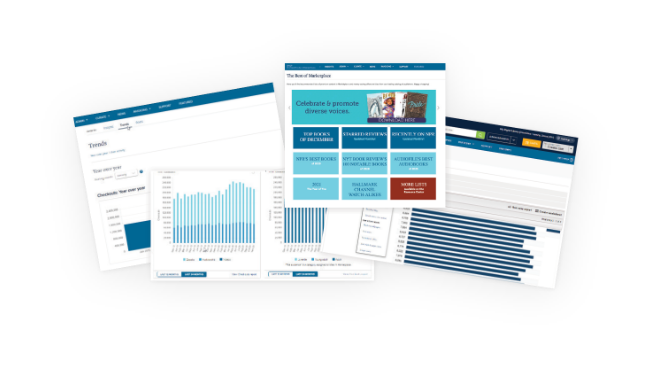 Need help getting your Marketplace account setup?
Why OverDrive Marketplace is your best source for digital content?
Powerful tools to maximize budget
Industry's largest catalog of ebooks and audiobook
Save money and stock up with the latest discounts and special sales
Featured promotions on the Marketplace homepage
High demand title management tools to keep readers satisfied
Recommended lists personally curated by OverDrive staff librarians
Save time and effort with management features
Multilingual interface
Readers have immediate access to purchased titles
Advanced search features including filtering by audience, format, and l lending model
Curate featured titles to drive checkouts • Automate collection development with tools like Holds Manager
Insights to drive effective and efficient decisions
View a summary page of real-time checkouts, holds, and unique users
See a breakdown of current holdings by format, including number of titles and number of copies
Handle holds with the current waiting list report
Discover what's popular with readers using the circulation activity report
Ready to enhance your digital collection?