Texas' Proclamation 2019 called for instructional materials to support English language arts curriculum adoptions for grades K-8 across the state, to be in place for the 2019-2020 school year. More than 1.2 million K-12 Texas students enjoy our ebooks and audiobooks every day, and OverDrive Education is pleased to offer a balanced and diverse catalog of supplemental and student choice reading titles for your classroom, curated to meet your new curriculum.
Want to learn more about how ebooks and audiobooks can make the most of your 2019 adoptions? Contact us.

Promote Balanced Literacy...
Ebooks and audiobooks support the Balanced Literacy approach and offer exclusive benefits that traditional print books cannot provide.
Read Aloud and Modeled Reading: Smartboard projection for round-robin read alouds
Shared Reading: Make digital notes inside the text to record questions for teacher discussion
Interactive Reading: Look up words in the in-app dictionary to demonstrate comprehension and curiosity
Guided Reading: Export notes and highlights to Google Drive and other platforms for streamlined communication and grading
Independent Reading: Leverage our unbeatable title selection with access to both the school and public library through the Sora student reading app
...with the digital titles you need
From the classics to modern favorites, compelling biographies and niche nonfiction, OverDrive Education has the titles you need to deepen engagement with assigned reading and make sure your students have access to content for their reading interest, level and pace.
Ebooks and audiobooks personalize the reading experience
Digital titles can be enjoyed on a variety of devices. These can be provided by the school, accessible at the public library or student-owned. By allowing students options, they can find something that works best for their needs. Digital reading offers flexible formats including typically typeset ebooks, illustrated graphic novels and audiobooks. This allows students to gain the same knowledge while appealing to their individual learning styles. The more deeply they engage with books, the better readers they become.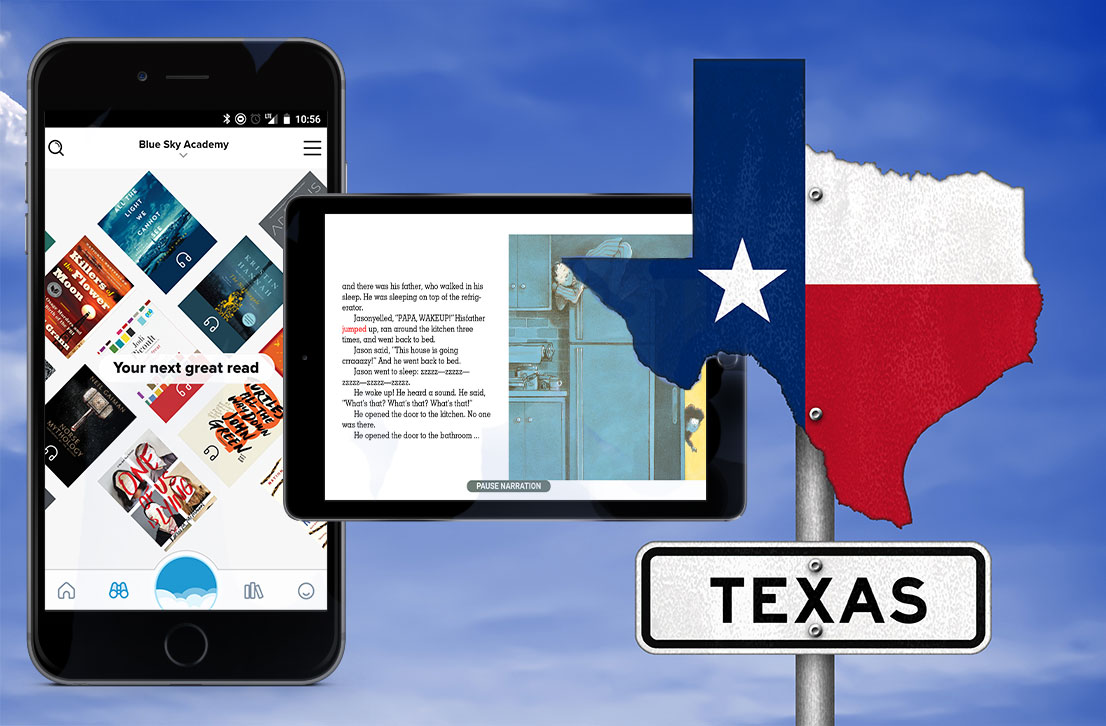 ---
Challenges for English Language Learners
Texas has the second-largest enrollment of ELL students in the U.S, with more than 1 million or nearly 19%. Nationwide, many ELLs struggle to make the transition to English quickly enough. As a result, they often fall behind in basic subjects. Texas has reported ELL teacher shortage since the 1990s, which compounds the issue.

Digital provides the fastest and easiest entry to reading, whether in their native language, or in English with auxiliary learning tools embedded. Varied formats like audiobooks and Read-Alongs expand their reading opportunities even further. For teachers of these students, OverDrive Education offers a deep catalog of professional development titles to create inclusive classrooms and serve a more diverse student body.
Learning enhancements for students with disabilities
Students with special needs and learning challenges make up more than 9% of the student population in Texas, about 500,000 children. For these readers, digital books offer benefits that paper cannot match. For readers with dyslexia, standard typefaces make letters hard to differentiate and words tend to jumble together. Screen reading with ebooks offers dyslexic font, designed so letters and words have extra distance between them to combat reversal and flipping of letters. Capital letters are bolder to help readers identify new sentences and each letter is bottom-weighted.
Ebooks and audiobooks offer learning support that only digital reading can provide. Sizeable type and background color options further personalize reading to meet the learning needs of visually challenged readers. Audiobooks also provide a different sensory experience, a reading solution that students with visual, language and processing challenges can all enjoy. Digital reading offers endless personalization for every interest, path and pace to keep students engaged.
Digital maximizes your investment
Embracing digital is affordable. In fact, it actually helps schools save money over the course of an adoption. Take for example the scenario below,* which compares the cost of digital vs. print for providing 5,000 copies annually for 8 years. By taking advantage of flexible usage models - and leveraging the fact that ebooks never have to be repurchased due to loss, damage or inefficiency - the district experiences considerable savings, which will continue to grow year after year.
---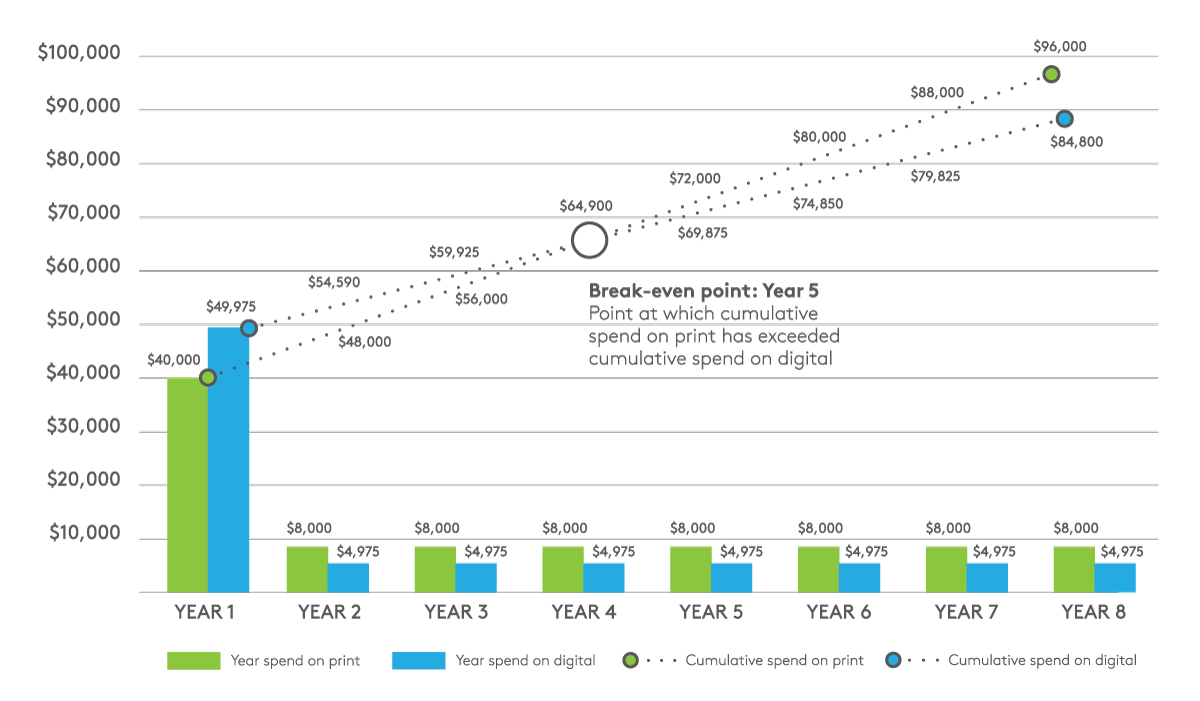 *As published in the Learning Counsel's Digital vs. Paper Books: Let's Do the Math! whitepaper. Download here.
---
Print
Total print copies needed per school year: 5,000
Year 1 investment: 5,000 copies purchased @ $8.00 per print book
% of print titles repurchased each year due to loss, damage and inefficiency: 20%

1,000 copies repurchased each year @ $8.00
Digital
Total digital copies/licenses needed per school year: 5,000
Average price of ebook standard copy: $18.00
ebook Class Set License (costs may vary): $1.99 per license
Year 1 investment:

2,500 ebook standard copies purchased @ $18.00 per ebook
2,500 ebook Class Set Licenses purchased @ $1.99 per license

# of ebook Class Set Licenses purchased each year: 2,500 @ $1.99 per license
% of ebook standard titles repurchased each year due to loss, damage and inefficiency: 0%

"Teachers use ebooks during whole-class instruction on interactive whiteboards. Students also may use OverDrive in the classroom as a station during guided reading time. The Read-Along titles are especially popular choices for guided reading stations."
Robin Ward Stout, Ed.D.
Administrator, Media Services & Emerging Technologies
Digital Learning Department
Lewisville ISD
Lewisville, Texas
"We specifically order books that are on the high school summer reading list and have them available in digital format. Other supplemental materials are used in classrooms and libraries for centers and small-group independent reading. Some students require the extra support of hearing the text while following along in an OverDrive Read-Along. The addition of flexible text features and the ability to change the entire text to a dyslexia font has improved student reading while supporting their learning."
Faye Hagerty
Administrator, Media Services & Emerging Technologies
North East ISD
San Antonio, Texas
"We need students to read and read for fun. Students relate more to books they enjoy. When students are enjoying a book, they are more capable of expressing themselves, such as how the book relates to them and the formation of opinions to defend. With OverDrive and a quality collection, students are allowed to choose books that they will enjoy, which will further these skills for college and beyond."
Kathy Seybert
Coordinator of Instructional Media
Grand Prairie ISD
Grand Prairie, Texas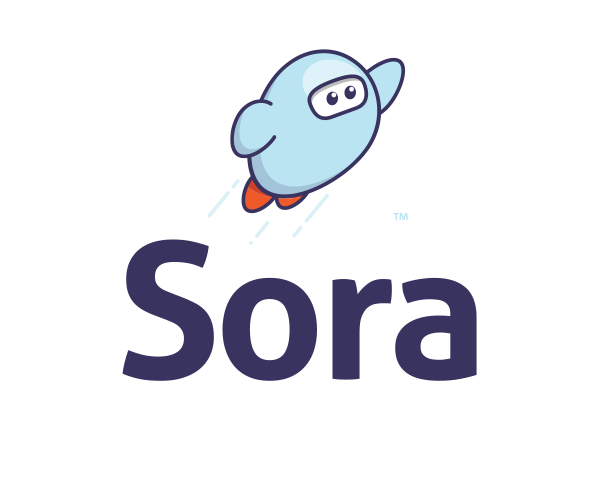 Sora is an easy-to-use new tool that inspires engagement, allows students and teachers to track individual reading progress and features badges and achievements to keep reading fun.
Try it now
Go to 

soraapp.com

Click "I have a setup code" at the bottom of your screen

Setup code is texask12

Select your school: Texas Schools Demo

Username is proc2019

Browse titles custom chosen for Texas!