How QR codes can connect your community to your digital library
By: Melissa Marin, OverDrive Marketing Specialist
Many libraries have shown renewed interest in connecting readers with their digital titles using QR codes, especially after reading the article Digital Wallpapers Open Doors in American Libraries Magazine. That article highlights San Antonio Public Library's ongoing Digital Library Community Project and how they use QR codes on highly customized large scale posters created by their graphic design team to provide access to their digital titles.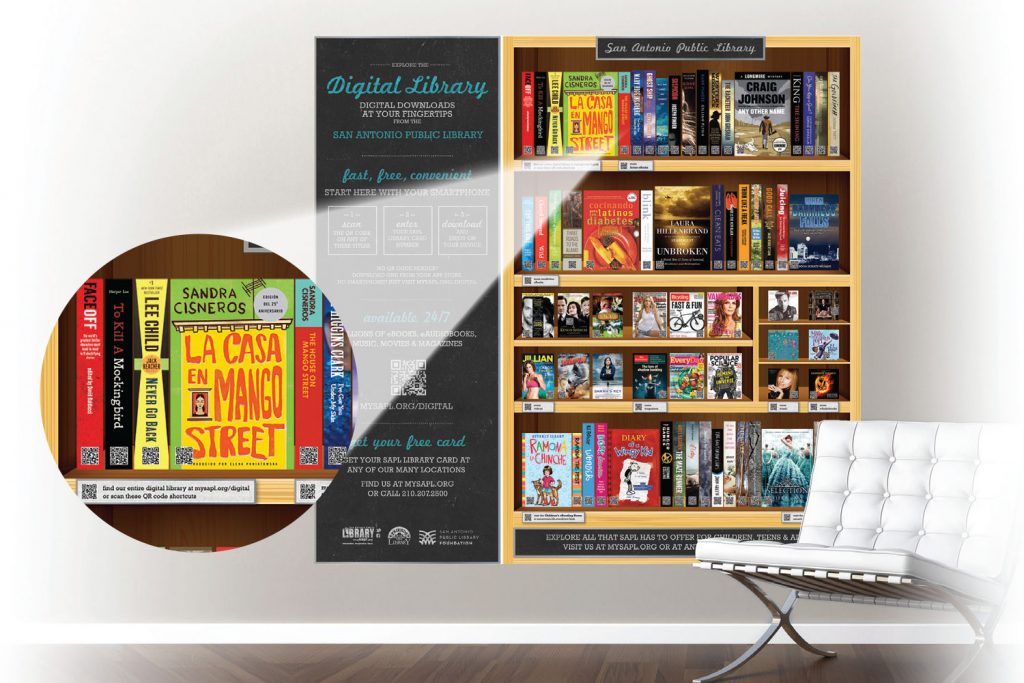 It is easier than ever to share links from your OverDrive site directly with users to promote your digital collection. All it takes is a quick copy and paste if you're sharing on your social media accounts. But if you are creating print materials, typing in a long URL is not the most attractive option – this is where QR codes come in. Many smartphones and tablets now have a built-in tool to the device camera that allows users to scan a QR code and right away be taken to the exact URL you want to promote.
It's simple to create a QR code that link to titles, genres or collections on your OverDrive site for your marketing campaigns, big or small!
Visit the title details page for a book in your catalog that you want to highlight – for example, Wild by Cheryl Strayed – and copy the URL. I've visited the Toledo-Lucas County Public Library and the URL for Wild is: https://toledo.overdrive.com/media/647415. You can do this when searching by subject or collections, as well. On Toledo's site, here's a direct link to their Available Now Audiobooks collection and books with the subject designation of Biography & Autobiography.
Create a QR code using a free site like QR Code Monkey or QR Code Generator. Copy the URL that you want to link to and paste it where prompted. Follow the instructions to create and then download your new QR code. Tip: We recommend clearly naming and labeling the file name for each downloaded QR code you create if you are making more than one at a time.
This new code can be added to marketing materials to make it easy for users to discover your digital collection. Here are the codes for the 3 URLs referenced above. Scan the QR code with your device camera (or using a dedicated QR Code Reader app) and test these out to see how easy it is to link directly to specific books, genres, and featured collections.

Doing something creative to promote OverDrive at your library with QR codes? Let us know on Facebook or Twitter. We'd love to share your story!
Tags In
Browse blog and media articles