New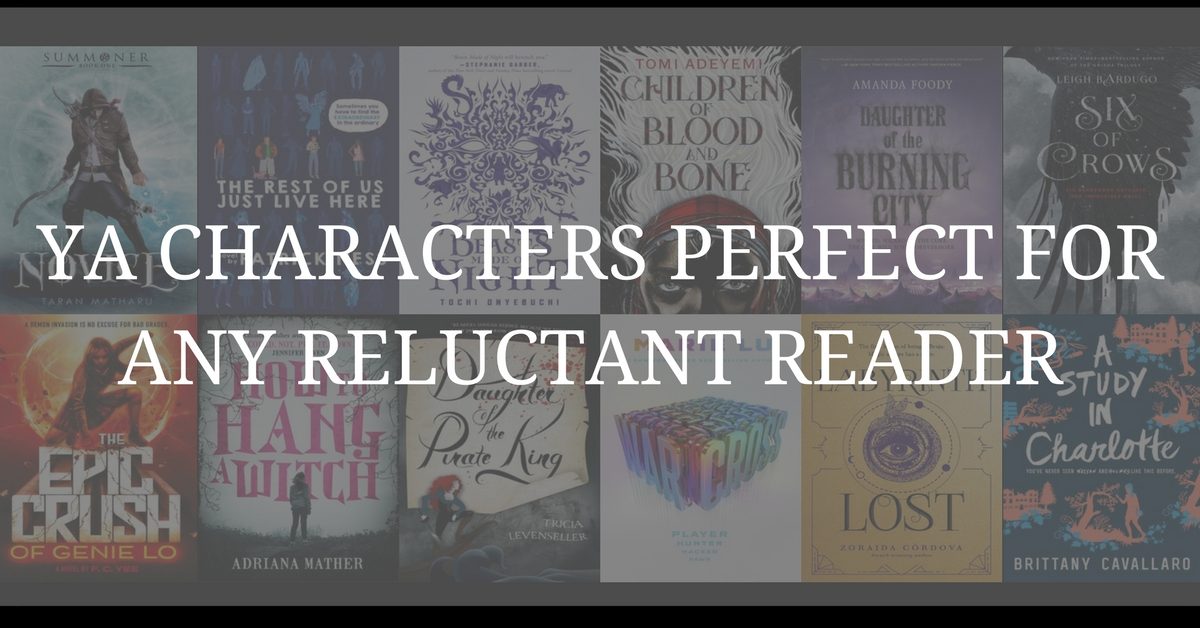 2 YA CHARACTERS SURE TO BRING ANY RELUCTANT READER BACK TO THE BOOKS
Here at OverDrive, we pride ourselves on our book nerdery and borderline obsessive integration of literature in our daily lives. Honestly, it's pretty rare to walk by a group of coworkers in the office and hear them chatting about anything other than books. We work with public and school librarians constantly and while we all speak the same bookish language, we understand and appreciate that there are members of your community who need to be swayed into falling in love with books.
These reluctant readers need some coaxing and the young adult genre is a perfect gateway to the rest of the literary world. YA characters tend to be relatable while also being admirable at the same time. Most reluctant readers are teenagers so they can connect with YA characters who are the same age as them and are experiencing some of the same emotions while also being inspired by how they overcome impossible odds.
The ever present question, however, is what YA characters and books should you recommend to hook reluctant readers (beyond Harry Potter of course). Here are 12 characters for all those hard to please readers in your community. There's something here for everyone, we promise.
Zélie from Children of Blood and Bone by Tomi Adeyemi – Zélie represents what many teenagers feel. She yearns for more than her initial station in life and wants to rebel against the adults who have changed her world. Children of Blood and Bone has spent its first few weeks of publication atop the New York Times bestseller list so it's likely you've heard of it. The strong, West-African inspired female lead is a great way to provide representation to the books you're suggesting to young readers. Author Tomi Adeyemi recently joined our Professional Book Nerds podcast and stated that she wrote this book so young girls who look like her will be able to see themselves as the lead in books, something she didn't see as a child.
ALL the sisters from Labyrinth Lost by Zoraida Córdova – Labyrinth Lost is the first story in a series that Zoraida is writing about the sisters of the Mortiz family. They are a Latina family of brujas, powerful witches with the ability to manipulate the elements, heal and so much more.Labyrinth Lost mainly focuses on Alex, who overcomes countless obstacles of Los Lagos, a dark Wonderland of an underworld, to rescue her family. This book sets the stage for what's to come and shows the strength of the bond only siblings can truly understand.
Alosa from Daughter of The Pirate King Series by Tricia Levenseller – Think, "Teenage lady Jack Sparrow but without the rum…" Alosa is the daughter of the Pirate King and a captain of her own ship with a crew of incredible women. She also happens to have some magic flowing through her blood. This series will have you hooked from page one (pun intended) and will leave readers longing for a trip on the open sea.
Emika Chen from Warcross by Marie Lu – There is an annoying trope that only young males play video games. Emika Chen bucks this trend in a book that is equal parts Ready Player One, The Matrix, and The Hunger Games. Emika is a gamer, a bounty hunter, a hacker and so much more. She's the perfect depiction of a young woman breaking through stereotypes and this book is one of the most addicting books you'll come across.
Taj from Beasts Made of Night by Tochi Onyebuchi – This Nigerian-influenced fantasy explores justice and the struggle between classes that, unfortunately, still exists today. Taj, the main character, is a mix of all the emotions teenagers deal with daily. At times, he feels desperate and lost while other times he is overly confident of his abilities. He tries to come to grips with falling in love while dealing with the guilt of those he could not save at the same time. He's a well-rounded, realistic character set in a world of dark magic.
Samantha Mather from How to Hang a Witch by Adriana Mather – Moving to a new town as a teenager can be difficult…moving to Salem when your family is intricately woven into the town's infamous history for reasons everyone but you knows can be nigh impossible. That is the life of Samantha Mather. Soon after moving to Salem her entire world becomes witches, ghosts and coming to grips with the fact that she's a descendant of someone responsible for the Salem Witch Trials. Also, the author name up there isn't a typo. Adriana Mather really is a descendant of a prominent figure in the trials and aspects of this story that are actually true will blow your mind.
Genie Lo from The Epic Crush of Genie Lo by F. C. Yee – Whenever you're reading a YA fantasy novel, you can sometimes be left wondering about the real-life implications of the actions of our hero. Genie Lo is here to show readers that just because she may be helping save the world, those college prep exams aren't going to take themselves. It's refreshing to read a book that combines magical elements with the grounded, stressful reality of a high school student. Its basis comes from Chinese mythological stories which makes this a unique tale many readers will not be familiar with.
Sorina from Daughter of the Burning City by Amanda Foody – Sorina has spent her life in a mysterious, massive traveling carnival. She is an illusion-worker who uses the characters she creates as the cast of the carnival freak show. The book unfolds into a murder mystery with an original set of characters, each of which shows the reader that what makes us different can also make us special. Amanda Foody has built a world you'll want to spend countless days in.
Fletcher from The Summoner Series by Taran Matharu – Often times, getting a reluctant reader interested in a new book can be solved by relating that book to things they already know and love. This makes Taran Matharu's Summoner series a perfect choice. It's equal parts Harry Potter, Lord of the Rings, and Pokémon. The main character, Fletcher, is relatable as he struggles to rise from poverty to becoming a Battlemage in a fight against Orcs. It's like if Harry had to throw the ring into Mount Doom but instead of Hedwig he had an adorable demon salamander. Trust me, that all will make sense.
Kaz from The Six of Crows Duology by Leigh Bardugo – Leigh Bardugo is a master of both character and world building and Kaz is no different. He leads a group of six dangerous outcasts on an impossible heist reminiscent of Ocean's 11, if Ocean's 11 was in a mythical world that was crackled with magic.
Charlotte Holmes from A Study in Charlotte by Brittany Cavallaro – In a world where the stories of Sherlock Holmes and Dr. Watson actually happened, we meet their teenage descendants, Charlotte Holmes and Jamie Watson. They are awkward at times, struggling with their emotions and the balance of being friends of the opposite sex who may or may not be attracted to each other. Charlotte is a genius who is likely to be at home solving crimes rather than interacting with other humans. This makes her and Jamie's dynamic connection something that most teenagers can relate to. Readers will thoroughly enjoy Charlotte's "magic trick" each time she uncovers facts about an event simply through her power of observation.
Mikey from The Rest of Us Just Live Here by Patrick Ness – There are so many books about superheroes and their adventures. But what about the rest of the people in the world? Those people are who The Rest of Us Just Live Here is all about. Life doesn't stop because of a mysterious apocalypse and the teen heroes trying to stop it. Mikey and his friends are just trying to survive senior year. On top of being realistic depictions of friendships and relationships, the novel tackles very real issues that teens deal with every day. Mikey has OCD and it's getting worse, his sister is recovering from an eating disorder, and their parents are so dysfunctional that they might as well not be around. Monsters may be real but at the end of the day, we're all facing our own demons too. Mikey feels like he could be your best friend at school and you root for him throughout the entire novel.
Comments are closed.
ABOUT OVERDRIVE
OverDrive is the leading digital distributor
of eBooks, audiobooks, music & video
for schools, libraries and retailers. We
deliver proven value to our partners.
Learn more at company.overdrive.com
LIBRARY & SCHOOL PARTNERS
Visit our Resource Center to access marketing materials, staff training resources, and more.
STAY CONNECTED WITH OVERDRIVE
Browse blog and media articles