New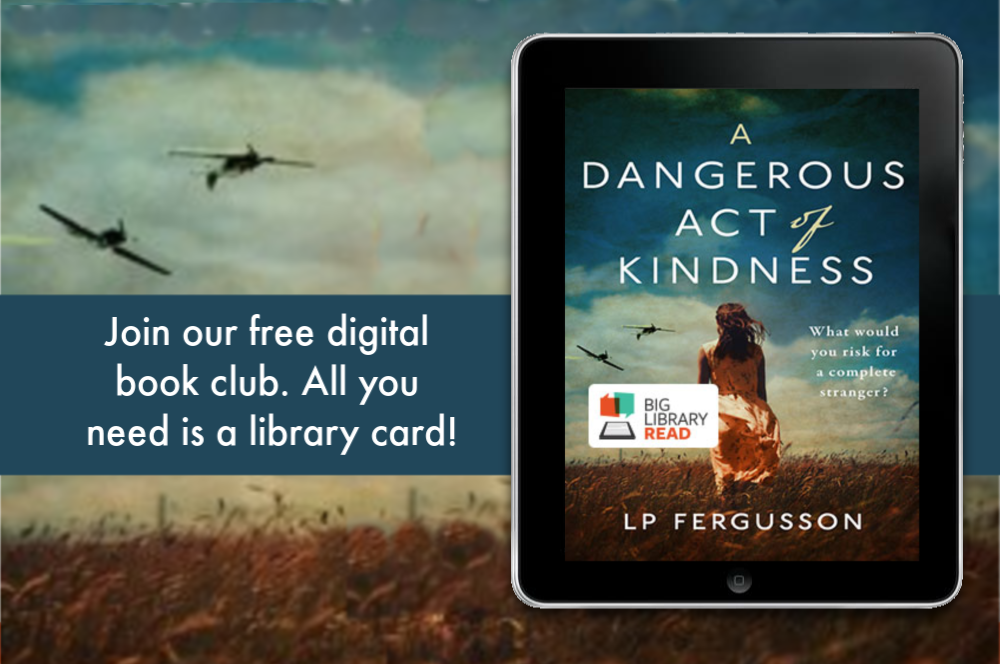 Discover a dangerous act of kindness in the latest Big Library Read
It's once again time for Big Library Read and this time we bring you A Dangerous Act of Kindness by LP Fergusson. This haunting and beautiful novel tells the story of Millie and Lukas, two individuals caught on opposite sides of a harrowing war. When circumstances bring them together, Millie's kindness turns into a dangerous decision that sets them both off on a path they never expected—and can never tell anyone about.
From now until July 1, readers at participating OverDrive libraries can check out the ebook of A Dangerous Act of Kindness without waitlist or holds. After finishing this story of love and loss, be sure to visit our discussion board to share your thoughts on the book and chat with other readers. We also have an exclusive interview with author LP Fergusson on the Professional Book Nerds podcast.

Libraries looking to promote Big Library Read can use our marketing kit which is full of social media graphics and print-ready materials you can have available in your library.
A Dangerous Act of Kindness was just published this year and we are so excited to have a brand new book for Big Library Read. Be sure to also post on social media using the hashtag #biglibraryread to be entered into a giveaway for a Kobo Auro H20!
About A Dangerous Act of Kindness
What would you risk for a complete stranger?
When widow Millie Sanger finds injured enemy pilot Lukas Schiller on her farm, the distant war is suddenly at her doorstep. Compassionate Millie knows he'll be killed if discovered, and makes the dangerous decision to offer him shelter from the storm. On opposite sides of the inescapable conflict, the two strangers forge an unexpected and passionate bond. But as the snow thaws, the relentless fury of World War Two forces them apart, leaving only the haunting memories of what they shared, and an understanding that their secret must never see light. As Millie's dangerous act of kindness sets them on paths they never could have expected, those closest to them become their greatest threats, and the consequences of compassion prove deadly…
About Big Library Read
Big Library Read, facilitated by OverDrive, is a global reading program that connects readers around the world with the same ebook at the same time without any wait lists or holds. This worldwide digital version of a book club is available for free through your local library and all you need to get started reading is a library card.
Tags In
Browse blog and media articles