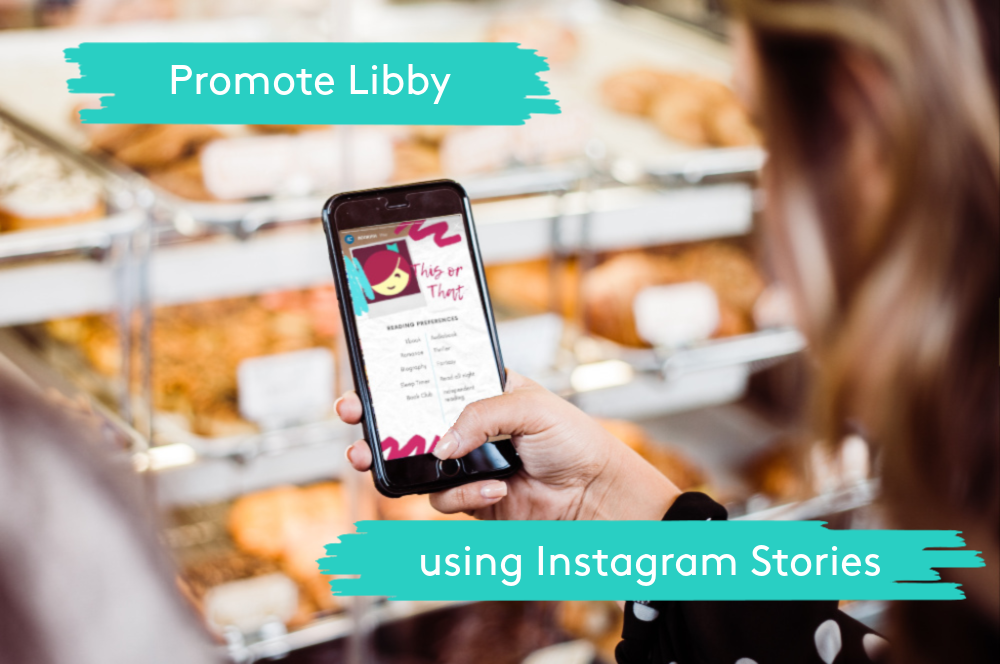 Using Instagram Stories to promote Libby
By: Rickie Mascia, Social Media Specialist
If you are new to Instagram stories, we want to make sure you have all the tools to understand why and how to make a successful post to promote your digital collection and Libby. Instagram stories are used by 500 million users every day. Now, we all know that 500 million people won't be watching each and every story created; however, it goes to show that people are watching! Instagram stories are a great way to grab the attention of your patrons and expand your reading community in the digital space. Stories are a great promotional tool that can be used to answer frequently asked questions, such as, "How do I speed up my audiobook?", posing interactive polls and questions for readers, or sharing book covers for librarian recommended titles and book club picks.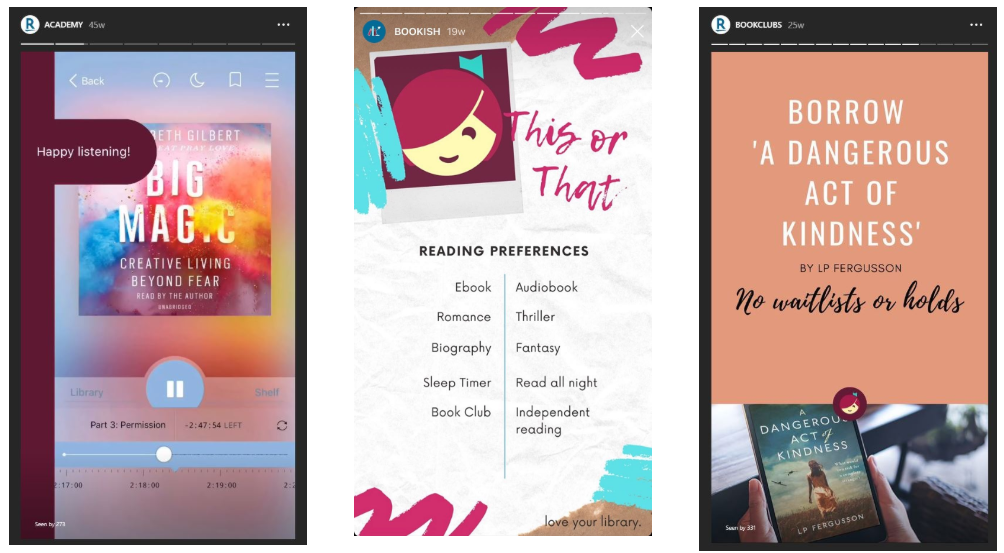 To help you get started on using Instagram stories, we have recently added our Libby Academy videos to the Resource Center. These videos are ready to download and are made to size for easy sharing on your profiles. Sharing the Libby Academy videos on your story will help answer some of the most frequently asked questions about the app to a broad audience.
One thing to note is that Instagram stories disappear 24 hours after posting. The good news is Instagram has created a feature called "Highlights" that allows you to store as many stories as you want in one place on your profile. Check out our Instagram page to see how we have organized our stories; we even have one dedicated to "Libby Academy" for any new users that land on our profile!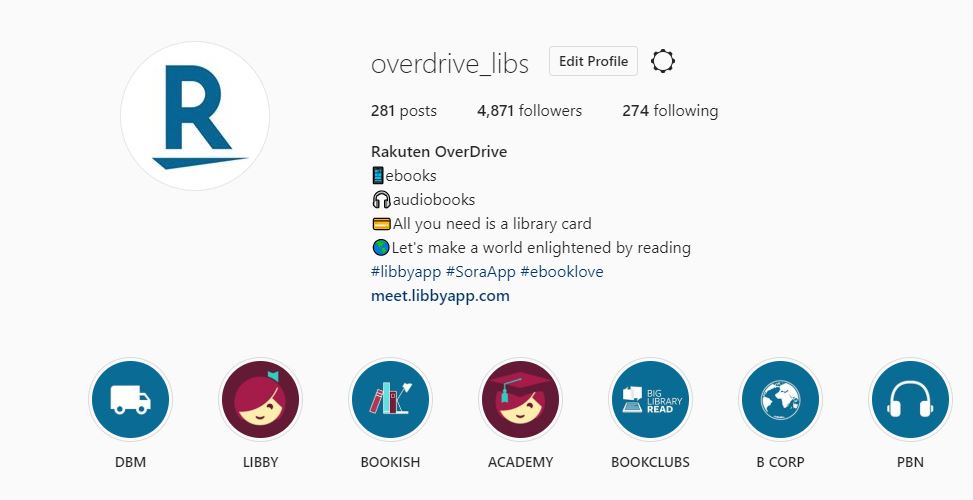 Below we have listed out a few steps on how to get started and have included links for more information on how to use highlights and where to find the "Libby Academy" videos:
From a phone or tablet, visit the Resource Center > Library > Marketing & Outreach > Social tab.
Scroll down the page to download the zipped folder of Libby Academy videos under "Promotional Videos."
Unzip the folder. Save the videos you're interested in sharing to your device. Tip: If your device allows you to create albums, you may want to create a "Libby Academy Videos" album to easily save them all in one spot.
Open Instagram. If you have multiple accounts (for example, a personal account and an account for your library), make sure to choose your library account.
Click on "Your Story" in the upper left or the camera icon in the top left corner.
In the bottom left corner, choose the icon to go to your camera roll.
Click the drop-down arrow next to "Last 24 Hours" and navigate to the folder where you have saved the Libby Academy videos.
Choose a video. Note that the Libby Academy videos were designed to play without sound.
You can optionally add "Stickers" to the Instagram Story using the little smiley face icon at the top of the page. Stickers can include polls, animated gifs, hashtags and more.
Once ready to post to your account, click "Next" and then "Share" to your story. If your Instagram account is connected to your library's Facebook page, you may also want to share the video as a Facebook story to reach a different audience with one click. Under "Sharing Options" you can choose to share to Facebook every time or just share once.
After the 24 hours are up where they actively appear in your stories, you can add any past Instagram Story to a "Highlight" on your profile page. View Instagram's Help article for instructions how.
We want to see how you're promoting Libby on Instagram. Tag OverDrive_Libs or use the hashtag #libbyapp and show us how you're spreading Libby love!
Tags In
Browse blog and media articles