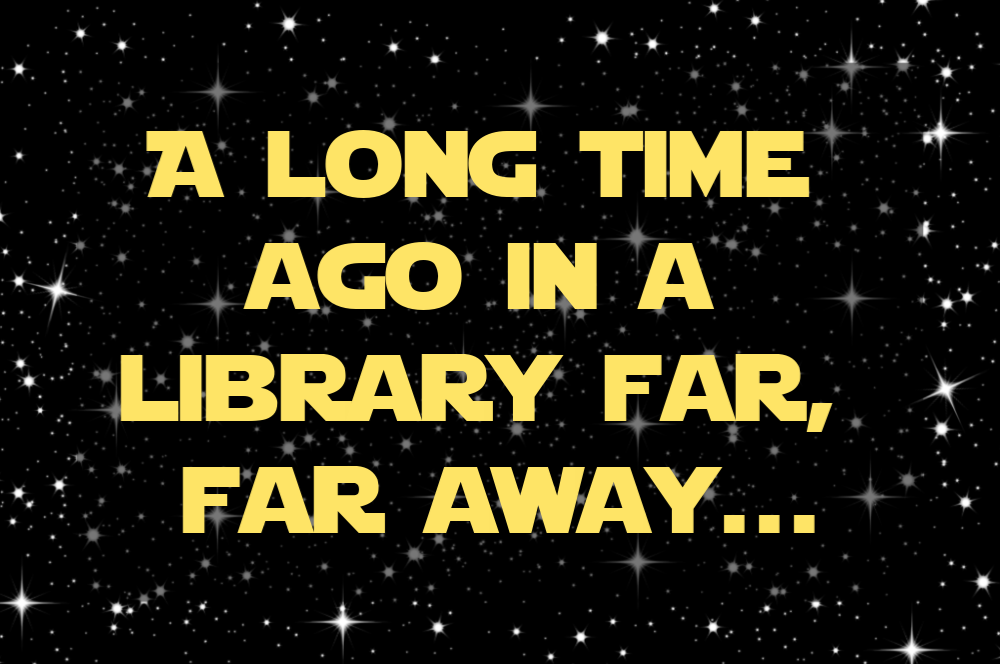 A long time ago in a library far, far away…
By: Jill Grunenwald, Marketing and Communications Specialist
I've been a fan of Star Wars for so long, I can't even remember when I first discovered the series. My 16th birthday was Star Wars themed, my work bag is a BB8 book bag and when I got married, I walked down the aisle to a string quartet playing the Imperial March (that last one is probably the one piece of information that explains everything you need to know about me).
This Friday, 42 years after A New Hope premiered, the Skywalker Saga comes to an end. Of course, the Star Wars universe isn't going away anytime soon (which is good, because there is no such thing as too many Baby Yoda memes), but along with upcoming films and television shows, there is a whole galaxy of books available, too! It's impossible for me to share all of them, so here are 12 Star Wars books to read long after you leave the movie theater.
For the kids
One of my favorite Star Wars factoids is that back in the 1970s, film merchandising wasn't really a thing. So when George Lucas approached 20th Century Fox with a deal to keep merchandising rights in exchange for a lower director salary, they happily took him up on the offer, believing Lucas was naive and Star Wars would bomb. Well, as any parent around the holidays knows, Star Wars merchandising is a planet unto itself when it comes to kids. These days, that also includes books!
"Goodnight Darth Vader" by Jeffrey Brown
Spoiler alert: Luke and Leia are twins, and Darth Vader is their father. In the movies, Luke and Leia were separated as children and sent to live with other families, but what would life have been like if Luke and Leia had grown up on the Death Star with Darth Vader as a loving father who told them bedtime stories?
"Jedi Academy" by Jeffrey Brown
Along with his clever picture books, Brown is also the author of a graphic novel series that follows a young boy as he learns the ways of the Force and hopes to one day become a Jedi. The books tackle the awkward experiences of middle school but set against the backdrop of a galaxy far, far away.
"The Empire Strikes Back" Read-Along
Read-Alongs feature professional narration and sound effects. In this case, an introduction read by Anthony Daniels/C-3PO and the main theme song. Many Read-Alongs highlight the words, making it easier for children to follow along with the story.
Origin stories
These are always my favorite types of books — not just in the world of Star Wars but other fandoms as well. This is especially true when it comes to villains (see above re: Imperial March).
"Phasma" by Delilah S. Dawson
Captain Phasma, with her bright shiny silver Stormtrooper suit, is one of my favorite characters from the sequels. Dawson's novel digs deep into her mysterious background and gives us the story of how she became one of the most merciless officers of the First Order.
"Queen's Shadow" by E.K. Johnston
Johnston's novel explores the story of Padmé Amidala and what she was doing in the years between The Phantom Menace and Attack of the Clones.
"Thrawn" by Timothy Zahn
Zahn has been writing Star Wars novels for decades, including several featuring Grand Admiral Thrawn. This blue-skinned, red-eyed military commander is considered one of the most ruthless villains in the Star Wars universe.
Biographies
Sometimes truth is stranger than fiction as these biographies, autobiographies and memoirs illustrate.
"I Am C-3PO" by Anthony Daniels
This is one of those books I feel is made better by the fact Anthony Daniels narrates the audiobook version himself.
"Princess Diarist" by Carrie Fisher
Told with the same wry humor as her other memoirs, Fisher's last book is intimate and revealing as she shares excerpts from her own diaries written during the filming of A New Hope (bonus: if you listen to the audiobook version, her daughter Billie Lourd read the diary excerpts). A fitting conclusion for General Leia Organa.
"George Lucas" by Brian Jay Jones
I can't talk about the magic of Star Wars and not discuss the man behind it all. Lucas did more than just create a beloved franchise, he altered the course of film making forever.
Expanded Universe
Over the years, novels set in the Star Wars universe were written and are still being written and published today. The more recent novels are considered canon (and part of the official timeline) while the older titles are classified as Legends and non-canon. Think of them as an alternate timeline. Regardless of where these novels fall in the canon, they are still incredibly popular among fans of all ages.
"Aftermath" by Chuck Wendig
One of the best things about Star Wars novels is how many bestselling authors write books in the universe. Wendig's series, starting with "Aftermath," picks up after the events of Return of the Jedi.
"Heir to the Empire" by Timothy Zahn
Published in 1991, this novel not only introduced the world to Grand Admiral Thrawn, it was instrumental in jump-starting the Star Wars franchise again. Part of Star Wars Legends.
"Vector Prime" by R.A. Salvatore
Regular readers of fantasy and science fiction will recognize R. A. Salvatore's name. Along with his own work in the genre, Salvatore has written Star Wars books, including the first book in the incredibly popular New Jedi Order series. Part of Star Wars Legends.
Tags In
Browse blog and media articles