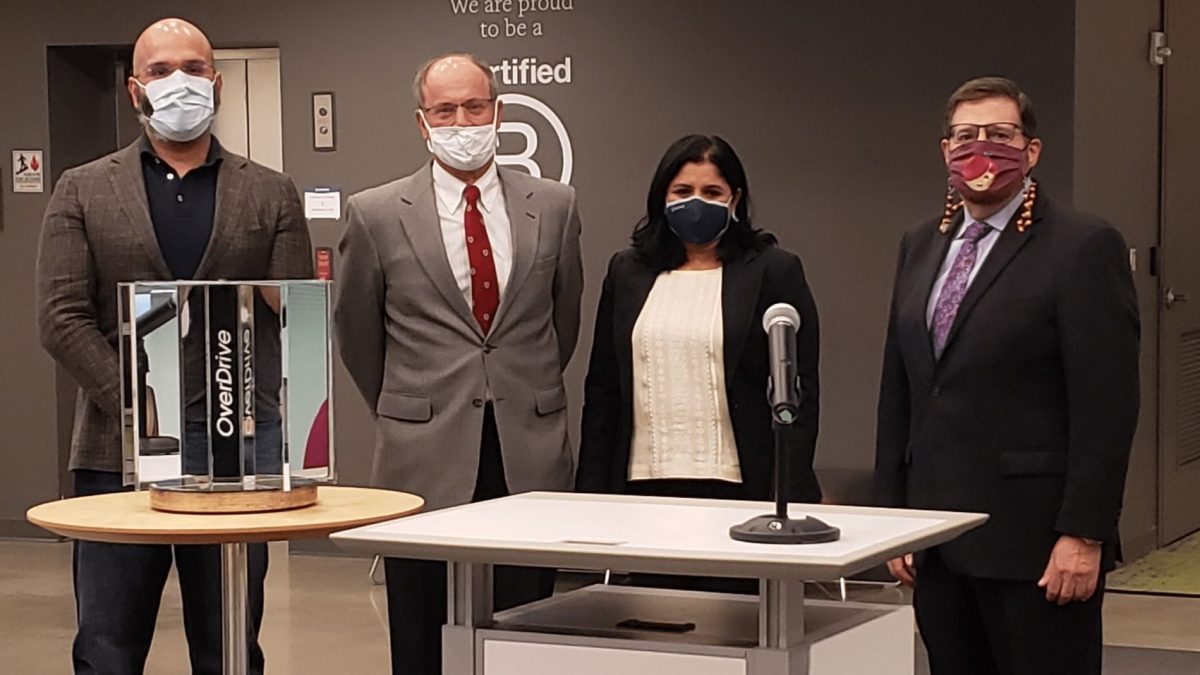 OverDrive Founder and CEO Receives 2020 Dively Entrepreneur Award
Harvard Business School Club of NE Ohio recognizes OverDrive and Steve Potash's success and industry impact
CLEVELAND – April 27, 2021 – Harvard Business School Club of Northeastern Ohio named OverDrive founder and CEO Steve Potash the recipient of the 2020 Dively Entrepreneur Award. The George S. Dively Entrepreneurship Award is presented annually to an individual or company in Northeast Ohio based on substantial success as an entrepreneur or entrepreneurial company. It also spotlights a history of innovation, solid financial performance, and achievements in the marketplace. Past recipients include Stewart Kohl (The Riverside Company), Monte Ahuja (Transtar Industries) and Joe Kanfer (GOJO Industries) among others. A complete list can be found here.
"Steve Potash was the clear choice to receive Harvard Business School Club of NE Ohio 2020 award," said Padma Jambunath, Vice President of the Dively Entrepreneur Award committee. "Under his leadership, OverDrive is the leading digital reading platform for ebooks, audiobooks and other digital media for libraries and schools around the world. We're proud to celebrate Steve's efforts in leading this Cleveland-based company to global success."
As CEO, Steve leads an Executive Strategic Team focused on OverDrive's vision to create a world enlightened by reading. A true pioneer in the digital content and distribution industry, Steve was among the first to develop useful applications for digital books and electronic media in the 1980s. OverDrive developed innovative book-based products starting with floppy diskette, CD-ROM and print-to-digital conversion services.  Early markets and products included electronic law, accounting and healthcare catalogs.
In 2000, OverDrive launched its flagship digital content distribution hub, OverDrive Marketplace, now one of the largest B2B catalogs in the world for schools, libraries, academic and corporate knowledges centers supplying ebooks and other digital media in over 100 languages. The world's leading publishing houses along with 30,000 other publishers rely on OverDrive to sell their premium content to a global network of more than 65,000 libraries and schools in 84 countries.
Steve is a lifelong entrepreneur who grew up in Cleveland Heights and is responsible for a series of innovations. He practiced law in northeast Ohio and was recently admitted to practice before the United State Supreme Court. An author of numerous articles on copyright protection matters, Steve frequently speaks on the value and impact that access to books and reading have on all lives. He is a member of the University Hospital System Board of Directors.
Steve, his wife Loree and family founded and operate https://www.believeinreading.org/ that funds literacy programs for all ages and readers. Steve has worked extensively for improved digital media accessibility for the visually impaired.
To view the live-streamed award presentation from April 13, 2021 see: here.
About OverDrive
OverDrive strives to create "a world enlightened by reading." Serving a growing network of 65,000 libraries and schools in 84 countries, OverDrive delivers the industry's largest digital catalog of ebooks, audiobooks, magazines and other content through award-winning apps. The Libby reading app for libraries is one of Popular Mechanics' 20 Best Apps of the Decade, while the student reading app Sora is one of TIME's Best Inventions of 2019. Founded in 1986, OverDrive is based in Cleveland, Ohio USA and was named a Certified B Corp in 2017. www.overdrive.com
Contact:
David Burleigh
Director of Brand & Communications
dburleigh@overdrive.com
###
Browse blog and media articles