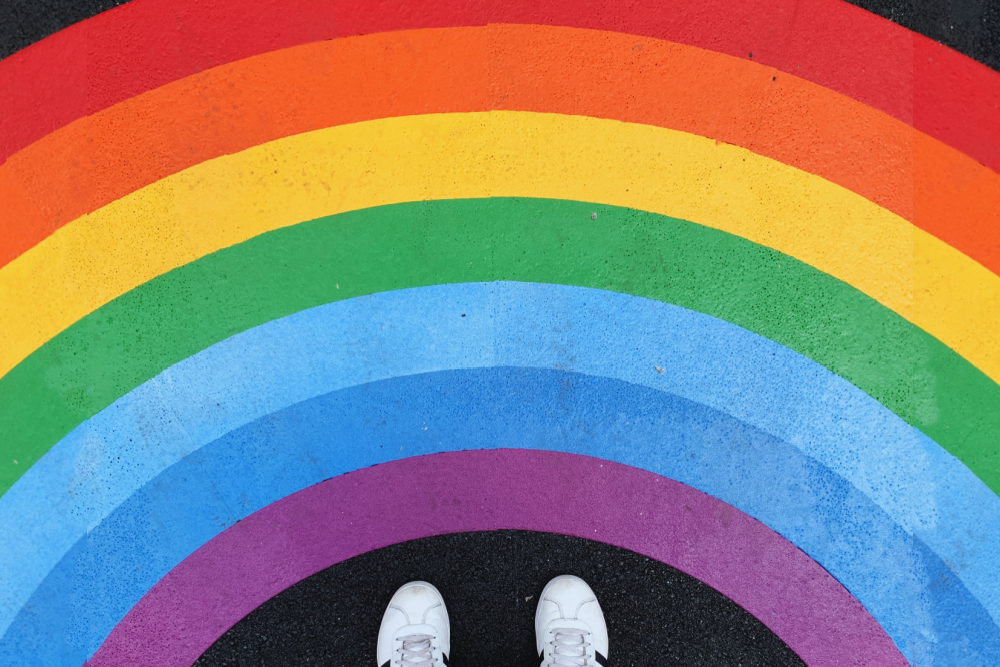 Hear the rainbow with audiobooks for Pride Month!
There are plenty of reasons to love the month of June. For those of us in Ohio, it means we can cast off the last vestiges of winter and the unpredictible weather of spring and fully embrace the sunshine. School's out for the summer and there are plenty of opportunities for baseball games and hot dogs and gathering outdoors with friends and family.
June is Audiobook Month, and while it may not be an official holiday we here at OverDrive certainly believe it's a call for celebration all the same. Especially when you look at the data highlighting audiobooks continued popularity. Our annual Audiobook Month sale is happening this month and it's the perfect time for librarians to stock up on audiobook titles for listeners of all ages.
Pride Month is also happening in June! We read LGBTQIA+ books all year long, but magic can happen when you combine these two celebrations. (As queer musician Miley Cyrus once sang, "It's the best of both worlds.") Recently Professional Book Nerds podcast co-host Joe sat down with some of Team OverDrive to discuss favorite audiobooks by queer authors and/or featuring queer characters! From swoony romances to heartwrenching memoirs and spectacular science fiction and fantasy, there's a little bit of everything in these audiobooks.
Hear the rainbow with LGBTQIA+ audiobooks
Here for It; Or, How to Save Your Soul in America: Essays by R. Eric Thomas
In essays by turns hysterical and heartfelt, Thomas reexamines what it means to be an "other" through the lens of his own life experience.
I'm So (Not) Over You by Kosoko Jackson
A chance to rewrite their ending is worth the risk in this swoony romantic comedy from Kosoko Jackson.
When Brooklyn Was Queer by Hugh Ryan
The never-before-told story of Brooklyn's vibrant and forgotten queer history, from the mid-1850s up to the present day.
Under the Rainbow by Celia Laskey
When outsiders on a mission arrive to change a small town's attitudes, residents and newcomers alike end up transformed.
Girlhood by Melissa Febos
A gripping set of stories about the forces that shape girls and the adults they become. A wise and brilliant guide to transforming the self and our society.
A Lady for a Duke by Alexis Hall
A lush, sweeping queer historical romance. Perfect for fans of Netflix's Bridgerton!
In The Dream House by Carmen Maria Machado
An engrossing and wildly innovative account of a relationship gone bad, and a bold dissection of the mechanisms and cultural representations of psychological abuse.
The City We Became by N.K. Jemisin
A glorious story of culture, identity, magic, and myths in contemporary New York City.
Lie With Me by Philippe Besson, translated by Molly Ringwald
Dazzlingly rendered in English by Ringwald in her first-ever translation, Besson's powerfully moving coming-of-age story captures the eroticism and tenderness of first love—and the heartbreaking passage of time.
Chef's Kiss by TJ Alexander
A high-strung pastry chef's professional goals are interrupted by an unexpected career transition and the introduction of her wildly attractive nonbinary kitchen manager in this deliciously fresh and witty queer rom-com.
Gideon the Ninth by Tamsyn Muir
Tamsyn Muir's Gideon the Ninth unveils a solar system of swordplay, cut-throat politics, and lesbian necromancers.
Getting Clean with Stevie Green by Swan Huntley
A quirky, feel-good novel about one woman's messy journey from self-delusion to self-acceptance.
Head over to the Professional Book Nerds website to hear more about all of these Pride Month audiobooks. And our library friends can visit Marketplace to shop our Audiobook Month Sale and save 25-50% on thousands of audiobooks all month long!
Tags In
Browse blog and media articles