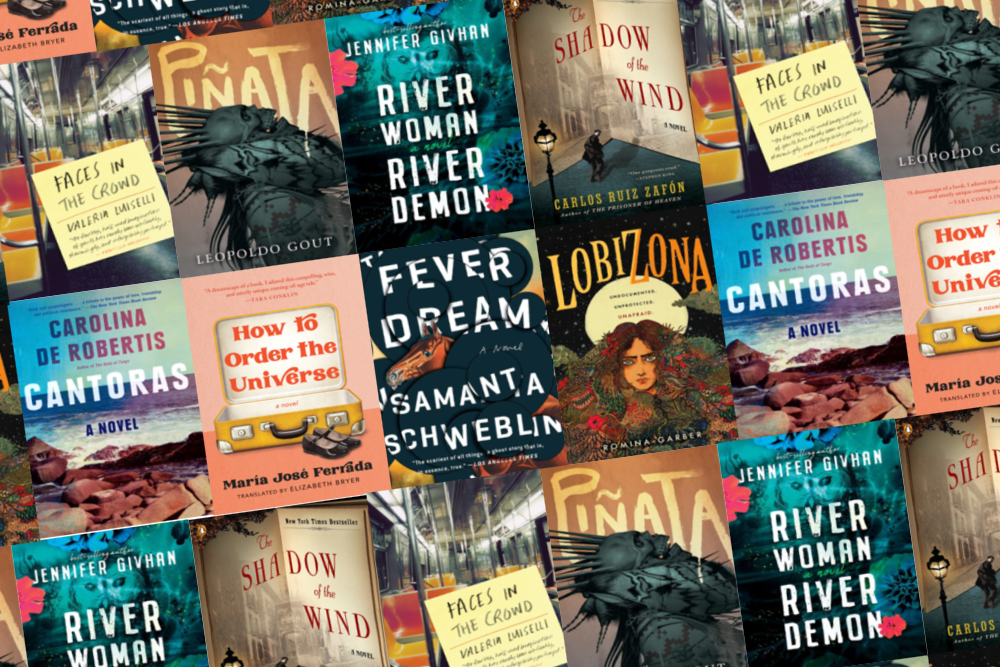 Must-Read Hispanic Fiction
By Marisa Arancibia
If you have been sleeping on translated and English-original works by Hispanic authors, then it's time to quickly remedy that and discover just how many amazing reads you've been missing! Below you will find books by Chilean, Argentinian, and Spanish authors ranging in genres from magical realism, horror, and literary fiction and a plethora of distinct, captivating writing styles that will have you asking yourself "how have I never heard of this book??"
And, because so many of these come from perspectives outside of our North American sphere, the topics covered are also extremely varied—from Pinochet's almost 20-year dictatorship over Chile (which occurred in our lifetime), to the culture of Mexican brujería, and queer life in 1970s Uruguay. There is truly something for everyone.
Read on for Hispanic reads that are not to be missed—be them classics everyone should read, or more under-the-radar reads that I think you'll enjoy.
How to Order the Universe
By María José Ferrada, Translated by Elizabeth Bryer
How to Order the Universe is author María José Ferrada's bittersweet first adult novel, a World Literature Today Notable Translation of the Year for 2021 and has now been translated into nine languages. A powerhouse coming of age novel, this father-daughter story unfolds during the Pinochet era of Chile and exhibits a young girl's memories of life on the road. The protagonist, M, has a sweet, idyllic life; she joins her father on his sales route and quickly becomes engrossed in a working man's world. But her innocence is soon shattered as the country and her family shift around her in tumultuous, life-changing ways.
This book is like a quick but powerful punch to the gut—please do not let its small size deceive you, you will be left breathless. The tragedy of the second half of the book is in such great contrast to the first half that the heartbreak feels almost like a betrayal, and the poetic prose remains compelling until the very last page.
Read this now. You will be forever changed, and glad for it.
Purchase on Marketplace here.
The Shadow of the Wind
Cemetery of Forgotten Books Series, Book 1 / El Cemeterio de los Libros Olvidados
By Carlos Ruiz Zafon, Translated by Lucia Graves
Published in 2001 by Spanish author Carlos Ruiz Zafón, The Shadow of the Wind is the first in The Cemetery of Forgotten Books quartet and takes place in a magical and misty 1940s Barcelona. A true gothic novel, this story within a story is reminiscent of Alexandre Dumas and Jorge Luis Borges' work and a real treat for any romantic.
At the start of this tale, one of our protagonists, Daniel, is taken to a magical and secret library—a cemetery of forgotten books—and chooses a book to take home with him; or does it choose him? The book is titled is titled The Shadow of the Wind by Julian Carax, and Daniel quickly becomes enamored with it and unwittingly kicks off an extraordinary series of events. Readers will be enchanted by the magic of this book—with elements of love stories, truly gruesome villains, themes of angels and devils, lust and gloom, Zafón weaves an insightful and atmospheric novel that Stephen King called, "a novel full of splendor and hidden trapdoors in which even the subplots have subplots."
Though The Shadow of the Wind is over 500 pages; you will wish there were more and can find pleasure in knowing there are three more in the series to enjoy.
Purchase on Marketplace here.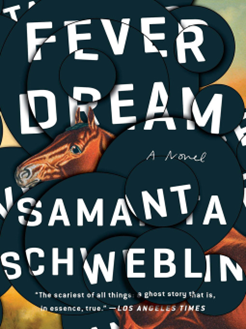 Fever Dream
By Samanta Schweblin, Translated by Megan McDowell
Fever Dream, Argentinian author Samantha Schweblin's first title to be translated into English, is a fresh and gripping novella, best read in one sitting and sure to leave you with a sense of unease. Narrated  by two characters engaging in a stream of dialog, this book follows a conversation between Amanda, a woman in a hospital bed, and David, a boy who sits next to her, toggling between two timelines and ramping up the suspense. Fever Dream is the perfect descriptor for this story because there is a nightmarish quality to it and a creeping sense of horror. With nods to ecological disaster and dissection of familial ties, Schweblin, chosen as one of 2016's best Spanish language writers under the age of 35 by Granta, uses her discerning eye to engage readers in a conversation about the horrors of the 21st century. This book is not a light romp, so do not pick it up if you're not prepared for a sleepless night or two. But if you're up for it, this bite size read will keep you feverishly turning pages late into the night—with an extra lamp or two kept on for company.
Purchase on Marketplace here.
River Woman, River Demon
By Jennifer Givhan
River Woman, River Demon is a spellbinding psychological thriller by Chicana and indigenous author and poet, Jennifer Givhan. There is brujería, murder, plot twists, folklore, and more—a haunting mixture made even more distinctive for Givhan's added elements of Latina and New Mexico culture.
Eva Santos Moon is not in a good place—she's a Chicana artist struggling with blackouts, a lack of creativity, and a feeling of disconnect from her magickal roots. This struggle is made much, much worse when her well-regarded university professor husband is arrested for the murder of their friend Cecilia. He may be the one who is arrested, but Eva looks far from innocent—especially as this murder mirrors a remarkably similar drowning of Eva's childhood best friend years ago.
This book is, at its core, about a woman finding her power and persevering in the face of great adversity. The writing is rich and compelling with an affecting view of trauma and loss as Eva journeys through hell to get to a place of strength, truth, and empowerment. A darkly compelling story of murder and magick, and described as The Inheritance of Orquidea Divina meets Stephen King, I know once you pick this up, you will not be able to put it down.
Purchase on Marketplace here.
Lobizona
Wolves of No World Series, Book 1
By Romina Garber
In Lobizona, Garber deconstructs identity and cross-cultural taboos with a fresh and nuanced perspective, drawing inspiration from Argentinian folklore and the recent American political climate to create a unique and unmissable Young Adult novel. Magic is folded into the present day with adroit ease, and the protagonist, Manu, takes the reader along with her as she tackles immigration enforcement and policies, familial secrets, and the beauty and pain of womanhood. When her mother is detained and Manu learns about a hidden world that exists alongside our own, she becomes enmeshed in a society where seventh consecutive daughters are born as brujas and seventh consecutive sons are born as lobizones, or, werewolves.
With magical realism, vivid characters, and a message that has never been so needed, Lobizona strikes just the right chord and begins a series that will interest fans of fantasy, paranormal romance, and found families.
Purchase on Marketplace here.
Cantoras
By Carolina De Robertis
This story, told over the span of almost 40 years and beginning in the 1970s, follows five queer women as they struggle to survive and thrive in Uruguay during its ruthless late 20th century dictatorship. Inspired by women in author Carolina de Robertis' real life, this multi-layered novel is a heartbreaking yet hopeful foray into an unwritten part of history. The title, Cantoras, alludes to the Spanish slang word for lesbians and is just one of many astute and fascinating details that de Robertis, a queer person herself, includes to paint a truly detailed and fascinating novel; one that still feels incredibly relevant today.
We observe the five women as they unabashedly live their lives—experiencing joy and pain, growing up, exploring their womanhood, making mistakes and making love. So beautifully done, and with such care for her characters, de Robertis has written an achingly brilliant story that I cannot stop recommending.
Purchase on Marketplace here.
Faces in the Crowd
By Valeria Luiselli, Translated by Christina MacSweeney
You may recognize this author from her most recent stellar title Lost Children Archive, published in 2019 and named as one of the New York Times' best books of the year; however, it's far from the only gripping title she's written. Luiselli's first published novel, Faces in the Crowd, translated from the Spanish title which means 'weightless,' is a surreal story within a story, a literary work that looks at the lives of writers and poets in Mexico City and New York City.
Ghosts dominate the first-person narrative, but not ghosts as you might know them, these ghosts grow out of imagination and the steady decline of the mind, lending a dreamlike quality to the story and unreliability of its characters. This inventive novel plays with time and reality and Luiselli's distinctive voice reigns supreme throughout—if you want to read something that will leave you thinking about it for days (if not weeks), then look no further.
Purchase on Marketplace here.
Piñata PREORDER
By Leopoldo Gout
Piñata has yet to hit bookshelves, but I could not keep myself from including it!
Mexican author, filmmaker, and producer Leopoldo Gout comes out of the gate swinging with this slow burn, haunting novel that has been compared to A Head Full of Ghosts and Hereditary. This horror title features themes of colonization and Indigenous peoples, religion, and familial bonds and showcases the author's home country of Mexico in a compelling and off-putting manner, fueled by skin-crawling dread and thought-provoking social commentary.
When our protagonist, Carmen Sanchez, returns to Mexico with her two daughters Izel and Luna, she hopes only to oversee a construction project and help her daughters connect to their culture and ancestry, but when they discover a hidden room with a piñata made of pottery, they set free a horrifying ancient spirit that they never could have imagined in their wildest nightmares. A gory story of possession with an omniscient narrator, Piñata weaves a tale of human history and drama with extra doses of the supernatural and folklore—perfect for those who enjoy a slow burn and are brave enough to contend with the true horrors of colonization.
Out on March 14.
Preorder on Marketplace here.
Want more recommendations like these?
Check out our OverDrive Librarian-made lists:
All these lists and more can be found on the Resource Center.
Browse blog and media articles