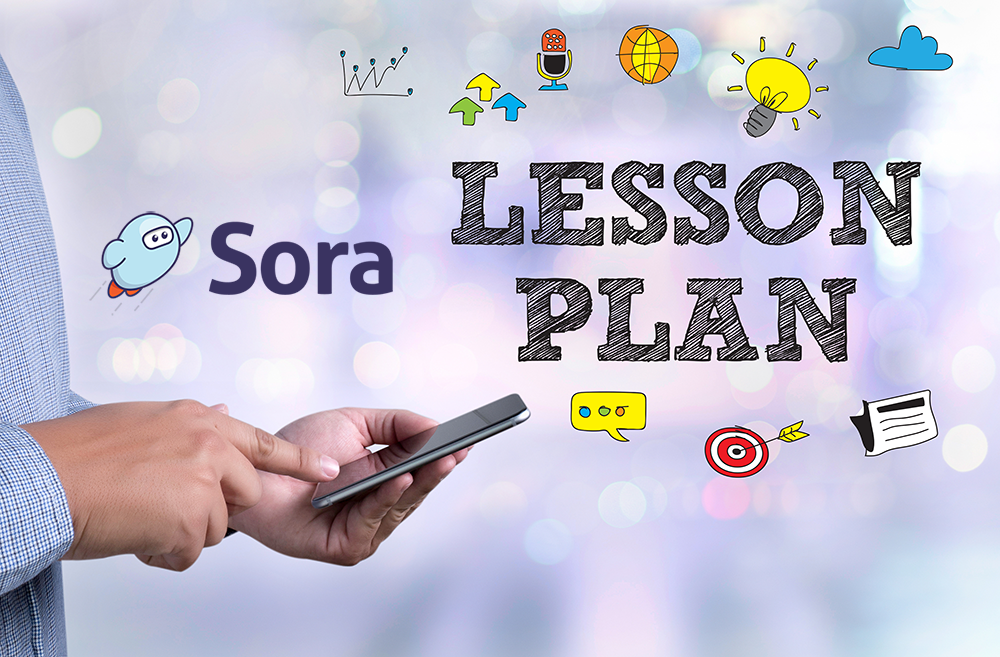 Creating an emergency lesson plan with Sora
By: Sydney Kalnay, Training Manager
As an educator, what do you find harder: getting sick or managing your lessons when you're out sick? I admit that I used to come into work, pre-COVID – pockets overflowing with tissue and DayQuil – because it was more difficult to keep students on track in my absence than it was to just show up and cough my way through the day.  
Digital content is a game-changer, though. No matter where you are in the year, no matter what subject you're teaching, Sora can help when you don't have the luxury of pre-planning. Depending on your role and the grades you're working with, your specific workflow might look a little different, but here are a few points to consider when planning for your emergency lesson using Sora. 
Ensure your students are Sora-ready.
Whether your students use Sora every day or have never (virtually) cracked an ebook, some pre-work can help to make the day go smoothly.  
Before you hand off your emergency lesson to a substitute, take some time to help your students learn: 
Ensure your digital collection is borrow-ready.
If you aren't browsing your school's digital collection regularly, it might be hard to get a handle on all that Sora offers. Here are a few ways to prep the collection for your students on your own or with the help of your school librarian. 
Curate a collection of always-available titles.
Your digital collection is likely a mix of titles that one student at a time can check out and those that are simultaneous use, meaning your entire class could check them out at once. Your school librarian or collection development admin will know how to identify those simultaneous use titles in your collection and curate a collection to live under the Sora Explore tab for easy access.  
Check if an individual title is always available.
If you don't have the time or luxury of leaning on a school librarian and you have a title in mind for your lesson, you can check to see how many copies of are available in Sora. Watch this 60-second video to learn how! 
Create a filtered list.
You can also show your students how to find available titles with a filtered list. Whether you're using the search bar in Sora or exploring a curated collection, you can filter your titles by several criteria, including Available titles only. Once you add this filter to your search, the results will yield only titles available for checkout that moment – no holds, no waiting!   
Bonus: Project Gutenberg and Duke Classics 
Many schools have simultaneous use titles built into their Sora collection through Project Gutenberg and Duke Classics, two publishers who offer digitized versions of classic literature, popular for classrooms and beyond. These are great options to curate into those always-available collections! 
In all cases, you can easily share a direct link to a title or collection with your students. 
Ensure your students are study ready.
Now that your students know how to access digital titles and you've prepped them on how to access the collection, what should they do while you're out for the day? 
Sora offers many built-in tools that can bolster your existing lessons or create engagement in new ways. Here are some ideas to spark your imagination:  
We hope these tips give you peace of mind when the inevitable head cold hits. Be prepped and ready for the unexpected with Sora and digital books.  
Happy reading! 
PS: Looking for more ways to learn?
Register for one of our upcoming webinars on Sora or Marketplace. They're quick, fun, and informative, and we have K-12 experts on hand to answer your questions live.   
Can't make a live session? Sign up anyway and we'll automatically send you a link to the recording the next day.   
Wednesday, March 8 at 12:00 PM (ET) 
Learn the basics of Sora so you can start exploring and help others get started, too.  
Thursday, March 23 at 13:00 PM (ET) 
Learn the basics of Marketplace, the shopping and administrative portal. 
Tags In
Browse blog and media articles