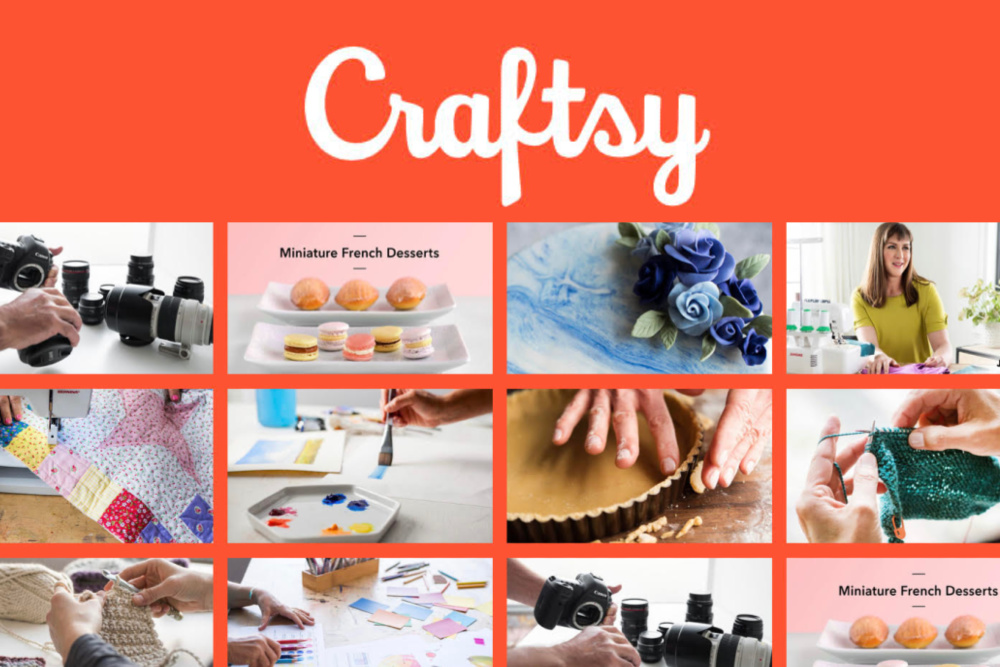 Encourage creativity with Craftsy and a Library of Things
Library of Things are growing in popularity for those libraries wanting to offer their community lendable items outside of books, movies, and magazines. These nontraditional collections aren't new; Grosse Point Public Library in Michigan has been lending out tools since the 1940s. But in recent years, Library of Things have expanded to include kitchen equipment, art supplies, musical instruments, toys and games – really, anything you can think of has the potential to be borrowable from a library. 
Whether you already have a Library of Things or are considering adding one, the 1,300+ courses available in Craftsy and Craftsy en Español* are the perfect companions to your unique library collections. Pairing these Libby Extras with the tools and equipment found in a Library of Things allows your patrons to easily explore and discover new hobbies. 
Baking pans
I love to bake, but between all the different bake pans it can be a challenge to find storage space in a kitchen. Along with muffin tins, Bundt pans, and cookie sheets, many libraries lend out baking molds in any shape you could think of from Christmas trees to llamas and even familiar cartoon characters. Offering baking pans alongside Craftsy's wide selection of baking and cake decorating courses, your community will soon be baking dazzling (and yummy!) creations. 
Health & Wellness
Did you know Craftsy classes include more than arts & crafts? With several yoga and fitness classes to choose from, users can turn to Craftsy for a variety of workout and meditation opportunities. Some classes may require equipment, such as sets of dumbbells, or a yoga mat and yoga blocks. Many libraries lend out fitness equipment, knowing many users may be trying these activities for the first time and don't want to invest in their own items yet. By combining Craftsy with a wellness Library of Things, your users can test out these new activities from the comfort of their home using mats, blocks, and more they have checked out from your library. 
Gardening tools
Here in Northeast Ohio we are dealing with that lousy Smarch weather that can't make up its mind between snow and sun. But with spring right around the corner, I've already started looking ahead to my garden. Believe it or not, Craftsy also has gardening courses! This is great for those libraries that have seed libraries and lendable gardening tools. You can also share Craftsy as a resource for local gardening clubs or community gardens. With Craftsy's gardening classes and tools borrowed from your library, patrons can create a bounty of vegetables to eat or beautiful flowers to enjoy in the spring and summer.  
Home Improvement tools
For a few years now I've been talking about giving our downstairs bathroom a bit of a face lift. It certainly feels like something I could do myself; the problem is I don't have the necessary tools nor have I done this level of home improvement before. Craftsy has a ton of woodworking courses, in addition to tips and tricks for working with certain tools. With a power tool lending library and Craftsy's courses, your patrons will be skilled DIY-ers in no time.  
Ready to encourage creativity with Craftsy?
Visit Databases & Streaming Media under the Shop tab in Marketplace to add Craftsy and Craftsy en Español today to engage your community and introduce new users to all the digital services your library offers. Or sign up today for your free Libby Extras demo access.
To learn more about how you can educate, entertain and engage your community with Libby Extras, visit the Resource Center. 
*Craftsy en Español requires a separate budget from Craftsy. Reach out to your Account Manager with any questions. 
Tags In
Browse blog and media articles