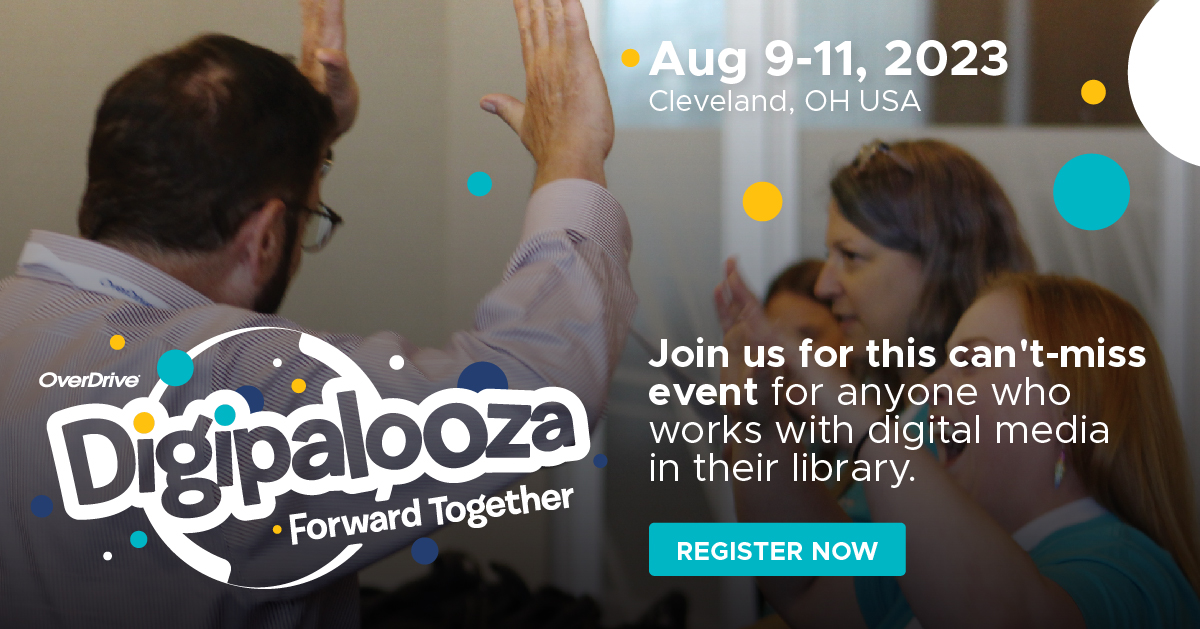 Top 8 reasons to attend Digipalooza '23
The countdown for Digipalooza '23 is on and we can't wait to see you all August 9-11, 2023. Our user conference is for public, corporate, and academic library partners of OverDrive and Libby. Everyone can benefit from Digipalooza '23, including those who work in collection development, make administrative decisions, act as front-line support for users in their community, and are responsible for electronic resources, marketing, and training.  
Still undecided? Here are 8 reasons to attend Digipalooza '23
1. Because we can
Last time we saw you all in person we were having a book scootin' boogie in Nashville in February of 2020. We are excited to have Digipalooza back in-person in our hometown of Cleveland, Ohio and hope you'll join us as we embrace this year's theme: Forward Together. 
2. All about the access models
With the recent success in publishers opting-in to our on-demand models (CPC, OD Max, SU), there are more options than ever for you to maximize your budget while still getting books into the hands of the readers in your community. We'll be sharing success stories from librarians on using these models to meet demand and still stay in budget. 
3. Learn how libraries are reaching their communities using Public Access CONNECT
With Public Access CONNECT, you can grant instant access to select micro-curated collections at a variety of public locations. At Digipalooza '23, you'll hear how Pioneer Library System (OK) has leveraged Public Access CONNECT to launch a series of solar-powered benches with open Wi-FI and access to digital books and magazines in public parks, playgrounds, senior centers, community centers and more. When you come to Digipalooza '23, not only will you get to learn all about these amazing benches, but EnGo Planet will be on site so you can see these benches in action, too! 
4. Hear from top performing libraries
One of the best parts of Digipalooza is learning from library peers. This year, top performing libraries will share success stories and offer best practices to increase circulation outcomes for your library. This includes utilizing new Libby customization tools to drive patron engagement. 
5. Meet authors and keynote speakers
Over the years we've had incredible Keynote speakers and author interviews at Digipalooza including advocate and author Anita Hill, Sourcebooks CEO Dominique Raccah, bestselling author Andy Weir, Librarian of Congress Dr. Carla Hayden, author Kelly Corrigan and more. We are still hard at work finalizing this year's line-up and can't wait to announce names soon. Until then, be sure to subscribe to our blog to stay updated. 
6. Our program is better than ever
The program guide for Digipalooza 2023 is here and full of sessions that will entertain, educate, and inspire you. Learn from librarians on a range of topics including:  
Maximize Your Materials Budget: Optimize your digital circulation with a variety of content access models

 

#UniteAgainstBook

Bans: Impact of recent legislation and developments creating barriers to access for all

 

The Big Business of Audiobooks

:

How this category of publishing may be the most important form of reading for your community

 

It's Showtime: How Kanopy is enabling libraries to compete with Netflix and other streaming services

 

And more! 

 
7. Chatting with conference partners in the exhibit hall
The Digipalooza program has built in breaks to give you time to visit our exhibitor booths. Speak to publishers about all the forthcoming books they are most excited about and discover new titles to add to your library's digital collection (and your own TBR!).  
8. Networking
One of the best parts about Digipalooza has always been the ability to connect with other librarians. This year there will be plenty of networking opportunities, from the welcome reception Wednesday night to the party Thursday night into lunch on Friday and all the hours in between.    
Register today and move forward together with us
Tags In
Browse blog and media articles