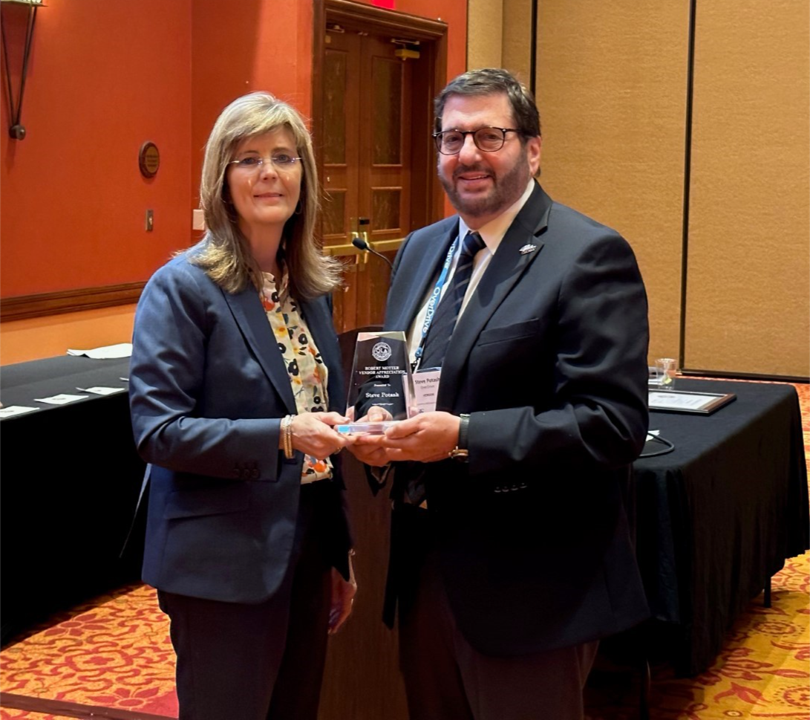 OverDrive founder and CEO Steve Potash receives Robert Motter Vendor Appreciation Award
At a reception during the 2023 Oklahoma Library Association and Mountain Plains Library Association joint conference on March 9, OLA presented Steve Potash, OverDrive founder and CEO, with the 2023 Robert Motter Vendor Appreciation Award. The award was presented by Lisa Wells, Executive Director of Pioneer Library System who won Librarian of the Year.  
This award is a testament to OverDrive public and school library partners in Oklahoma and their mission to bring the discovery, access and benefits of digital books to their communities across the state. As a result of their commitment, readers in Oklahoma have checked out 37.5 million ebooks and audiobooks over the past 10 years. We are grateful to serve all the readers in the state, from the students at the dozens of K-12 schools we work with to all the readers at our great Oklahoma partner libraries including Pioneer Library System, Tulsa-City County Library System, Metropolitan Library System, and OK Virtual Library.  
Lisa Wells and OLA present Robert Motter Vendor Appreciation Award
About the Robert Motter Vendor Appreciation Award
This award is granted to a vendor who has longevity in participation at Oklahoma Library Association conferences, made significant contributions to the support of the association, and provided an outstanding level of service and support to Oklahoma libraries. Learn more about the award here. 
About Robert T. Motter, Jr. 
Born in Muskogee in 1924, Robert T. Motter, Jr. was educated at the Oklahoma Military Academy in Claremore. He saw active duty in the armed services in the South Pacific from 1943 to 1945. 
Shortly afterward, he joined his father in the library binding business. He attended his first Library Binding Institute Conference in St. Louis in 1946. In 1947, he attended his first Oklahoma Library Association conference, and began helping with organizing exhibits at that time. 
His career was interrupted in 1950 by a second call to active duty in Japan and Korea for a year and a half. He returned to his profession in the binding business upon his return, and to his active participation in planning exhibits for Oklahoma Library Association annual conferences, which continued until shortly before his death. He was awarded the OLA Citizens Recognition Award in 1973 and the Distinguished Service Award in 1989. 
Bob always cherished the friendships he enjoyed in the library field throughout his career.  He died in Muskogee on June 11, 2010 at the age of 86.  The Robert T. Motter, Jr. Vendor Appreciation Award, granted by OLA to long-time vendors who have made significant contributions to the support of the association and Oklahoma libraries, is named in his honor.  He was its first recipient in 2007. 
Tags In
Browse blog and media articles