Drumroll: Announcing the 2023 School Stars Contest winners!
By: Emily Balser, Integrated Marketing Specialist
Pencils down. The 2023 School Stars contest has come to a close and it was another year of tough competition! We had over 130 phenomenal entries spread across our 5 different submission categories. While it's never easy to choose, it's always a wonderful reminder of how amazing our school partner community is and how thankful we are to every single one of you! It's a dream to peek behind the walls of your buildings to see the hard work you're putting in every day to promote your digital library with your school community.  
After days of a full-company vote, winners were chosen, and I am thrilled to share their entries with you! Maybe you'll find some inspiration for your own school as you scroll through.
Congratulations to everyone and we can't wait to launch again next year for School Stars 2024!  
Grand Prize Winner: Upper Arlington City Schools – Ohio 
One of the things our users appreciate most about the Sora reading app is its suite of accessibility features. Shannon Hemmelgarn of Windermere Elementary School (part of the Upper Arlington City School District) is no exception. Shannon's team of students and staff worked to promote a Family Read Together featuring the title "Charlie and Frog" by Karen Kane. With over 200 families participating in the event, digital copies of the title were the way to go! The school hosted a Zoom read-along with the author and deaf illustrator and Shannon put together a deaf student committee to interpret their read-along and put together resources to make the event accessible to everyone in the school community.  
In Shannon's words, "Not only did our community come together around a book that helped teach us about another culture as well as build empathy among our student body, students who had never used Sora before now are super digital users!" Check out their work below! 
Best Visual/Virtual Display: Rolling Hills Elementary – California
Have you ever been in a hot air balloon? The students at Rolling Hills Elementary (part of Fairfield-Suisun Unified School District) can imagine what that would be like every time they pass by their giant bulletin board. The theme "Let your imagination soar with an ebook on Sora" spans across the top of the display that is filled with multi-colored balloons each carrying a different book instead of the traditional basket. The whole display is topped off with a hand-crafted Sora mascot flying off into the clouds alongside the balloons.  
Joy Travis of Rolling Hills shares, "When students visit the Sora bulletin board at Rolling Hills Elementary, they can see the books that can bring their imagination to new heights, places and adventures. They always get carried away with the selection that's available to them in Sora and the fact that they can look for a new favorite book at home without having to come to the library!" Take a look at their masterpiece below! 
Best in Community Engagement: Pasadena ISD – Texas
Anne Farley of Pasadena ISD in Texas knows no limit when it comes to promoting Sora to her school community! They use many methods of engagement so they can "promote a love for reading anytime and any place." As you can see in the photos below, Anne's team uses social media across the district, mini pop-up library events, Libguides, Sora graphics on their TV screens, the curation tools within Sora, featuring titles within Sora, and they partner with their local public library with Public Library Connect!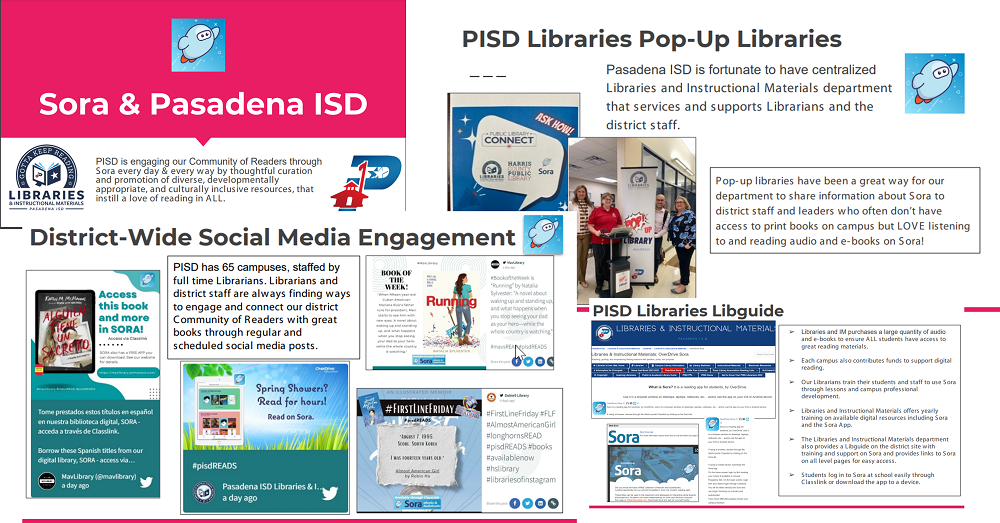 Best Use of Sora in the Classroom: Innovation Academy – Georgia 
Have you ever been to a tasting event? Or been to a party where hors d'œuvres were passed around? Martha Bongiorno of Innovation Academy (part of Fulton County Schools) used this concept and applied it to books giving students a chance to "taste" different varieties across multiple disciplines to support the United Nations Sustainable Development Goals (SDGs). The event turned into a cross-curricular effort between the humanities and STEM learning. Students were provided with a wide-range of titles through the Sora reading app covering topics from renewable energy and sustainable agriculture to climate change. "During the event, students were divided into groups and rotated through different stations, each focused on a different SDG. At each station, students were provided with a selection of ebooks related to the SDG, and given time to "taste" each book by reading a chapter or section."  
Martha says, "(The students) were able to gain a deeper understanding of the importance of STEM in addressing global challenges, while also developing critical thinking, communication, and collaboration skills." Check out their work below! 
Best in Social Media: Webb School of Knoxville – Tennessee 
Have you ever thought about how hobbies and magazines could go hand-in-hand? Kate Lewallen at Webb School of Knoxville did just that! January is National Hobby Month (which I did not know prior to seeing their submission, so thank you Kate!) and to celebrate they used their Sora magazine collection and social media. Kate and her team selected various hobbies and then selected the magazines that corresponded.
She says, "we had magazines for music buffs, gamers, sports fans, gearheads, chefs, scientists, and adventurers." Each hobby had it's own social media post so students could see mini magazine curations based on their interests – or, perhaps pick up a new hobby! Check out their posts below!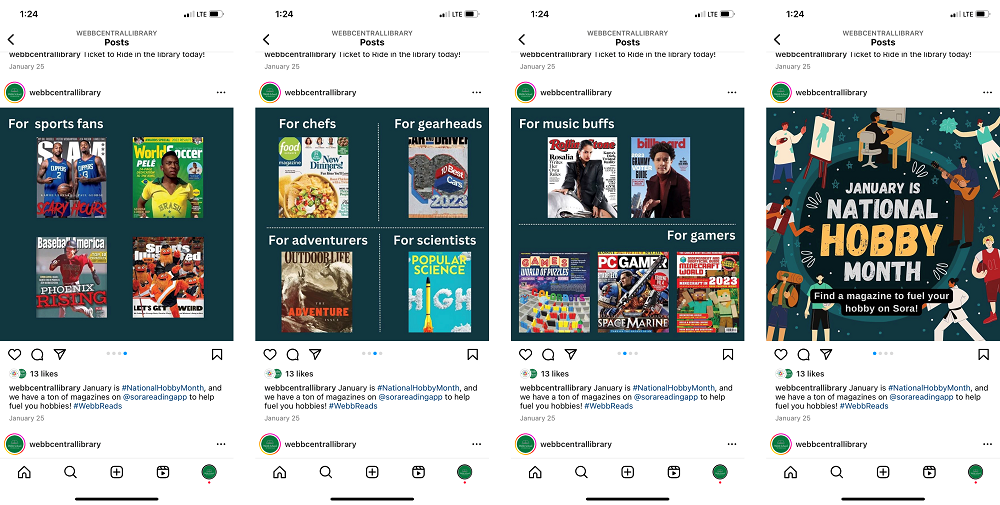 Best Student-Made Submission: Nanaimo District Secondary School – British Columbia 
Students are the "why" behind Sora – every day we work hard to provide the students at our schools with a stellar digital reading experience. So, it makes sense that our team truly loves to see the work the students are also doing within their own schools to promote Sora as well. It's very "full circle" for us.
Melissa Kullman of Nanaimo District Secondary School sent us one of her students' work for their submission. Kurt is a grade 12 student at Nanaimo who created a Sora promotional video for the school to introduce other students to the Sora reading app. Check out Kurt's hard work below! 
Our category runner-up winners
As a reminder, each category also had a runner-up winner! We want to make sure to recognize their hard work as well. So without further ado, below is the list of our runner-up winners by category.  
Best Visual/Virtual Display
:
JFK High School (Bellmore-Merrick Central High School District) – New York –  Kristen Mogavero shared their Valentine's Day "Blind Date with an Ebook" display 
Best Community Engagement:
Campbell-Savona Jr. & Sr. High School (Campbell-Savona Central School District) – New York – Carrie Allen shared their Sora Reading Challenge with a goal to double their checkouts from last school year.
Best Use of Sora in the Classroom:
Carroll Lower School – Massachusetts – Laurie Lingham shared a fun slide deck that contained an engaging virtual library with each book imagin directly linking to Sora for easy checkouts.
Best in Social Media:
Burr and Burton Academy – Vermont – Margi Putney shared a student-created Instagram reel that featured a Transgender Visbility display with QR codes for Sora.
Best Student-Made Submission:
Broadalbin-Perth High School (Broadalbin-Perth School District) – New York – Jennifer Szumowski shared a video of an original skit featuring students dressed as an astronaut and the Sora mascot on a journey to space and back to learn how to use Sora.
School Stars 2024
I know, I know – you're looking forward to your summer break, and next school year seems worlds away. But, rest assured that when it returns, School Stars will be back as well! Be sure to document your work in the back-to-school season as you promote Sora to your students and school community, because come next spring, you just might be our next School Star!
See you soon!  
Tags In
Browse blog and media articles