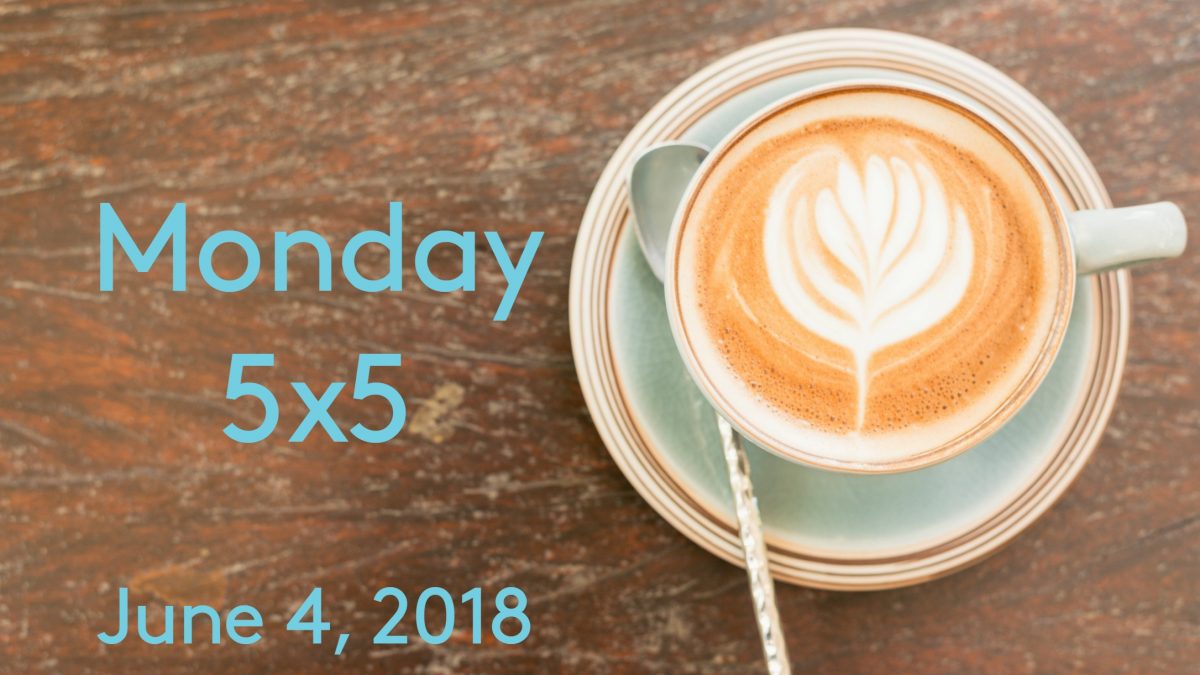 Monday 5×5 for June 4, 2018
by Jill Grunenwald, Marketing and Communications Specialist
Happy June and welcome back to another edition of the 5×5! We are now less than three weeks away from ALA (not panicking, not panicking) and I'm back with another roundup of articles you may have missed last week that I want to make sure you read. This is going up a little later than usual, so grab your lunch or afternoon coffee and let's dig in!
(Also, it's June. How did that happen?)
From Electric Literature, science fiction and fantasy novels that take us beyond the gender binary
Just this week I was having a conversation with a co-worker about how science fiction allows for more gender and sexual fluidity than other genres. For instance, the knowledge that someone in the Star Wars universe is pansexualmakes perfect sense: when you live in a world where you can travel to other galaxies, of course relationships are not going to be limited to just male / female humans. I mean, duh. That said, sexual identity and gender identity are different and it's important to note the distinction, but the magic of science fiction and fantasy is that it is already asking you to suspend your disbelief. They just drop you into its world and the rules are what the rules are and as a reader, you just go along for the ride so challenging a reader's perceptions about gender is just par for the course and often fits the narratives already being described.
The Library of Congress receives largest donation of comic books in library history
Who else wants to take a road trip to Washington, D.C. to visit the collection?
Chuck Palahniuk talks openly about the insider theft that left him broke
Last weekend, the NY Post reported an embezzlement scheme at a major literary agency that represented high-profile authors, including Chuck Palahniuk. In this blog post, Palahniuk offers readers a peek behind the curtain of author finances. It's easy to imagine that when a best-selling author reaches a certain point, all of their travel expenses obviously must be covered, right? The author just has to show up and sign books. But that's not always the case, as Palahniuk describes. Along with that, once you are a best-selling author, you often have to rely on other people to handle your finances because, as all creatives know, they are really, really complicated. But in doing so, you are putting your trust and financial security in the hands of another person.
Indianapolis Monthly breaks down the Midwest Writers Workshop Scandal
I've been aware of this story since it broke, as I follow both Roxane Gay and Sarah Hollowell on Twitter. There's a lot to unpack here, both in terms of the comments made, the fall out, and the reactions but it's a good read on a situation that still is clouded by a lot of secrecy and scandal.
Wired on the San Quentin inmates who built a search engine for prison
I love everything about this. Everything. As a former prison librarian, I know just how hard it is for inmates to access information in prison. San Quentin, in particular, is a role model when it comes to prisons supporting the innovated entrepreneurial spirits of the inmates in their care. The Ear Hustle podcast is a prime example, and I'm happy to know San Quentin's support reaches out even further into the yard.
Tags In
Browse blog and media articles