Celebrate Read an Ebook Day with us on September 18
When people talk about Libby and/or OverDrive, odds are the first thing they mention is how easy and convenient it is. The accessibility of being able to read anytime, anywhere and all for free, thanks to the sheer awesomeness of libraries, is a wonder that tends to be an initial thing people bring up. When I pitched my Director the idea of Read an Ebook Day, it was the same thing I told him. "I want to create a day each year where we celebrate the fact that this thing exists." was how I believe my argument boiled down. When describing the core idea of our service, providing 24/7 access to books to millions of people around the world, I like to say it's nothing short of magic. In one tap, I can (re)read the story of The Boy Who Lived or countless other options? Yes, please.
What I didn't expect to learn when we started celebrating Read an Ebook Day, every September 18th half a decade ago, would be the fact that ebooks and the access they provide are changing lives. Every year for Read an Ebook Day, we ask people to share why they enjoy digital reading using the hashtag #ebookLove and every year my eyes tear up with pride. We've seen messages about people who have degenerative eye disease reading a book for the first time in ten years because the font can finally be enlarged enough for them to see. We've had people tell us that being able to read ebooks helped save a life of someone who was struggling through rehab and needed a mental outlet (She sends me a note every year letting us know she's doing great and that leads me to cry all over again). We've heard people stories of read-along ebooks helping soothe crying babies and mothers who can hold a book with one hand while that baby finally sleeps because of ebooks. There are yearly stories of people whose closest physical library is more than an hour away but now they use it every day. There are people who have been hospitalized but still have access and students who love the privacy and lack of judgment an ebook provides.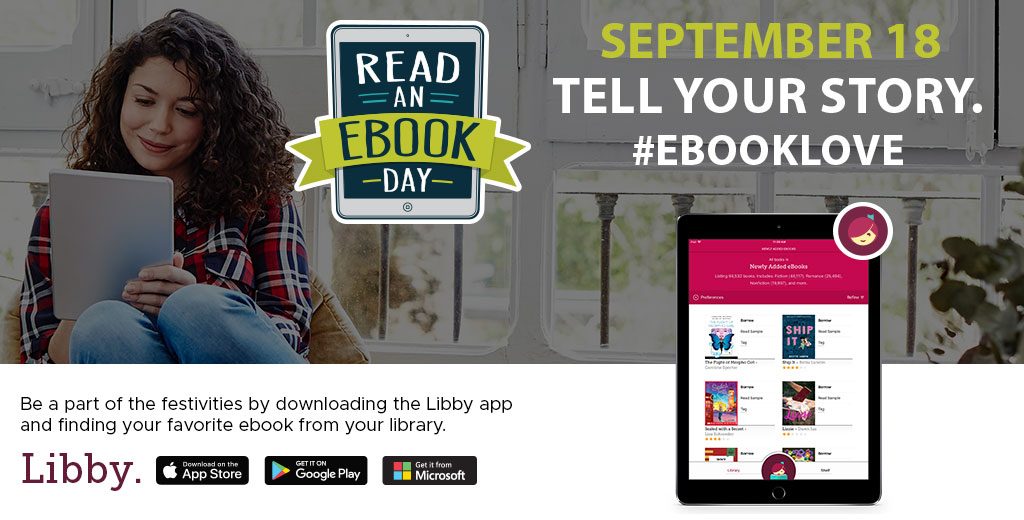 This year we'll once again be asking people to share their stories and their Read an Ebook Day celebrations using the hashtag #ebookLove. Readers have the opportunity to win a Kobo Aura ONE just by sharing their #ebookLove on any social media platform and libraries can win one of several $500 content credits to use in OverDrive Marketplace by using the hashtag and showing us how you're celebrating the holiday. If you need some help or inspiration, visit our Resource Center for marketing materials that are ready to be shared on social media or printed out. Readers and librarians can also visit https://readanebookday.com/ for book recommendations and to see who is participating in the event.
Join us in celebrating the joy, convenience and, yes, magic of digital reading. We're proud to help libraries connect with their community everyday and we're even prouder to work with countless librarians who spend untold hours promoting our services to readers of all ages. You, just like ebooks are changing the world.
Browse blog and media articles