Celebrate Read an Ebook Day with your students!
By: Courtney Sveda, OverDrive Training Specialist.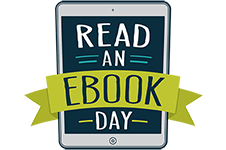 Read an Ebook Day is just around the corner—Tuesday, September 18th to be exact—and we want to share some ideas on how you can celebrate with your students.
Dedicate time for silent reading
Save the last 20 minutes of class for students to read an ebook of their own choosing. Students can use the Sora app or sorapp.com on their personal or school device to access your OverDrive collection.  Make it easy for students to quickly find a title of interest by curating some new collections; graphic novels, fall favorites, or perpetually popular fiction are sure to be a hit.
Play a Read-Along title
Younger readers will love story time with a read-along title; these ebooks have professional narration which plays while highlighting the words on each page. Search for these ebooks in Sora by running an Advanced Search and checking the box next to Read-along titles. Once borrowed, you can project the title for the entire class to enjoy!
Promote the celebration
Encourage your students and staff to borrow a title in preparation for Read an Ebook Day by utilizing our Marketing Kits! This K-12 focused kit includes flyers and web graphics that you can use to spread the word at your school. And don't forget to use #ebooklove on social media to share how you're celebrating. Using the hashtag will give you the chance to win a Kobo Aura ONE from OverDrive.
Visit the website
Did you know Read an Ebook Day has its own website? Well now you do! Visit readanebookday.com to see suggested titles, listen to author interviews, and follow the #ebooklove conversation.
We hope you'll join us in celebrating one of our favorite days and that your students will continue to celebrate for years to come!
Tags In
Browse blog and media articles