Set and break circulation records with the new OverDrive Goals page
Based on interest from library partners, our developers have created a new Goals page in OverDrive Marketplace. This page provides public libraries with quarterly goals based on your digital collection's trends and performance. It's one thing to say you want to increase your circulation, reduce wait times and expand the reach in your community. Now, you have a tool within Marketplace to make sure you're doing those things right.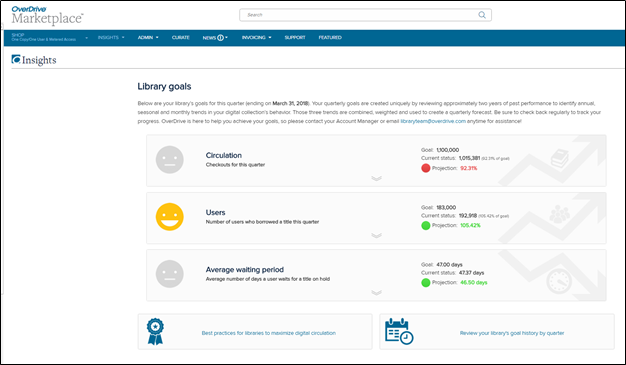 The goals are focused on circulation, number of users and your current average waiting period. Created by the OverDrive Business Systems and Analytics team, they're based on a review of two years of past performance. Using this data, our team has created a set of tools where you'll find annual, seasonal, and monthly trends. Those three trends are combined, weighted and used to create a quarterly forecast for your digital collection. It's never been easier to track which marketing efforts, purchasing cycles and outreach ideas are working for your library.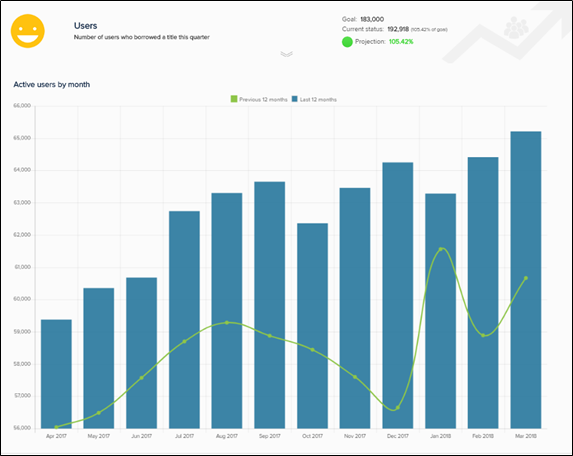 The Goals page will allow you to set and surpass benchmarks, and it will also provide you ways to succeed. At the bottom of the page, in addition to a history of your goals as time passes, you'll also find best practices for libraries to maximize circulation. The assistance doesn't stop there. Our recently updated Resource Center has marketing materials, curated collection suggestions and training opportunities for your staff. We're constantly adding new marketing materials there, but if you need something customized, simply contact your Account Manager. We'll be happy to help.
As the end of the year quickly approaches, we're expecting a record-setting holiday season for libraries and schools across the board. This makes now the perfect time to set your year-end goals and start setting benchmarks to surpass in the new year!
*Reports permission is required to view the Goals page and it's available to public libraries/consortia only (excluding Advantage accounts).
Browse blog and media articles