Hot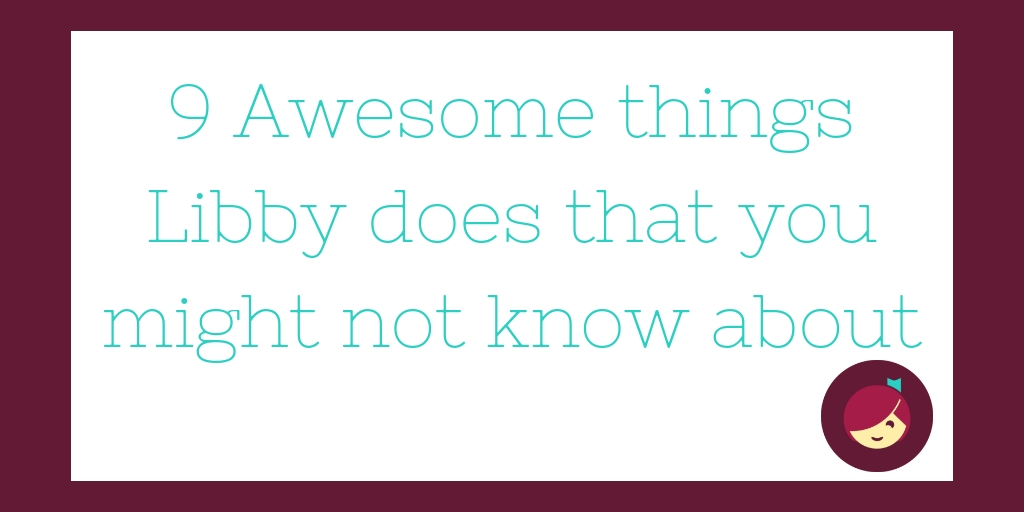 9 awesome things Libby does that you might not know about
By now, you've hopefully downloaded Libby and borrowed some ebooks and audiobooks. The one-tap reading app is the fastest way to reading happiness with it's simple and easy design. Libby is more than just a portal to your next great reading adventure. Our developers are constantly updating the app to improve your user experience. Along with our 14 tips for getting the most out of Libby, here are a few other features Libby offers that readers are loving.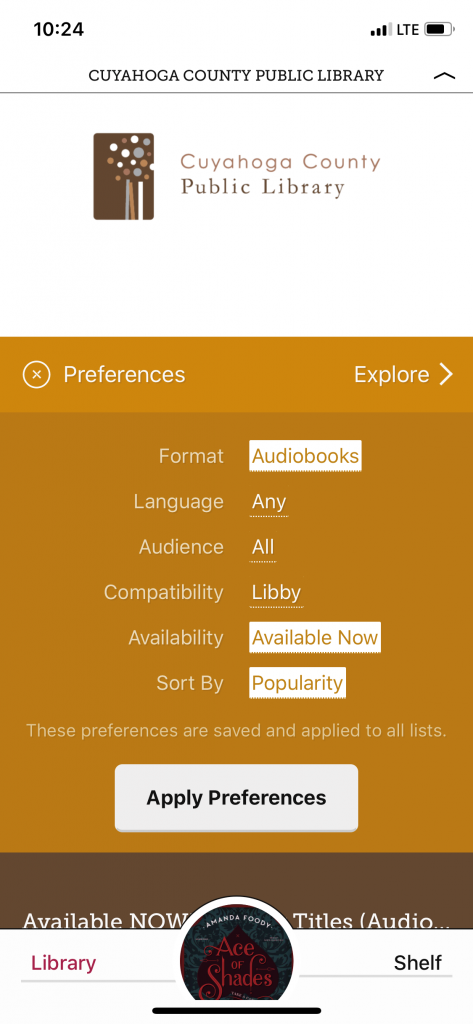 Save your search preferences
I love seeing everything my library has to offer, but I also know that eventually, after I put a bunch of things on hold, I'm going to end up searching for their most-recently added audiobooks that are available now. Thanks to Libby, I don't have to reset that specific search each time. Libby will remember your search preferences when you set them. Here's how:
Tap Preferences at the top of your library's home screen or any list.
Adjust your filters (like availability, format, language, audience and compatibility) and default sorting option.
Tap Apply Preferences.
You can also sort and filter individual lists without changing your default list preferences.
Define a word
I can't tell you how many times I've been reading a classic novel or perhaps a high science fiction story and stumbled across a word I didn't understand. Thankfully, in Libby, all I have to do it tap and hold on a specific word and there I'll find the option to define it. This is great for readers of all ages but students especially as they work to read above their age level.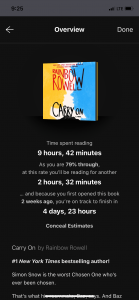 Reveal reading estimates
You an easily see how far along in a book you are by checking the book progress, but if you're curious about how long it's going to take you to finish the book, Libby also provides a handy reading estimate. Tap the menu button when you're reading or listening to a title, and then tap the name of the book in the top right corner of the screen. There you'll find how much time you've spent enjoying the book and about how much longer it'll take for you to finish. This is a handy tool for knowing whether or not to place another title on hold.
Show your estimated wait for a title on hold
After you place a hold, view your place in line by going to Shelf > Holds and tapping Wait List. This will display your approximate wait time for the title, as well as total holds, total copies and the number of people waiting per copy.
Help you get through that audiobook quicker
Switching between common playback speeds is as easy as tapping the small clock icon at the top of the screen when you're listening to an audiobook. These include standard breakdowns between 1-2 times normal playback speed. You can also adjust the playback speed by tapping and holding the clock icon and then dragging it down the screen with your finger until you find your preferred speed. Speed listeners will be excited to know that you can go all the way to three times normal listening speed.
Rewinding and Fast Forwarding
Audiobooks are great for their ability to allow you to multitask. Few things are as good as the sense of accomplishment connected to finishing a book while driving home or doing chores. This multitasking can lead to you missing something in the audiobook, however, so being able to quickly toggle through books is very helpful. In Libby's audio player, you can rewind by swiping right or fast-forward by swiping left. The further you swipe, the further you jump forward or back.
Suspend your holds
We've all been there. You put a bunch of titles on hold only to realize they're going to become available to you at the same time. Thankfully, Libby can suspend some of those holds until you're ready so you don't lose the chance to read those books you've been waiting for. Suspending a hold lets you continue moving up on a title's wait list without the title becoming available for you (if you reach #1 on the wait list). If you reach #1, you'll simply be in the first position to get the book once your suspended hold period ends.
Suspending a hold takes just a few taps and you can learn how with this easy help article.
Let you sample any book in your library's collection
There are few things I love more when I'm in a physical library than perusing shelves of books and reading a few pages before deciding which ones to borrow. In Libby, you can recreate that experience by sampling any ebook or audiobook in your library's digital collection. A major bonus is that you can sample these titles even if they're currently being borrowed by someone else. Simply tap the jacket cover of a book you're curious about and hit Read Sample. This will allow you to read up to 10% of any book in the library collection whether there are available copies or not. It's a perfect way to decide what you want to borrow or to start reading a title while you wait for it to become available to you.
Libby Academy
Our development team continues to add helpful and fun new features to Libby and the best place to learn about the latest improvements is our Libby Academy. When in the app, tap the Libby face in the top right corner and then tap Learn Libby to see quick videos from our Help team. You can also find more great information at https://help.libbyapp.com/.

Browse blog and media articles