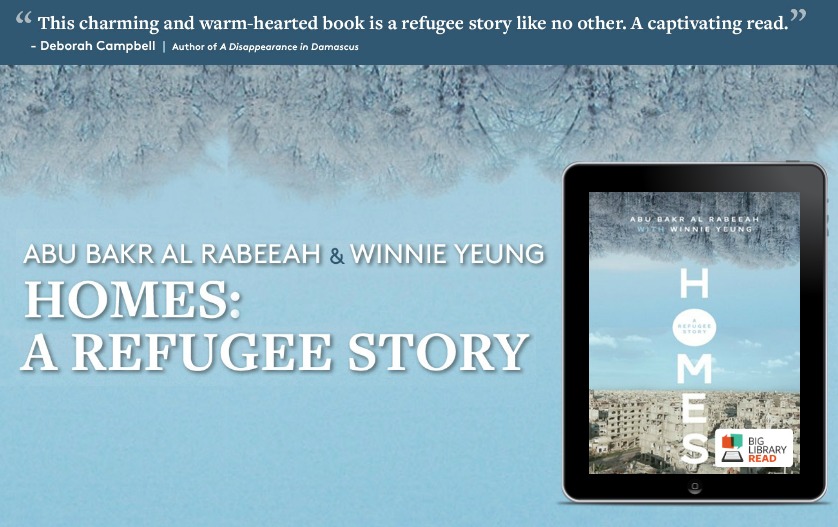 Homes is where the heart is in the latest Big Library Read
Big Library Read is back and this time we bring you the powerful and inspiring story of one refugee family who fled Iraq for safety, only to arrive in Syria just as the Syrian civil war broke out. Homes: A Refugee Story by Abu Bakr al Rabeeah & Winnie Yeung is a story of heartbreak and hope and the courage one man had to rise from the ashes of war to share the story of refugees with a wider world. From now until April 15, readers at participating OverDrive libraries can borrow the ebook of Homes: A Refugee Story without holds or wait lists.
Along with sharing this incredible story simultaneously to readers around the world, we have also created a discussion board where they can join the conversation and share thoughts with other readers. You can also hear an exclusive interview with Abu Bakr and Winnie on our Professional Book Nerds podcast.
For libraries looking to promote Big Library Read, we have created a marketing kit featuring press releases, posters and bookmarks that you can print out for your library along with graphics to use on social media. Readers who post about Homes: A Refugee Story using the hashtag #biglibraryread during the campaign have a chance to win a Kobo Aura H20.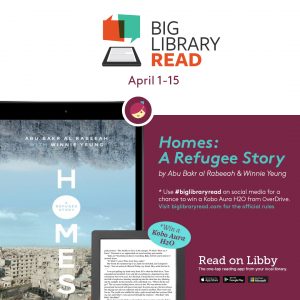 Homes: A Refugee Story is the first Canadian title to be selected for Big Library Read and we are so excited to bring this phenomenal book to readers around the world.
About Homes: A Refugee Story
In 2010, the al Rabeeah family left their home in Iraq in hope of a safer life. They moved to Homs, in Syria – just before the Syrian civil war broke out. Abu Bakr, one of eight children, was ten years old when the violence began on the streets around him: car bombings, attacks on his mosque and school, firebombs late at night. Homes tells of the strange juxtapositions of growing up in a war zone: horrific, unimaginable events punctuated by normalcy – soccer, cousins, video games, friends. Homes is the remarkable true story of how a young boy emerged from a war zone – and found safety in Canada – with a passion for sharing his story and telling the world what is truly happening in Syria. As told to her by Abu Bakr al Rabeeah, writer Winnie Yeung has crafted a heartbreaking, hopeful, and urgently necessary book that provides a window into understanding Syria.
About Big Library Read
Big Library Read, facilitated by OverDrive, is a global reading program that connects readers around the world with the same ebook at the same time without any wait lists or holds. This worldwide digital version of a book club is available for free through your local library and all you need to get started reading is a library card.
Tags In
Browse blog and media articles