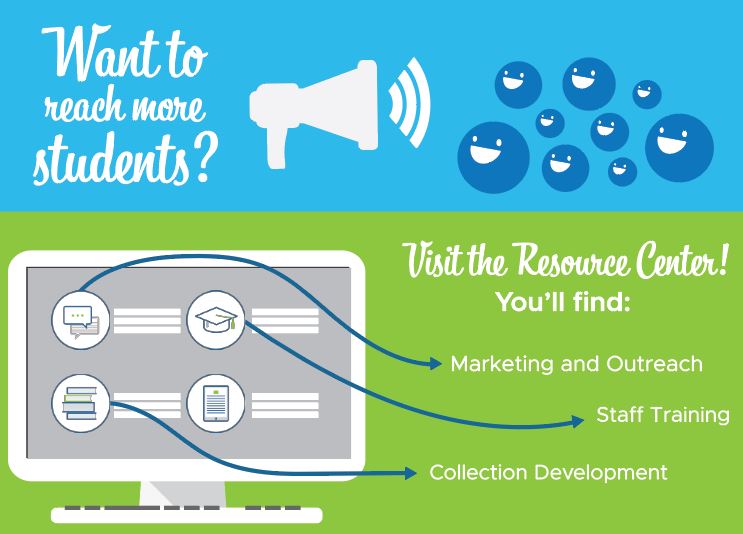 Partner reports 250% circulation increase using OverDrive's Resource Center
By: Christina Samek, Outreach Specialist
Marketing and outreach are crucial to the success of any service and your digital collection is no exception. With Sora's streamlined user experience and built-in support features, there's no better time than now to encourage users to try the student reading app. As crucial as promotion may be, it can take time and effort—things that are often in short supply. We took that into consideration when launching OverDrive's Resource Center in 2016.
Marketing on the Go
On the Resource Center, you'll find a curated list of resources to help you and your users get the most out of your OverDrive service. Our resources are created to help you increase circulation, attract new users, and ensure your entire community is aware of your digital offerings—even those users who never step foot inside your library. They are also intended to be completely self-service. Simply download, print or post, and go. Voila, you're instantly a marketer!
Marketing kits contain both print and digital elements to help you connect with users in person and online. They are rotated monthly to ensure your promotion stays fresh and timely. Some of our past favorites have included a "Black History Month" kit celebrating black authors and characters, a "Teen Romance" kit which imagined text message conversations between beloved young adult characters, and the recent "Audiobook Month" kit that helps promote the constantly on-the-rise digital format. If you're just looking for essentials, we have kits for that too. You'll always be able to download print pieces and digital graphics for continuous, evergreen promotion.
Just ask Aurora R-8 School District. They saw a dramatic increase in their circulations: a whopping 250% this past school year (2018-2019). Library Media Specialist, Angie Miller, credits the marketing kits she downloaded from the Resource Center for the spike.