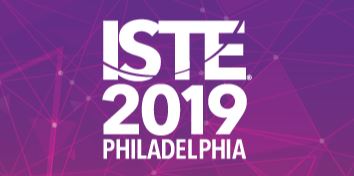 ISTE 2019 OverDrive Education Preview
The International Society for Technology in Education (ISTE) is a nonprofit organization that serves educators interested in edtech. Annual conferences are part of how ISTE serves more than 100,000 education stakeholders throughout the world. ISTE 2019 will take place in Philadelphia, June 23-26. More than 1,400 presentations will demonstrate this year's theme: Bold Educators Activate Change, including sessions from OverDrive Education and our partners.
Visit us in booth #2116, right next to Google at the Exhibit Hall C entrance.
Equity, blending learning and professional development
One consortium's digital journey toward resource equity
Join Instructional Technology Specialist Diahann Ouly for lessons learned while launching Pennsylvania's first K-12 ebook and audiobook consortium, which now boasts 3,500 titles. Hear how digital provided improved access and equity to all participating districts in the region, including those with very limited resources.
Diahann Ouly, Instructional Technology Specialist, Carbon Lehigh IU 21 (PA)
Monday, June 24 at 10:00 am
Digital reading for your whole school community
Join Media Specialist Amy Nagle to learn how to boost engagement and circulation in your school community. Hear best practices for working with teachers to implement OverDrive into the curriculum. Discover ways to increase circulation for students and teachers using Sora, curation tools, Project Gutenberg titles, content restrictions, and printing and exporting of notes and highlights.
Amy Nagle, Media Specialist, New Providence School District (NJ)
Monday, June 24 at 1:00 pm
Use social media to promote your YA digital library
Join Media and Education Education Technology Instructor Martha Bongiorno for this session on promoting OverDrive with tween and teen patrons. Learn how to cultivate and maintain a media presence to engage with students in the space they hang out most: online. Hear how to utilize Instagram and Twitter to connect with students, find out what they want to read and help them develop a love of reading.
Martha Bongiorno, Media and Education Technology Instructor, Autrey Mill Middle School (GA)
Monday, June 24 at 2:00 pm
Create a Professional Development digital library
Learning Specialist Julie Erickson will help you support your faculty and staff looking for resources for classroom instruction or content to support a new initiative. Browse, borrow, read and listen to professional development books with an OverDrive digital library with convenient and constant access.
Julie Erickson, Learning Specialist, Technology & Innovation in Education (SD)
Monday, June 24 at 4:00 pm
Tradigital Learning: the new blended classroom
Join Director of Instructional Technology Brian Seymour to learn about "tradigital learning," which blends the best teaching practices from a traditional classroom with those of a digital classroom. Hear about how the philosophy leverages activity rotations, student engagement, technology and classroom management. Discover how the approach can be extended to the media center with a digital library.
Brian Seymour, Director of Instructional Technology, Pickerington Local School District (OH)
Tuesday, June 25 at 3:00 pm
Sora updates that improve equity and efficiency
Sora, OverDrive's student reading app, provides easy on-boarding, a simple one-tap step to borrow and automatic syncing across devices. Students love that they can earn achievements and use Sora to track their reading time. Teachers benefit, too, and can collect student work via exportable notes and highlights. Come learn more about Sora and it's new features including: connecting your school collection to the public library's, offline reading support in Chrome and direct linking to collections and titles to get books in front of students with fewer clicks.
Judy Cluggish, OverDrive Education Marketing & Events Specialist, presenting in Booth #2116
Tracy Waalkes from OverDrive Education will also present in the Learning Playground C, Station 11 on Monday, June 24 for two exciting sessions:
How to Engage 21st Century Students with Digital Content, 1:30 pm – 2:30 pm
5 Google Integrations in Sora to cultivate reading focus, 2:30 pm – 3:15 pm
More not-to-miss sessions
Check your program for these sessions featuring digital reading:
Librarians can support a customized learning environment by creating learning opportunities that meet students at their readiness level and learning style, engage them with content of their interest and motivate them with intrinsically rewarding education. Learn about available resources and tools for customized learning.
Julie Erickson, Learning Specialist, Technology & Innovation in Education (SD)
Tuesday, June 25 at 4:00 pm
Learn how to make connections with computer science in our digital literacy, digital citizen and literature lessons. See how to develop library lessons that include CS vocabulary and concepts connected to literature and computational thinking and discuss ways to support instruction in classrooms.
Marianne Costello, Edmonds Heights K-12 School (WA)
Tuesday, June 25 at 2:45 pm
Preregistration required
If you miss a session, presentations will be available for download after ISTE. Click here to check them out.
Tags In
Browse blog and media articles