Why we NEED diverse books now more than ever
By: Sarah Wilsman, Content Specialist
There has been a big push in education recently to diversify collections so that students can "see" themselves in the books they read. Recent studies show that books for children continue to feature predominantly white characters although school populations are growing more diverse. Because of this disconnect, librarians are consciously seeking out titles that reflect diverse cultures and perspectives.
Many schools are diversifying their content as a part of their institutional mission. School Library Journal's 2018 "Diverse Books Survey" reported that 81% of librarians say that it is "very important" to have diverse books in their collections. Books that feature characters with a variety of cultural experiences can educate readers and build empathy.
The definition of diversity from We Need Diverse Books is: "We recognize all diverse experiences, including (but not limited to) LGBTQIA, Native, people of color, gender diversity, people with disabilities*, and ethnic, cultural, and religious minorities." Because of the need for more accurate representation, school librarians have been making a conscious effort to include titles featuring minority groups including Latinos, African Americans, Native Americans and Asian Americans in their school collections.
Seattle Public Schools Program Specialist Meredith Kimi Lewis tells a poignant story about a student commenting that she was "tired of reading about white kids." This realization lead Lewis to reevaluate her collection by making bins with various labels and filling them with books that featured protagonists from different ethnicities and experiences, which then allowed her to see where the holes were in her collection. There is a Classroom Library Questionnaire to help evaluate representation in your collection.
Jess Lifshiz, an elementary school teacher in Illinois, argues that just having people of color represented in literature is not enough; titles set in history are important, but current stories matter, too. Students are more likely to see themselves when characters' experiences match their own.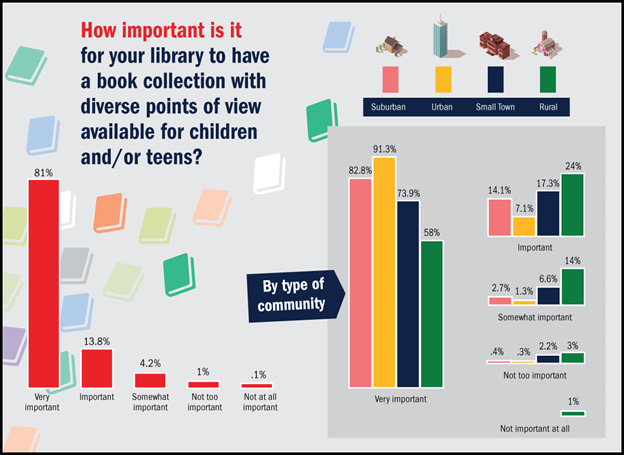 Source: https://www.slj.com/?page=slj-diverse-books-survey-2018

Follow #DisruptTexts and #DiversityJedi on Twitter for great discussions, booklists and reviews you can use to diversify your collection.
Diversify your collection this summer with these lists from OverDrive:
Explore these resources to learn more:
https://www.edutopia.org/article/why-diverse-classroom-libraries-matter
https://www.collaborativeclassroom.org/blog/how-to-actually-implement-more-diverse-libraries-at-your-school/
https://www.rethinkingschools.org/articles/que-es-deportar-teaching-from-students-lives
https://americanlibrariesmagazine.org/2017/03/01/diversify-everything/
http://www2.ncte.org/blog/2019/04/build-your-stack-diversity-is-more-than-race/
https://www.slj.com/?page=slj-diverse-books-survey-2018
https://www.slj.com/?detailStory=can-diverse-books-save-us
Browse blog and media articles