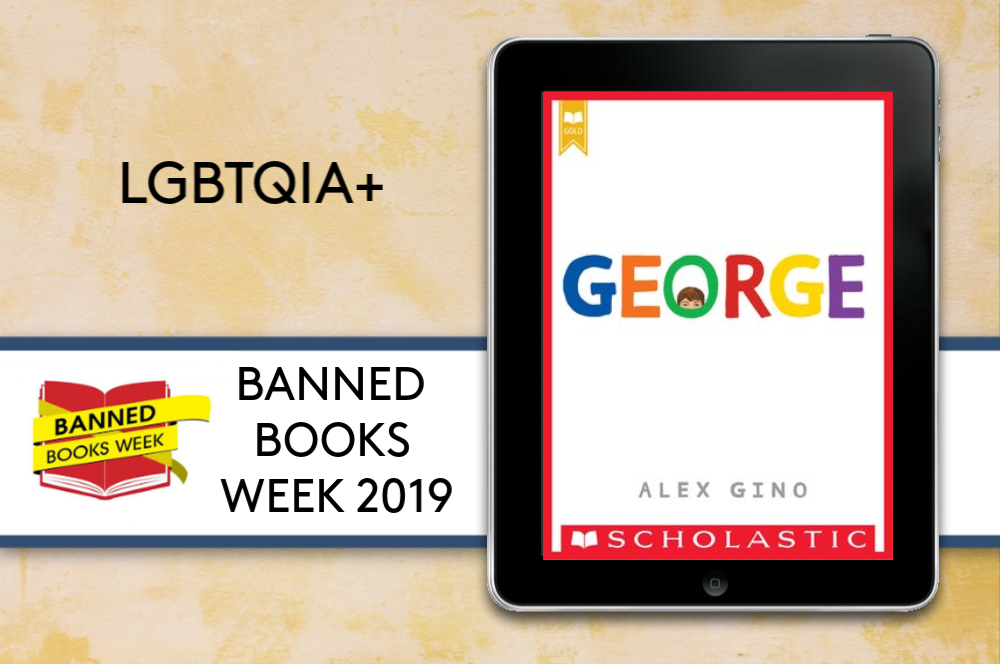 Banned Books Week 2019: LGBTQIA+
We're celebrating Banned Books Week all week long, starting with LGBTQIA+ content. According to data from the American Libary Association (ALA), content related to LGBTQIA+ and gender nonconformity are two of the top reasons why books were challenged last year.
This includes the #1 most-frequently challenged book of 2018: George by Alex Gino. An absolutely lovely middle-grade novel, George is about a little girl who wants to play Charlotte in her school's production of Charlotte's Web. There's only one problem; when people look at her, they don't see a little girl, they see a little boy named George.
Good news for our school partners: Scholastic titles are now available to schools, meaning you can add George and other Scholastic titles to your digital collections today!
Here are some other LGBTQIA+ books that have been frequently challenged over the years:
Drama by Raina Telgemeier
This wonderful graphic novel has been on ALA's Most Challenged Books List for the past few years, including in 2018. Originally published in 2012, Drama is about a middle-school theater production and the drama that happens on-stage and off. (As someone who did theater in both middle and high school, I can confirm the depiction is accurate.)
This Day In June by Gayle E. Pittman, illustrated by Kristyna Litten
In a wildly whimsical, validating and exuberant reflection of the LGBTQIA+ community, This Day In June welcomes readers to experience a pride celebration and share in a day when we are all united.
Beyond Magenta: Transgender Teens Speak Out by Susan Kuklin
A groundbreaking work of LGBTQIA+ literature takes an honest look at the life, love and struggles of transgender teens. Author and photographer Susan Kuklin met and interviewed six transgender or gender-neutral young adults and used her considerable skills to represent them thoughtfully and respectfully before, during and after their personal acknowledgment of gender preference.
Two Boys Kissing by David Levithan
Based on true events —and narrated by a Greek chorus of the generation of gay men lost to AIDS — Two Boys Kissing follows Harry and Craig, two 17-year-olds who are about to take part in a 32-hour marathon of kissing to set a new Guinness World Record. While the two increasingly dehydrated and sleep-deprived boys are locking lips, they become a focal point in the lives of other teens dealing with universal questions of love, identity and belonging.
And Tango Makes Three by Peter Parnell and Justin Richardson, illustrated by Henry Cole
Roy and Silo are just like the other penguin couples at the zoo; they bow to each other, walk together and swim together. But Roy and Silo are a little bit different: They're both boys. Then, one day, when Mr. Gramzay the zookeeper finds them trying to hatch a stone, he realizes that it may be time for Roy and Silo to become parents for real.
I Am Jazz by Jazz Jennings and Jessica Herthel, illustrated by Shelagh McNicholas
From the time she was 2-years-old, Jazz knew that she had a girl's brain in a boy's body. She loved pink and dressing up as a mermaid and didn't feel like herself in boys' clothing. This confused her family, until they took her to a doctor who said that Jazz was transgender and that she was born that way. Jazz's story is based on her real-life experience and she tells it in a simple, clear way that will be appreciated by picture book readers, their parents and teachers.
Browse blog and media articles